Editor's Note
Where are the Latinas among Adams' deputy mayors?
Observers and critics said the New York City mayor broke tradition by not including Hispanic women among his deputies.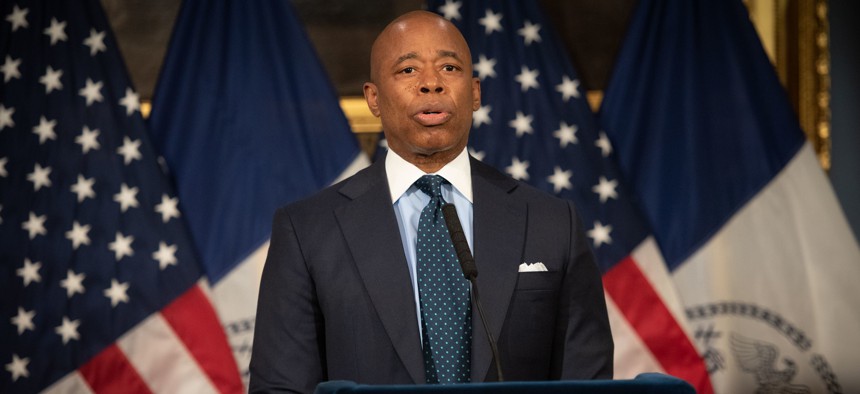 New York City Mayor Eric Adams has been filling out his administration and has included women of color to serve as his deputy mayors. However, some observers, including City & State's Jeff Coltin, have pointed out the exclusion of Latinos among those deputies.
Adams does have Latinos appointed to high-ranking positions, like Ydanis Rodriguez at the Department of Transportation, Louis Molina at the Department of Correction, Roberto Perez at the Mayor's Office of Intergovernmental Affairs and Adolfo Carrión Jr. at the Department of Housing Preservation. Another Latino appointment to note is DREAMer and Mexican-American Manuel "Manny" Castro as commissioner of the Mayor's Office of Immigrant Affairs. But the exclusion of Latinos, especially Latinas, among Adams' deputies, has struck a nerve with some, including activist and Hostos Community College professor Howard Jordan and Erica Gonzalez, director of Power 4 Puerto Rico, who have openly vented their disappointment. Adams apparently broke a long-standing tradition of appointing Latino deputy mayors that first began under Ed Koch's administration, with his appointment of Herman Badillo. Latina deputy mayors, NY1's Juan Manuel Benítez reported, served under David Dinkins, Rudy Giuliani, Mike Bloomberg and Bill de Blasio.
"Mayor Adams is committed to building a team that looks like New York City – and that's exactly what he's doing," a spokesperson responded by email when asked for comment. Aside from the noted appointments above, the spokesperson added that Adams has appointed Latinas to the Taxi and Limousine Commission and the Mayor's Office of Contract Services. "He looks forward to ensuring all New Yorkers are represented in the administration as he continues to build out his team, including more high-profile Latino appointments to come in the days ahead," the spokesperson said. 
Adams still has the opportunity to fill more positions with Latinas, but I doubt he'll convince all his critics that some traditions are worth breaking.