Editor's Note
Editor's Note: New York Nonprofit Media returns with in-person events
BoardCon attendees were excited to collaborate again after two years away due to the pandemic.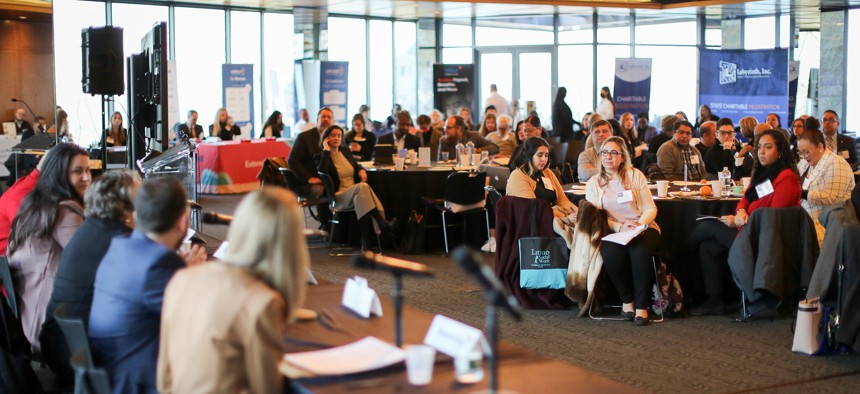 New York Nonprofit Media, City & State's news website for New York City's nonprofit leaders and organizations, has been in the midst of a reimagining. NYN Media, as it's also known, established its first advisory board in December and added a lineup of thought leaders from the nonprofit sector who've contributed opinion pieces and commentary. A refreshed NYN Media First Read morning newsletter and redesigned website with improved functionality are planned in the coming weeks.
Coinciding with the reimagining is NYN Media's return to hosting in-person events for the first time since the onset of COVID-19. Two hundred attendees came for BoardCon, a daylong conference focused on board governance and leadership strategies. The event at the Museum of Jewish Heritage in lower Manhattan was hosted by the NYN Media board's newest member, Met Council CEO and Executive Director David Greenfield.
Up next will be the 2022 Nonprofit 40 Under 40 reception at The Mezzanine, also in lower Manhattan. The event on April 6 will include speakers, guests and recognition of all 40 of this year's winners. Another daylong conference, Nonprofit OpCon, that focuses on streamlining processes and operations for nonprofits will follow at Hebrew Union College on June 9.
The return to an in-person format for these and future events is a welcome relief after COVID-19 concerns made such gatherings too risky for all involved. NYN Media is back and with its reimagining is poised for New York's post-pandemic future.