Nonprofits
Commentary: Would you trade part of your future income to learn a more lucrative skill?
One Queens nonprofit's income-sharing program promises to elevate people into higher-paying jobs through training, and they want New York City to get on board.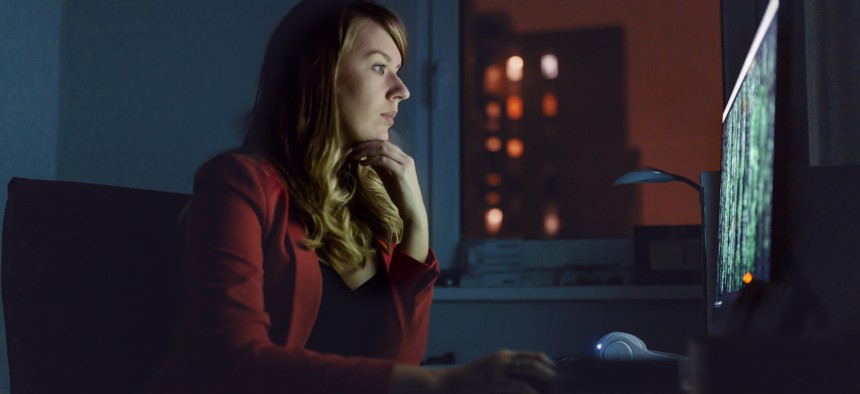 Sitting in the gleaming midtown Manhattan offices of security rating company SecurityScorecard just over five years ago, then-New York City Mayor Bill de Blasio announced a so-called blueprint for the city to create 100,000 jobs paying at least $50,000 per year over the next decade, mainly in cybersecurity, tech and science. Some would be created directly by the city, but the majority would be helped along by the city's $1.35 billion long-term investment, including into traditional workforce development programs.
Administered by an array of state and municipal agencies, including CUNY and the U.S. Small Business Administration and with a mix of local, state and federal funding, these initiatives broadly pay for city and state employees – and some outside groups – to provide skills and job training as well as employment counseling and assistance. While these types of programs can have a decent return on investment, they take a lot of upfront cash and have sometimes been criticized for, among other things, not targeting the neediest New Yorkers.
Five years later, it seems like that announcement was yet another trademark de Blasio flashy rollout that sort of fizzled (granted, it also ran headfirst into the reality of the coronavirus pandemic) without quite reaching its lofty goals. Now in the post-pandemic world with uncertain economic prospects, soaring rents and rising cost of living, other models of job training are getting traction in the city. One group that is pushing a somewhat novel system is a small Queens nonprofit called Pursuit, led by former Army officer Jukay Hsu.
Pursuit uses something called an income-sharing agreement model to provide training in software engineering to low-income students at no upfront cost to them, with the initial capital instead coming from investors and foundations that buy an interest in the returns from the students' future incomes once they graduate and are placed in ideally high-paying tech jobs. In its most recent iteration, according to presentation materials it sends to potential funders, the income sharing comprises 5% of a graduate's gross earnings if their annual income is between $50,000-$60,000; 10% if it's $60,000-$70,000; and 15% if it's more than $70,000. If at any time the graduate is making less than $50,000, they pay nothing, and all payments cease after whatever comes first: 48 consecutive monthly payments, $70,000 in payments total or 96 months post-enrollment.
So far, the programs have been relatively limited in size; since Pursuit began training fellows in 2013, it has trained fewer than 150 people per year. Now, using what it calls a "bond" model, it is pushing to have a more formal partnership with the city to massively expand its training programs. In its pitch, it contends that it can train more than 1,000 low-income New Yorkers with an initial investment of $10 million. While the organization has received support from the New York City Council in the past, a spokesperson for City Council Speaker Adrienne Adams noted that there doesn't appear to be conversations happening about formalizing a citywide program with Pursuit.
It's not yet clear exactly what would make this a municipal program as opposed to just a continuation of Pursuit's existing nonprofit operations. "We raise money from investors, and they're paid based off of people actually being successful," Hsu said. "Maybe that's a solution where, if in a recession, it doesn't take the city budget to do (workforce development), but becomes a bond for job training." In theory, New York City might issue the bond on behalf of Pursuit and frame it as a municipal bond, but that's semantics; at the end of the day, it's not city debt nor necessarily any kind of city-backed return, as the profits would still be drawn from the income-sharing agreements that form the program's backbone. Perhaps it's best to call the proposal a municipal vote of confidence in this model, and that might be enough.
There are some overlapping considerations involved here, the most basic of which is with the model itself. Pursuit certainly isn't the first or only organization to use income-sharing agreements, and in fact the largely unregulated market has proliferated along with growing precarity in other fields, with markedly mixed results. So-called coding boot camps offer intensive courses and guaranteed riches that, it turns out, are frequently too good to be true.
In one infamous example, leaked documents from for-profit Lambda School (since rebranded to BloomTech) showed that it had inflated its job placement numbers; in that Business Insider investigation, former students described subpar instruction and getting locked into the income-sharing agreements even if they didn't end up taking the types of tech jobs they had trained to do. Then-state Attorney General Eric Schneiderman reached a settlement in 2017 with coding academy Flatiron School for operating without a license and inflating its job placement and salary numbers. Attorneys general in other states have also tussled with the industry. Earlier this year, the U.S. Department of Education clarified that income-sharing agreements would be regulated as private loans.
That might cause proponents pause, but these messes seem more of a function of unscrupulous business practices than the model itself. For its part, Pursuit takes care to address some of these concerns; it's a nonprofit whose tax documents are readily accessible online, and rather than the "we'll take anyone" approach of some competitors, it accepts less than 10% of applicants, selecting those it actually believes will complete the program and have enough of a baseline understanding of the concepts and expectations to excel.
One such applicant was Rook Soto, a graduate that Pursuit was so proud of that it profiled him on its site. It's easy to see why: Soto, who took out student loans to get a criminal justice degree at Monroe College, worked as a probation officer for a month before he had to leave due to complications from multiple sclerosis. He spent a period of time doing odd jobs and was briefly homeless before he discovered Pursuit online and became a 2016 graduate. He now works as a senior Android developer for the SeaWorld system of theme parks, the culmination of a long, successful career, and has relocated from Hunts Point, Bronx, to Norwalk, Connecticut, with his wife and three kids.
Soto felt like his arrangement with Pursuit was always fair. "It's like 15% of a salary that you couldn't imagine before you graduated. Keeping 85% of a watermelon is better than 100% of a grape," he said. He's still paying off his earlier college student loans, and while he doesn't begrudge the value of a college education, he finds it ironic that he's still on the hook for the cost of a pricey education that didn't ultimately lead to the career he wanted. Soto said that the full year of training was a crucial part of his success, as opposed to other boot camps that offered shorter three-month or so programs. "I felt like I went to college, you know. I'll tell you, there're a lot of college graduates I work with that don't know the Android API as well as I do."
According to Hsu, the nonprofit secures hiring commitments from partner companies ahead of time, meaning that those who complete the training have job opportunities already waiting for them. Also, Pursuit commits to three years of a so-called Advance program, effectively a mentorship structure that seeks to ensure the graduates stay in their jobs. In its presentation materials, Pursuit boasted completion and hiring rates of 83%. (Although a footnote mentions this excluded the 2018 and 2019 cohorts as "outliers.") This is of course all difficult to verify independently, but that might actually be an argument in favor of more formal city involvement. If the municipal government has some role in overseeing fellows' progress, it can confirm that the objectives are being fulfilled.
Since 2020, Pursuit has paid the well-connected firm Bolton-St. Johns over $80,000 to lobby City Council members to help fund its programs. Hsu has given $2,250 directly to various city candidates since 2015, including $400 to Eric Adams' New York City mayoral campaign, though there's no indication he's some kind of major political player. The nonprofit has its share of funders that some might consider unsavory, including the behemoth investment firm BlackRock – the world's largest asset manager, with over $10 trillion under management, and whose controversies include large holdings in the industries most responsible for climate change – and the influential Silicon Valley venture capital firm Andreessen Horowitz.
On the job placement end, Pursuit often touts a partnership with Uber to train drivers to be software engineers at the company – a feel-good story that may lose some luster considering that the company loses hundreds of millions of dollars per year. This year's crypto crash lit the match for a tech stock meltdown that has some investors worried and has triggered tens of thousands of tech sector layoffs this summer.
All that said, in comparison to the state of most other U.S. industries, tech remains on strong footing, and software engineering is unlikely to be a bad bet as a career anytime soon. So far, Pursuit itself seems to have had a solid track record with its graduates' careers. Getting New Yorkers of more diverse backgrounds and experiences into the industry could also in the long run be a boon for everyone, seeing as how a good portion of society has been reshaped by the tech industry that has been historically been disproportionately filled with young white men.
Pursuit's model could ensure that some money will end up invested in places outside Silicon Valley by creating a permanent group of well-paid locals who are in no hurry to go elsewhere. While Soto did end up moving to Connecticut, he said most of the graduates he's in touch with remain in the five boroughs.
As Hsu will readily acknowledge, a software engineering workforce is not in itself a silver bullet to remedy the city's economic ills; the city also needs nurses and child care providers and cooks and cab drivers, and it needs to create the conditions where it's economically viable to do those things. "We're focused on software engineering, but the model around how to fund this training, the results of this bond, that can be done for any kind of thing," he said, so long as it gives New Yorkers the skills to raise their incomes.