Opinion
Opinion: A potential party raid is brewing ahead of the Aug. 23rd primary
Here's how a one-time quirk in the law is allowing voters to switch parties leading up to the congressional and state Senate primary races.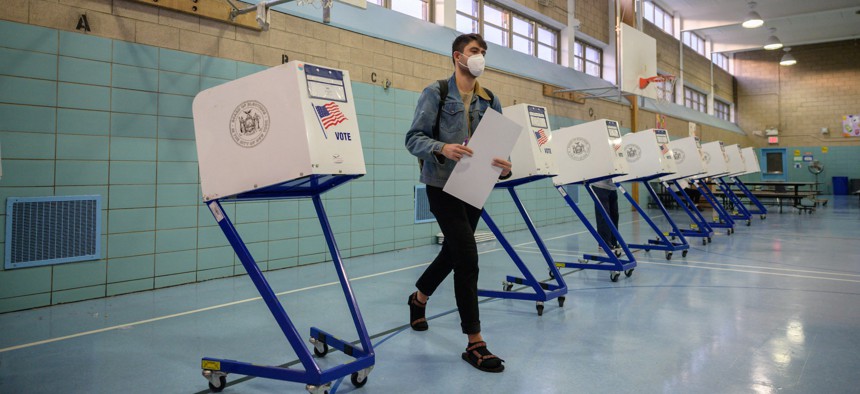 Despite what you may have read in some news outlets, New York does not have an "open primary" this August. That term is understood in many states as allowing a voter to simply show up and vote in any party primary irrespective of their enrollment. We don't have that here. We are a traditional, closed-primary state – which requires voters to be enrolled for a certain time in a political party to vote in its primaries.  From time to time, this procedure, and the time-lines involved, have been challenged in the courts – all to no avail.  Like it or not, our closed primary system has passed muster by the courts every time.
Closed primaries have been consistently upheld to prevent wholesale "party raiding" by a swarm of voters in one party temporarily joining a competing party to influence the result. In fact, in a case originating in Suffolk County a few years ago, a thousand or so voters switched their enrollment to become members of the Conservative Party to back a specific candidate  – but the courts invalidated these as not genuinely motivated. A concerted invasion of a party for a political purpose is not appropriate.
Let's get back to our current situation. Although we do not have an open primary, we do have a one-time quirk in the law that allows voters to change their party enrollment up until primary day to vote in the August 23rd congressional and state Senate races.  So, unlike the usual stricter timeline (a change of enrollment to vote in the June primary had to be done by Feb. 14), it feels like an open primary. As a result, some Republicans, like John Catsimatidis, are urging fellow GOPers to change their enrollment and vote in the all-important Democratic primaries in August, though others, such as Brooklyn Republican Chair Ted Ghorra, oppose such a move.  You may remember that the same idea was floated during last year's mayoral election, to no great effect however. I don't know whether some Democrats in red districts upstate or on Long Island are planning their own switcheroos, but it wouldn't surprise me.
In any event, whether it's a Republican or Democrat changing parties, or an "unaffiliated" voter temporarily joining one, a formal "change of enrollment" must be filed. Without such a switch, a voter cannot waltz into a polling site and vote in another political party primary. And, by the way, the same voter can change back to their "original" party on August 24th, or anytime until next February to vote in their "real" party's primary next June.
How did this happen? When the courts ordered two primaries this year because of the redistricting mess, they failed to align the dates for enrollment changes, creating this unusual up-to-the-last-minute party crashing opportunity.
I should mention that non-enrollees have actually been able to vote in a party primary in two limited circumstances in New York. The now-defunct Independence and Reform Parties permitted unaffiliated voters to participate in their primaries. The Supreme Court ruled, over thirty years ago, that a party had the right to allow this. A legislature couldn't force a party to let outsiders vote in their primary, but the party itself could choose to do so. None of the remaining parties in New York (Democrats, GOP, Working Families, and Conservative) have taken this step. For now, therefore, membership in a party is required to vote in its primaries.
So here we are – potentially facing an eleventh-hour party raid of the August 23rd primaries that could upend several close races. Although it is expected that some individuals here and there may take advantage of this loophole for legitimately philosophical reasons, it remains to be seen whether there will be a massive change of enrollment to nominate – or defeat –  a candidate in another party primary. We'll see how this plays out. 
Jerry Goldfeder is an election and campaign finance lawyer at the Stroock law firm. He also teaches election law at Fordham Law School, where he is the Director of its Voting Rights and Democracy Project.