Opinion: Domestic Violence Awareness Month arrives in the worst year for gender justice in recent U.S. history
The repeal of Roe v. Wade, among other events, have made 2022 catastrophic for women and pregnant people, leaving Black, Indigenous, People of Color, immigrant and impoverished women, trans and non-binary people to suffer at disproportionately high levels.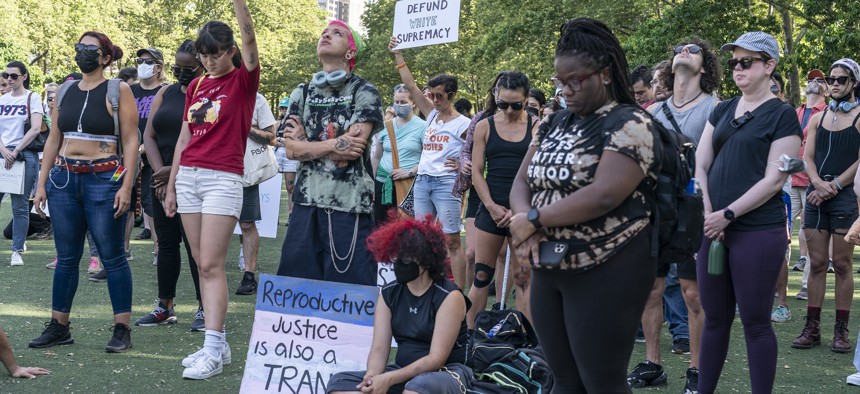 As we enter Domestic Violence Awareness Month in October and inch closer towards year's end, it would perhaps come as no surprise to anyone that 2022 has shaped up to be one of the worst years for gender equity in recent United States' history. As always, there will be some women, non-binary and trans people for whom the fallout will be even worse. 
The devastating repeal of Roe v. Wade – a ruling that guaranteed pregnant people the constitutional access to abortion across the country for nearly five decades – took away the fundamental right from millions of people to exercise their bodily autonomy almost overnight. This June, when the U.S. Supreme Court decided that it no longer recognized the federal protections that people in the United States had enjoyed for generations, it ensured that nearly half of the states in the country would ban access to abortions. As of end of September, there were almost 14 states where abortion bans are in effect and West Virginia had just signed into law a near-total abortion ban at all stages of pregnancy. 
The implications of the repeal of Roe v Wade on the healthcare and fundamental rights of pregnant people are staggering. Already, hundreds – if not thousands – of people are being forced to make costly travel arrangements across state lines to access abortions, even in case of an unviable pregnancy. Like the 36-year old Louisiana resident Nancy Davis, who was carrying a skull-less fetus that would die almost immediately after birth, and was forced to set up a Go-Fund Me account to facilitate the cost of her trip from her home state to North Carolina. Or the famously reported case of the 10 year old Ohio girl who was raped by a 27-year-old man and had to travel to Indiana to access abortion care. Notably, not long after this story came to light, Indiana too passed an extremely strict abortion ban (which has since been halted) with the doctor who provided the abortion threatened and harassed relentlessly for performing the procedure. 
But beyond the obvious ramifications, one of the most chilling consequences of this repeal will be on the freedom of survivors of gender-based and domestic violence. Reproductive coercion is among the several ways through which abusive partners maintain power and control in their relationships. Without the freedom to make choices about their bodies and access birth control with ease, survivors could find it even more challenging to leave their abusive partners and remain trapped in a cycle of intimate partner violence. 
At The Collective, a group of culturally specific, gender justice organizations and organizers that work for immigrant and BIPOC survivors in New York City, we believe that unrestricted access to abortion is among the safest ways for women to escape cycles of intimate partner violence and abuse. In states where access to birth control and abortion is limited, survivors often face increased chances of being forced into coerced pregnancies and greater pressure to carry those pregnancies to term. In fact, becoming pregnant increases the chances of homicide by a partner. A November 2021 study showed that more pregnant women die by homicide than by pregnancy related causes. And the risk of death is even higher for Black pregnant women and young women under 24, whose chances of dying by homicide is three to four times higher than that of white women. The study clearly shows that pregnant women who face domestic violence don't often survive the term of their pregnancy, and those who do face even greater risks of missing prenatal care, low birth weight and preterm birth leading to neonatal morbidity and mortality. 
Sadly, the U.S. Supreme Court's decision to reverse a crucial fundamental right has not been the only blow this year to women's safety and health in the country. Nearly a month before the devastating verdict, the country bore witness to a trial that eviscerated a survivor of domestic violence, led her to being publicly mocked and derided, and ultimately rewarded the abuser who had been shown on record to engage in violent behavior in multiple incidents. The Amber Heard v. Johnny Depp trial that caught national attention earlier this year undermined years of progress by the #MeToo movement to create protections and safety for women who come forward about abuse – most of whom do not have money for legal representation or high profile platforms wherein to plead their case.
The #JusticeforJohnny social media strategy (amidst reports that it was deployed by Depp's lawyers to rebrand his image as an abuser) did not just tear Heard down, it also signaled to survivors everywhere of their potential fate if they ever decided to go public. After decades of community, legal and narrative change, we saw this spectacle tried in social media in ways that had nothing to do with the people involved, and everything to do with the backlash against women, non-binary and trans people who dare to demand rights and dignity. 
2022 will go down in history as among the most catastrophic years for women and pregnant people in the United States. But it is Black, Indigenous, People of Color, immigrant and impoverished women, trans and non-binary people that will suffer at disproportionately high levels. This summer alone has witnessed several deaths of survivors of domestic violence from our communities. From the killing of 20-year-old Azsia Johnson who was shot in the back of her head while walking with her 3-month-old baby on the Upper East Side, the brutal stabbing and murder of Christina Yuna Lee, who was killed by a man who stalked her from the street into her Chinatown apartment, to the murder of the 18-year-old Damaris Maravilla by her boyfriend in Bensonhurst, Brooklyn, incidents of abuse, assault and domestic violence against survivors of color have increased during the pandemic. Survivors from our communities are often forced into silence about their abuse, and when they do speak, it often results in their death. Like the Pakistani American TikTok content creator Sania Khan, who was murdered by her husband in Chicago for discussing the details of her divorce online. Or Mandeep Kaur, an Indian American mother of two children who died by suicide after allegedly suffering years of physical abuse and violence from her husband in New York.
Far from being isolated incidents, we at The Collective view them as part of a larger pattern that systemically erases the needs of survivors by denying them services and programs designed to meet their needs. Whether its the brutal fallout of losing abortion rights or the turning tide of public opinion against survivors of abuse, the most directly impacted will always remain those living at the at the intersections of oppression because of gender, race, class, caste and poverty. 
We see it in New York City, a "liberal bastion" and "sanctuary city" where our survivor communities hang at the margins with little or no access to a safety net and who are constantly denied protection and dignity. They were never the center stage of highly visible movements like #MeToo and #TimesUp, and as those spotlights dim, their struggles will become even harder to see. Organizations like ours have galvanized to amplify voices of our survivor communities, but we do so with fewer resources and less institutional support than our white-led counterparts. 
At the start of this Domestic Violence Awareness Month in an already traumatizing year, we urge policy makers and administrators to pay close attention to the cultural nuances that contribute to gender-based violence and invite them to join us in meeting the urgent, immediate needs of communities of color and immigrant survivors. There is no one solution that fits all because the underlying problems are complex and look different in multicultural cities like ours. But we reject the premise that the problem is too large to solve. Start by supporting community and survivor-led organizations. Those of us closer to the problem are also closer to the solutions.  As we continue to fight, we ask you to support us in creating  systemic changes that will give all of us a more gender-just and equitable New York City.
Jeehae Fischer, executive director at Korean American Family Service Center, Kavita Mehra, executive director at Sakhi for South Asian Women, Margarita Guzman, executive director at Violence Intervention Program, R. Nancy Albilal, president & CEO at Arab American Family Support Center, Yasmeen Hamza, CEO at Womankind, and Zeinab Eyega, executive director at Sauti Yetu, are members of The Collective, a group of culturally specific, gender justice organizations and organizers that work for immigrant and BIPOC survivors in New York City, that work for immigrant and BIPOC survivors in New York City.