Opinion
Opinion: Silence is no answer on plight of horse-drawn carriages in NYC
The City Council has not responded to recent calls for action.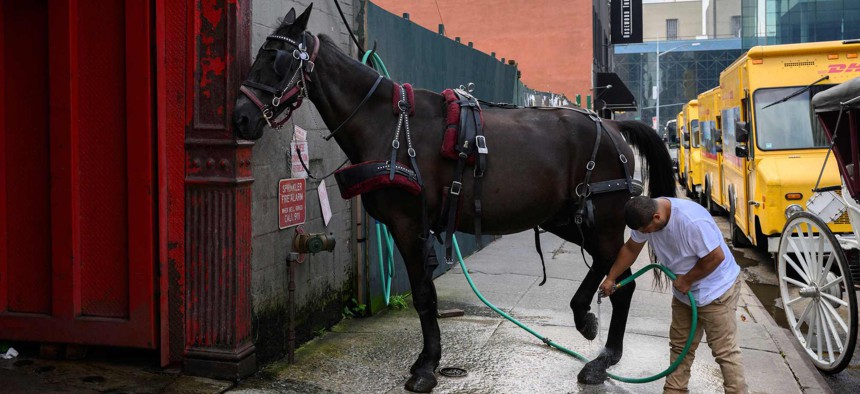 It's been several weeks since City & State called on policy makers to "stop the continued suffering of carriage horses." So far, radio silence. 
I'm at a loss to understand why most City Council members are not supporting Intro 573, which would transition the horse-drawn carriages to electric carriages. To be clear, the Committee for Compassionate and Responsible Tourism, which I helped cofound, does not support the bill in its current form. It does not properly address the fate of the horses. It requires drivers to be paid prevailing wages, which is not how they traditionally work; and it has scant information about the electric carriages. But these issues can be remedied.
I visited Guadalajara, Mexico, in 2019 to see the electric carriages in operation. The owners love them and make more money. Horses were saved. They are no longer called animal abusers. Our organization shot a video explaining how the carriages have worked for Guadalajara. At least 15 global cities now have electric carriages. Mount Dora, Florida, will be the first in the United States to introduce them by year's end. 
I'm more concerned and baffled why most of the Council – including those who have said they care about animals – have not commented on this issue. It seems like they've turned a deaf ear to the plight of these horses. 
Certainly, our arguments are strong and bear repeating that horses are nervous, sensitive prey animals and can spook and bolt at the slightest provocation – possibly injuring or killing themselves or innocent passersby. There doesn't seem any way this business can operate humanely. The TWULocal100's suggestion to put stables in Central Park is a boondoggle and would end up in the courts for years. It's a diversion. Don't fall for it.
Pedicab drivers are required to report accidents, but there is no such requirement for carriage drivers. I have put together a blog that has a list of accidents in the city going back to the 1980s. Although shocking, it represents only what was reported to the media or documented by passersby.  
Clearly, the problematic issue of urban carriage horses is not going away easily. The world continues to move away from an ethic that thinks it's acceptable to exploit animals for our convenience, but where is New York City in this paradigm?
So, I ask of all those many Council members who are silent: Where is your compassion? Are there no profiles in courage left in politics? Is it OK with you to have New York City's tourism represented by an elderly fallen horse being whipped in midtown? I am sure your constituents would like to know. I know I would.
Elizabeth Forel is cofounder of Committee for Compassionate & Responsible Tourism and President of the Coalition for NYC Animals.
Powered By
NEXT STORY: Opinion: The Close to Home Act shows there's a better way to youth incarceration