New York City
Opinion: New York takes crucial step in preparing for the next Superstorm Sandy
Voters on Election Day approved $4.2 billion in funding for statewide environmental projects under the Clean Water, Clean Air and Green Jobs Bond Act.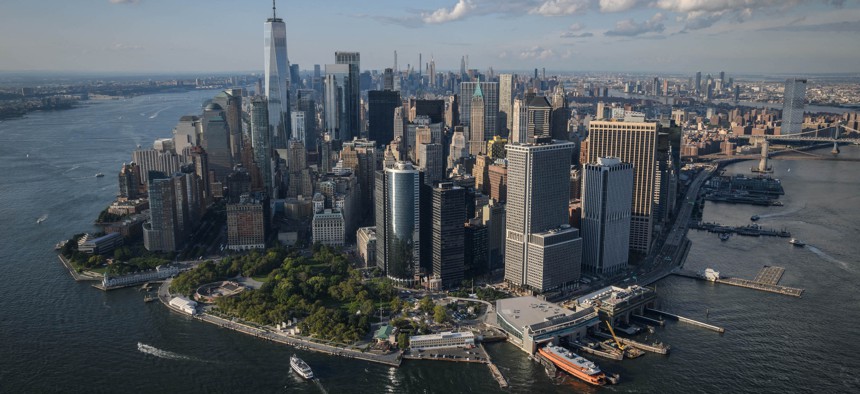 Beyond the drama of closely contested electoral politics this year, there was hope on the ballot in our state – and hope won. By an overwhelming margin, voters in New York approved the Clean Water, Clean Air and Green Jobs Bond Act. The effort, driven by a broad coalition of environmental organizations, farmers, labor unions, local governments and business associations, resulted in an act that authorizes $4.2 billion in funding for critical environmental projects statewide. At a time where the challenges of a warming planet are literally lapping at our shores, the bond act offered a once-in-a-generation opportunity to address some of our state's most pressing needs. 
Ten years ago, Superstorm Sandy tore through the Northeast corridor, killing 44 New Yorkers and causing unprecedented damage to New York City's infrastructure and private property. In lower Manhattan, the New York Harbor breached the seawall, flooding 14 feet of storm surge into the low lying areas near the waterfront. Nearly 40% of commercial buildings in lower Manhattan were affected by the storm, more than 5,900 residential units were inaccessible and a third of the neighborhood's retailers, including small businesses, were closed for more than a week.
In the decade since, lower Manhattan made an impressive recovery from the effects of Sandy, but climate change and the indisputable warming of our planet promises to send more Sandys to our shores, threatening our businesses, homes and communities. Already, catastrophic storms have become routine; meanwhile, droughts, wildfires and unprecedented heat waves plague whole continents. 
The bond act's passage represents a meaningful commitment to local action. Most critically, the bond act plans to allocate at least $1.5 billion to climate change mitigation projects. These include air and water pollution reduction projects; wetland protections to address sea-level rise, storm surge and flooding; green building projects, including green roofs and reflective roofs; solar arrays, heat pump and wind turbines in public low-income housing areas; street trees and urban forest programs; and zero-emission school buses. Projects like these don't just protect us from the effects of climate change, but work to help slow it down, hopefully sparing us from a future marked by Sandy after Sandy after Sandy. 
In addition to the mitigation projects, at least $650 million of the pledged funds will go toward water quality, such as replacing lead pipes, upgrading sewers and preventing the contamination and pollution of drinking water. Another $650 million is set to go toward open space conservation and recreation, which would protect our local parks and wildlife habitats. And at least $1.1 billion would go toward restoration and flood risk reduction, which is top-of-mind for us in lower Manhattan. That means money for coastal rehabilitation and shoreline restoration projects, as well as funds to support programs that would reduce inland flooding and protect waterfront areas, like the ones hard hit by Superstorm Sandy.  
Crucially, though they come with a price tag, these projects will give back: the bond act is anticipated to generate about $8.7 billion in economic activity and direct spending, as well as create nearly 100,00 jobs. And that doesn't include the cost-saving nature of climate change mitigation. A Deloitte report earlier this year found that insufficient action against climate change could cost the United States as much as $14.5 trillion over the next 50 years. Here in New York City, one superstorm cost billions of dollars in damages. More storms of Sandy's magnitude would be financially catastrophic.
There is much to be done to fight climate change, from small-scale initiatives like composting programs and green construction, to global ones, like the 2015 Paris Agreement. But with the passage of this bond act, we have taken a critical step in the ongoing fight to protect our downtown, our city and our state.
Jessica Lappin is president of the Alliance for Downtown New York, which was part of the coalition that worked to help pass the bond act.
Powered By
NEXT STORY: Opinion: Top political operatives weigh in on New York's 2022 midterm elections