Editor's Note
Editor's note: Oprah's endorsement of Fetterman should remind Hochul she's got celebs on her side too
After hosting get-out-the vote rallies with big name Democrats, Gov. Kathy Hochul might also want to tout that she's got some Hollywood star power supporting her campaign.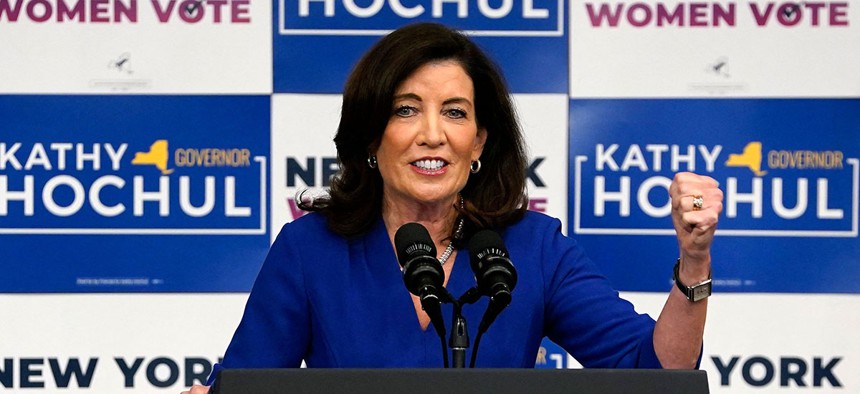 If Gov. Kathy Hochul wants to hold on to her lead over Rep. Lee Zeldin in this year's gubernatorial contest, all she needs to do is look across state lines at Oprah Winfrey's surprise endorsement of Pennsylvania Lt. Gov. John Fetterman's run for the Senate last week. 
The star-powered endorsement was covered by multiple news outlets, created buzz on social media and showed how attention grabbing the support from a celebrity can be. In this case, the endorsement came after Fetterman's lead over GOP candidate Mehmet Oz, the celebrity known as Dr. Oz, had dwindled. 
Hochul has found herself in a similar spot with Zeldin narrowing her once commanding lead over him, although she did regain some ground last week with the latest Emerson College poll showing the governor ahead with 8 percentage points, up from 6. A Marist College poll released Thursday had her leading by 10 points. This came as Hochul was calling out Democratic heavyweights to help with get-out-the-vote rallies in New York City. 
Fortunately for the governor, she's already got endorsements from actors Mark Ruffalo and Leonardo DiCaprio, as well as standup comic Amy Schumer, that she may want to tout to further improve on her lead over Zeldin. The Republican sort of has a similar option. He did win the endorsement of former President Donald Trump, who probably still considers himself a celebrity from his early days in the spotlight and as host of The Apprentice. 
There's also a popular local celebrity who threw his support behind the GOP candidate: The Naked Cowboy. That even caught the attention of the celebrity-chasing New York Post.