Opinion
Opinion: New York urgently needs medication abortion on its college campuses
Passing legislation to require pill distribution in public universities can relieve the pressure on clinical abortion providers and remove barriers to access for students.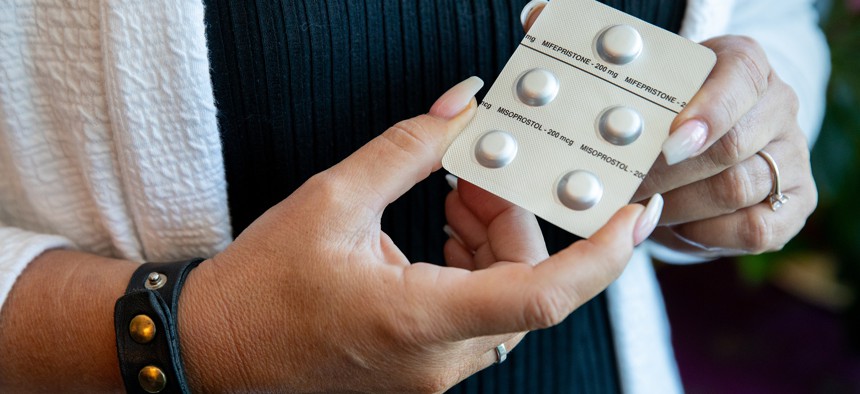 Legality does not equate to access – as anyone working in abortion access in New York state will be able to tell you. As elected representatives, labor leaders, and members of the Reproductive Justice Collective, a New York City-wide coalition of student and youth organizers, we are calling on the state Legislature and Gov. Hochul to pass Bill A3322/S9444 that requires the provision of abortion pills on campuses in all SUNY and CUNY schools and provide critically needed public funding to facilitate its implementation.
Medication abortion has been FDA-approved for the first 10 weeks of pregnancy for over 20 years, and consists of a regime of two medications: mifepristone and misoprostol. This method of abortion is extremely safe (it carries a  0.4% risk of major complications) and common: since 2020, medication abortion has been used in more than half of U.S. abortions. It is also extremely safe – medication abortion is 99.6% effective. RJC recently won a 2½ -year campaign to get Barnard College to provide medication abortion on its campus, and is now focusing on expanding access on campuses across New York. 
Since the overturning of Roe v. Wade and subsequent trigger bans across 12 states, New York's clinics have experienced an influx of out-of-state patients. People needing an abortion in New York can expect greater wait times due to this increased demand; passing legislation requiring medication abortion to be provided on New York's public university campuses can relieve the pressure on clinical abortion providers while simultaneously removing an oft-cited barrier to access for college students: distance between one's campus and the nearest abortion provider. This is especially true for SUNY students at upstate schools or in rural parts of New York. The average distance between a SUNY campus and the nearest abortion provider is over 11 miles, while for some students, they can be as much as 70 miles away from the nearest clinic. Students have noted that this makes their reproductive healthcare options less accessible, as one respondent to RJC's testimonial gathering on abortion access in New York reports, "not all students are able to travel off campus to a clinic, whether it be a 15-minute commute or five hours, it's not always doable. If campus health centers had medication abortion accessible to students, it would eliminate barriers such as transportation, financial [sic], and time."
Another barrier to access that warrants medication abortion on campuses is clinic harassment. Unfortunately, even in abortion-friendly New York, harassment is an all too common and very traumatic experience for patients trying to access the healthcare they need. Harassment of patients at the Bleecker Street Planned Parenthood in Manhattan is coordinated by anti-abortion groups such as Love Life or Witness for Life, whose actions are well documented by the grassroots reproductive justice group NYC for Abortion Rights. WFL, which is hosted by the Basilica of St. Patrick's Old Cathedral, marches every month to Planned Parenthood to harass patients and is accompanied by a New York Police Department escort on their way. From March 2018 to August 2022, according to NYC Open Data, WFL has requested a police escort 640 times. Friar Christopher "Fidelis" Moscinski, leader of the WFL program, has been arrested several times for invading multiple reproductive healthcare clinics throughout the United States. He was recently arrested for blocking patients from the Hempstead, NY Planned Parenthood entrance in September. Groups like WFL are in violation of the Freedom of Access to Clinic Entrances act of 1994. Despite this violation of federal law, the NYPD continually provides a police escort to the harassers – making New York City and the NYPD complicit in the intimidation and harassment of abortion patients. 
NYCFAR members organize clinic defenses on the days WFL is scheduled to march in order to block them from the view of the patients, as well as offering to escort patients from the subway to the clinic door safely (a role which also requires identifying anti-choicers masquerading as fake "clinic escorts"). Protecting the dignity and safety of patients has led to increased brutality toward clinic defenders. Most recently on December 3rd, the NYPD's Strategic Response Group arrested seven clinic defenders. In short, these grassroots mobilizers are doing the actual work and putting their bodies on the line to create the abortion "safe haven" reality that Democrats are prematurely proclaiming already exists in New York. How does having abortion pills on campus change this reality? It would make it much easier for students to access the care they need without the intimidation of anti-choicers outside of a clinic. Also, it would give students the agency and dignity to make their own reproductive health choices in private. 
Providing medication abortion on campuses is a necessary step in destigmatizing a procedure that has been overly sensationalized and politicized. California and Massachusetts have already taken steps to begin offering medication abortion on their public university campuses. New York's own proposed legislation is sponsored by Assembly Member Harvey Epstein of District 74, and state Sen. Cordell Cleare of the 30th state Senate District, and they were joined by Assembly Member Jessica González-Rojas of District 34 in supporting RJC's efforts to campaign for medication abortion on campuses at a press conference last Wednesday. "Why shouldn't it be on campus where it is convenient?" said Cleare in support of students having access to abortion pills on campuses. Noting an increasingly hostile environment for civil rights and barriers to access faced by students, Assembly Member Epstein stated, "we're fighting back to guarantee not only the right to abortion but access to it for a population that has limited time, resources, and transportation options." It only makes sense that New York, a self-proclaimed abortion "safe-haven," be next to take steps toward further normalizing abortion by providing medication abortion access on its public campuses.
Hennessy Garcia and Niharika Rao are members of the Reproductive Justice Collective and NYC For Abortion Rights. Garcia is also a student at Medgar Evers College and Rao a fellow at Advocates for Youth.
Editor's note: A previous version of this opinion submission included a third author who requested to be removed from the byline after the piece was published out of a personal concern.
Powered By
NEXT STORY: Opinion: The data is clear - Kathy Hochul must return to the political center