Opinion
Opinion: Proposed parks legislation points to path forward on capital process reform
The measures would unlock much-needed community open space across the city and save the Parks Department millions of dollars.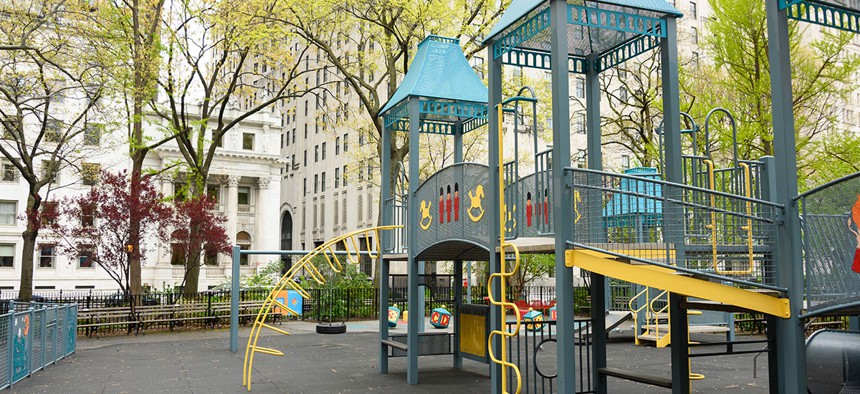 Earlier this month, the New York City Council Parks and Recreation Committee held a hearing on two pieces of proposed legislation that will have a far-reaching impact on streamlining the way our city gets critical infrastructure built and repaired across the five boroughs.
The first bill would require the Parks Department to develop a strategic blueprint for reducing the timelines on capital construction projects by 25%. The second would implement a much more detailed and rigorous metrics reporting process on current projects to ensure that deadlines are met and delivery challenges flagged in real-time based on data.
The Parks Department currently faces a backlog of $6 billion in capital expenditures for critical community park and open space needs. The backlog causes underfunded parks to continue to shut down or deteriorate, depriving New Yorkers – particularly in low-income communities – of the mental and physical health benefits of greenspace. Reforming the capital process would unlock much-needed community open space across the city and save the agency millions of dollars.
Citywide reform would lead to over $800 million in savings for New York over the next five years. That's enough to fund and over the course of just five years pay for 150 full-time parks workers, 1,300 miles of protected bike lanes or clear nearly all the state-of-good-repair needs across the city's three library systems.
And beyond just the parks department, the pace of construction across almost all city agencies is too slow to build a robust, equitable parks system, let alone to fix and build libraries, greenways or an array of other critical infrastructure. To realize Mayor Adams' "City of Yes" vision, we need to make sure we have public construction processes in place that allow us to drive a successful infrastructure-led recovery.
The proposed legislation is an important first step toward comprehensive reform and will serve as a replicable model for how other agencies involved in the capital process can streamline timelines, improve inter-agency coordination, and establish early completion incentives. 
Both proposals before the Council Parks Committee follow the initial recommendations toward overhauling the capital process which Mayor Adams' Capital Reform Task Force issued as an important first step toward real change in October. The Task Force's priorities ran from improving the project pipeline to streamlining procurement and permitting approvals. We applaud Mayor Adams for committing to serious action on this chronically neglected issue.
Now, at a moment when there is broad consensus among key stakeholders that our city needs to reform its outdated and inefficient capital process, enacting Intro. No. 840 and Intro. No. 842 for the Parks Department would be a crucial first step toward comprehensive reform. 
But the parks department is far from the only agency responsible for this deeply flawed system. We need the collective effort and focus of all the agencies involved with capital construction to address inefficiencies in project delivery. 
That includes members of the Capital Reform Task Force like the Department of Environmental Protection, Department of Transportation, Economic Development Corporation , the Procurement Policy Board , Office of Management and Budget , the New York City Law Department, the Office of the New York City Comptroller, the Mayor's Office of Contract Services and more.
Recent improvements at both the Department of Design and Construction and Department of Parks and Recreation as a result of strategic decisions to increase efficiency show that reform is possible. Both agencies have already cut several months off the average timeline to complete projects by implementing timesaving measures in their 2019 strategic plans such as standardizing designs and minimizing changes in the construction phase.
We look forward to the official policy recommendations expected from the Mayor's Task Force by the end of this month. In the meantime, the City Council and advocates for our parks will do its part to keep pressure on for capital process reform.
Shekar Krishnan is a member the New York City Council representing District 25, which includes Jackson Heights and Elmhurst, Queens, and is chair of the Committee on Parks and Recreation. Adam Ganser is executive director of New Yorkers for Parks.