Opinion
Opinion: Outdoor dining in New York City must cut through red tape to support local businesses
Restaurants struggling to recover from COVID-19 are hesitant to put time and money into their outdoor dining structures because they aren't in compliance with forthcoming city regulations.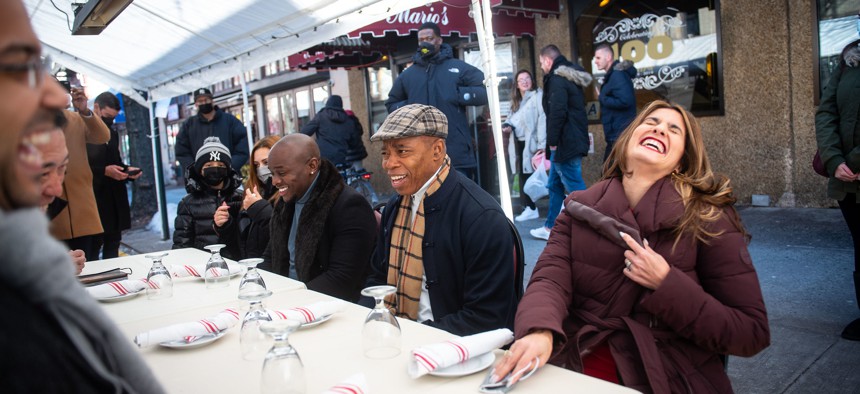 In June 2020, I joined then Mayor Bill de Blasio and community leaders at the beloved Melba's Restaurant in Harlem to dine al fresco on the launch day of the Open Restaurants program, which immediately captivated New Yorkers and allowed them to share a meal outdoors with their friends and families after months of pandemic lockdown orders. Across the five boroughs of New York City, Open Restaurants brought life back to our hallowed streets, saved thousands of restaurants across the city from permanently shuttering and is credited with saving 100,000 jobs.
It has become undeniably clear that almost 2 1/2 years since the first meal was served al fresco under the Open Restaurants program, the pre-COVID-19, 40-year-old sidewalk cafe law was woefully out of date and inadequate to serve our ever-evolving neighborhoods throughout the five boroughs. Pre-pandemic, there were only about 1,400 licensed sidewalk cafes under the old law, nearly all located south of 96 Street in Manhattan, compared to the nearly 13,000 establishments offering outdoor dining as part of the inclusive Open Restaurants program with participating small businesses in diverse neighborhoods throughout the city.
It's now 2023 and time for the city to begin the transition out of the temporary emergency outdoor dining program into a standardized and sustainable permanent system. 
There is beautiful outdoor dining throughout the city that's helped reimagine our communities and neighborhoods for the better, but even as a restaurant industry representative, I'm the first to acknowledge that abandoned and dilapidated dining structures must be removed. In their hasty construction, the building materials used often weren't weatherized and they were assembled when restaurants were experiencing an economic crisis, the outdoor dining rules and pandemic mandates were established quickly and they were unclear and changing often, combined with fluctuating customer demand, made it extremely difficult for restaurant owners and workers to keep up. Today, restaurants struggling to recover from the pandemic are hesitant to put time and money into their outdoor dining setups because they don't want to be told that their investment was a waste and doesn't comply with the forthcoming permanent standards they've been waiting to see for now over a year.
Mayor Eric Adams and the new City Council inherited the pandemic-era outdoor dining program still in its temporary emergency status, but now they've had a year to review the hours of testimony collected from two all-day public hearings on the future of outdoor dining and consider the feedback received from many meetings they've had with supporters and critics of the program, to develop and implement the best permanent outdoor dining program possible. 
The mayor and Council must ensure that the permanent version of outdoor dining cuts the bureaucratic red tape and keeps the cost down for restaurants to participate while embracing smart design standards and functionality. We need to remove the very barriers that prevented cafes particularly outside of and in upper Manhattan in the first place.
Outdoor dining needs to be affordable for small restaurants to participate and that's why the City Council must cap the consent fees to use the space in the law. The new policy must also significantly reduce the time it takes a business to obtain a license to operate. A new restaurant that opens in April should not have to lose out on its first outdoor dining season because it takes 5-6 months to get an application reviewed and processed by the city. During the transition to a permanent program, and after the initial review of an application under the new law, the city must issue temporary outdoor dining permits while they administratively process the official license. 
As to design, we imagine sidewalk cafes will be the most popular option and will look like they did pre-pandemic with tables, chairs, and umbrellas in the open air, sometimes framed with pretty planters and low barriers. For the streeteries, the city must pre-approve several standardized modular design options restaurants can select from that can then be customized for size, and color, with planters, platforms, seating, umbrellas, canopies, and light structural roof options. The ability to present a customized buildout to the city's Design Commission for approval should also be permitted. This will help ensure regulatory compliance across the board and address functionality issues like the use of sustainable building material and upkeep requirements, accessibility for the disabled, emergency vehicle access, the free flow of storm drain water, and gathering debris while deterring the harboring of rodents.
Streeteries can be seasonal, and the city can assist with winter storage of the modular setups, but if restaurants meet certain criteria, they should be able to receive a variance allowing them to have year-round streeteries. 
Reasonable rules that for decades governed sidewalk cafes like limiting hours of operation, and prohibiting amplified sound are expected, particularly in residential neighborhoods, along with other policies like determining eligible locations and requiring restaurants to be good stewards of their portion of the sidewalk and streetscape. And to ensure restaurants aren't used like ATMs by our city where fining small businesses historically has been ingrained in the regulatory culture, warnings with an opportunity to reform should be provided for all first-time minor violations.
New York City has a once-in-a-generation opportunity to permanently reimagine our ever-evolving streetscape in a way that prioritizes small businesses and jobs and brings people together to socialize, share meals, and make memories while respecting other uses of the public space and the communities that restaurants serve.
If we can get outdoor dining right, it means our elected leaders have the vision and political will to better our streetscape and rebuild a stronger city in countless ways.
Andrew Rigie is executive director of NYC Hospitality Alliance.
Powered By
NEXT STORY: Opinion: The Santos stain stretches far and wide