Editor's Note
Editor's Note: City & State has a lot to celebrate with GovExec's third anniversary
Our parent company's growth helped expand your leading news brand for politics and personalities and raised its national profile.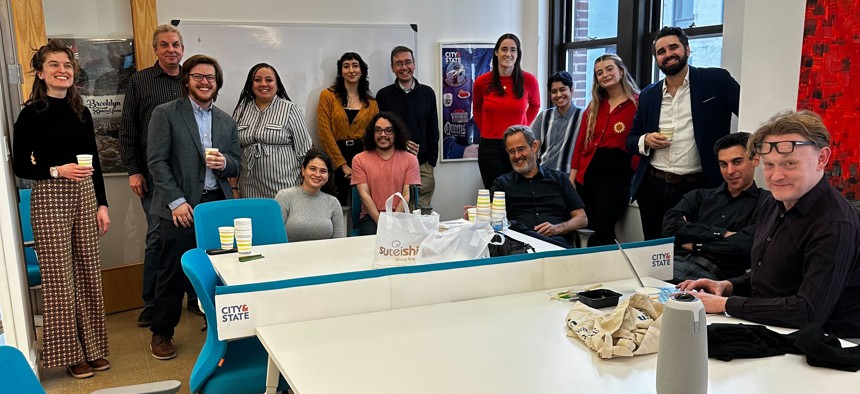 City & State's parent company, GovExec, celebrated its third anniversary on March 16, gathering staff across the country from its various brands for in-person and virtual celebrations. The milestone marked the day GovExec was spun off from Atlantic Media on a mission to become the leading sales and marketing intelligence company for government leaders and contractors. 
GovExec bought City & State in January of 2021, raising the national profile of our respected news organization, already the must-read brand for political power players in New York City, Albany and across the state. City & State then relaunched its operation in Pennsylvania and expanded into Florida. GovExec's support set in motion City & State Publisher and President Tom Allon's vision of creating a national brand that will continue on this expansion into other states.  
Joining in the anniversary celebration as a member of GovExec's family of respected news organizations, including Government Executive, Defense One, NextGov, Route Fifty and The Atlas among others, is not only a moment of pride for City & State, but a moment of recommitment to our readers. No brand in New York state does a better job of getting news about policy and political personalities in front of lawmakers. Just check out our latest stories, including Rebecca C. Lewis' deep dive on the impact of not having permanent leadership in the state courts and Peter Sterne's behind-the-scenes look at the progressive effort to foil Hector LaSalle's judicial nomination. And don't miss the 2023 Law Power 100. If you've got feedback, an opinion or want to learn more about our brand, please reach out to me at rortega@cityandstateny.com. Cheers!