Opinion
Editor's note: Leaving a legacy of public service for generations of women to follow
Camille Joseph Varlack, New York City Mayor Eric Adams' new chief of staff, looks back at her mother's accomplishments as she looks to make her own mark.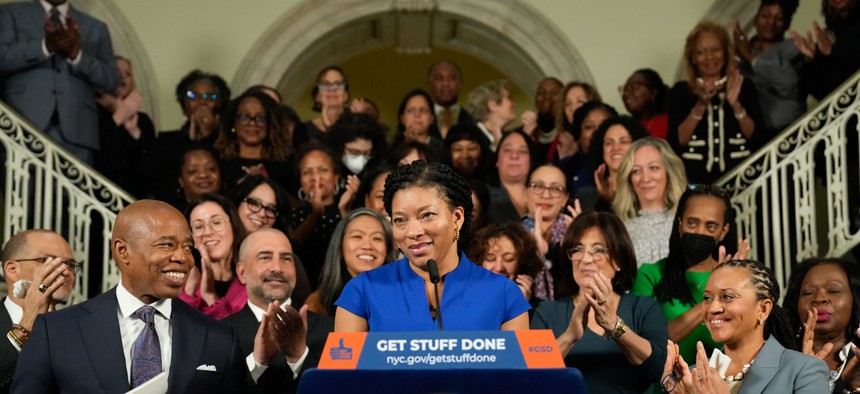 My mother emigrated from her native Chile to the U.S. in the 1960s to work as a physician at a time when men still dominated the medical profession. She succeeded, treating thousands of patients over a lifetime while working for the New York Infirmary, Bellevue Hospital, the VA and New York University. It's a proud legacy for me worth noting during Women's History Month.
I brought her up while meeting Camille Joseph Varlack, New York City Mayor Eric Adams' new chief of staff last week. Varlack, an immigrant from Trinidad and Tobago, came to the U.S. with her mother and two siblings and moved to Rochester where her mom enrolled in a nursing program. She not only became a nurse, but would go on to become the program's chair. "I will tell you that my mother is the hardest working person that I know. She's still incredibly hardworking," said Joseph Varlack as we spoke of each of our mother's legacies. 
Joseph Varlack works within an administration defined by top senior officials who are women, and many of the positions have been filled by women for the first time. "It is incredibly humbling," Joseph Varlack said, reflecting on what she might tell a young person who follows in her footsteps. "The legacy that I would like to leave, certainly for young women – for all young people – is to get a better appreciation for the joy that you have when you work for others." And that's a sense of appreciation for Joseph Varlack, and many others, that began with the mothers who set the example for us all.
Powered By
NEXT STORY: Opinion: Propane isn't the solution for school buses