Opinion
Opinion: New York City needs help to convert unused offices to housing
State law limits residential buildings' floor area ratio, complicating office conversions.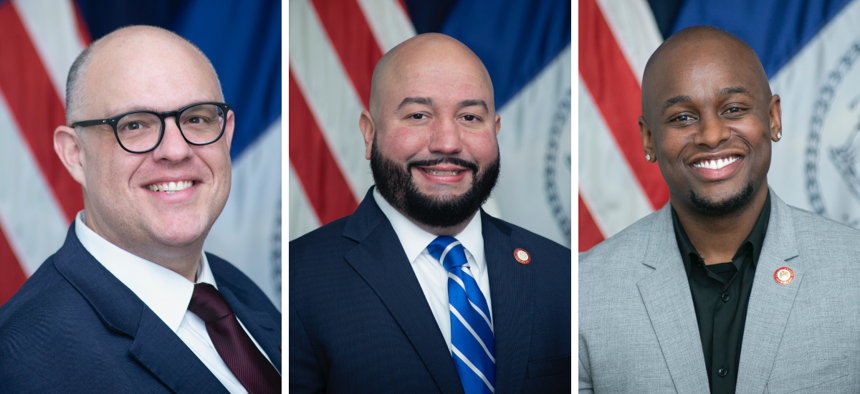 Not a week goes by without a discussion about New York City's worsening housing crisis. Experts have stressed that we must produce hundreds of thousands of new apartments by 2030. Here in the New York City Council, we hear from constituents on a daily basis about the struggle to find housing or remain in the neighborhoods they call home.
We're proud of the work that the Council has done, under Speaker Adrienne Adams' leadership, in response to this crisis to advance new affordable housing developments in our districts. Last year alone, the Council approved over 40 land use projects that will create more than 12,000 housing units, with more than 60 percent being affordable.
Yet, we also need help from our state partners to better confront this crisis.
Action from Albany and zoning changes at the city level are needed to unlock the production of more affordable housing that is desperately needed by New Yorkers. One key area for city and state elected officials to collaboratively advance is the conversion of New York City's unused office space into residential housing. This strategy alone won't be a silver bullet, but utilizing conversions to increase housing supply in Midtown Manhattan and other commercial areas can be one component of a comprehensive strategy to create new homes for New Yorkers.
Developing new housing units in central business districts can help relieve some of the pressure on districts like ours in Brooklyn and the Bronx, where longtime residents are struggling to stay in their neighborhoods. Additionally, there are opportunities for office-to-residential conversions in boroughs outside of Manhattan, which could bring new affordable housing directly to communities that have been impacted by gentrification over the past several decades. 
Fortunately, we now have a roadmap for making this all happen.
The Department of City Planning's Office Adaptive Reuse Task Force, convened by Mayor Eric Adams following the passage of Council legislation, recently released a report with recommendations for enabling more office conversions. 
The Task Force recommended reforming state law and the city's zoning to allow office buildings constructed before 1991 to use the most flexible regulations for converting into residential use. According to the report, these changes could provide more than 120 million square feet of office space with an easier path to conversion, which could result in approximately 20,000 new apartments to house 40,000 New Yorkers.
The Task Force also emphasized that the current restriction on residential floor area ratio (FAR) under state law makes it impractical and difficult to convert many buildings that otherwise qualify. By eliminating the 12 FAR cap, the state can remove an outdated and arbitrary restriction and restore decision-making authority to the New York City public review process as to where increases in much-needed housing density are appropriate.
To spur the creation of more affordable housing as part of office conversions, it is critical for the state to provide a tax incentive program that all stakeholders can agree on. We need to be realistic and understand that offering an incentive is likely the difference between housing conversions that result in entirely market-rate units and creating permanent affordable apartments that meet the needs of all New Yorkers for generations.
There is more work ahead of us, but stakeholders are largely on the same page regarding this issue.
Many of us in the Council were excited when Governor Hochul included a pathway to enable office conversions and lift the 12 FAR cap in her executive budget. Her focus, along with the Task Force recommendations, have provided a real launching pad for city and state collaboration on housing moving forward. 
The question now is whether we can work together to turn this policy roadmap from a vision into reality. Can we stand up for much-needed affordable housing, and all the good-paying jobs and new community investment that comes with it, by taking action to turn vacant office space into homes for our fellow New Yorkers?
We believe we can, and we look forward to working with our Council colleagues and counterparts in state government to get it done.
Justin Brannan is a New York City Council member representing District 43 in southern Brooklyn and the chair of the Council's Finance Committee. Rafael Salamanca Jr. is a Council member representing District 17 in the South Bronx and the chair of the Land Use Committee. Kevin Riley is a Council member representing District 12 in the North Bronx and the chair of the Subcommittee on Zoning and Franchises.
Powered By
NEXT STORY: Opinion: Modernizing Belmont Park is a smart wager for New York Labor