Opinion
Opinion: Regulating crypto didn't cause banks to collapse
Barney Frank says anti-crypto regulators are behind the Signature Bank seizure. He couldn't be more wrong.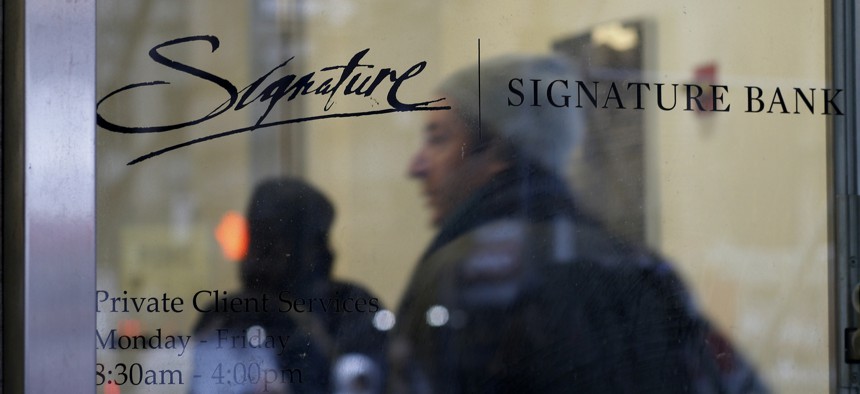 The collapse of Silvergate, Silicon Valley Bank and Signature Bank of New York this past week presents a serious yet unfounded challenge to blockchain and cryptocurrency innovation.
Because these three banks were considered "crypto-friendly," holding the lion's share of cash deposits for major players in the cryptocurrency sector, some are blaming their demise on the alleged instability of digital assets. That post-mortem report is almost certainly premature. 
It will take time to fully suss out what caused the failures. Whether the banks were whipsawed by anti-inflationary monetary policies or plagued by other problems remains to be seen.
In the meantime, though, both regulators and proponents of blockchain technology in the financial services sector would benefit from heeding Rudyard Kipling's fatherly advice to "keep your head when all about you [a]re losing theirs and blaming it on you." 
Unfortunately, some people are losing their heads. Take, for example, former U.S. Rep. Barney Frank, who co-sponsored the Dodd-Frank banking reform law that Congress enacted in the wake of the global economic crisis of 2008. 
As a member of Signature Bank's board of directors, Frank was understandably distressed when the agency ordered the bank to close. But his response to the regulator's intervention was skewed and indefensible. 
Signature Bank was a New York State-chartered bank and was supervised by the New York State Department of Financial Services (DFS). In a series of interviews, Frank maintained that DFS "shut down Signature as a general warning shot against crypto rather than anything that was Signature's fault." He stated that the bank's closure "is the regulators – particularly in New York – sending the message to banks, crypto is toxic; stay away from it." 
Elsewhere, he was even more extreme. "We were the ones that they shot," he said, "to encourage others to stay away from crypto."
This is nonsense. New York regulators are not anti-crypto – far from it. None of their past behavior indicates any sort of animus against blockchain or crypto technology. In fact, New York has a decade-long track record of supportive and responsible leadership as a regulator of blockchain-based digital assets. 
Beginning in 2012, when I was the initial general counsel for the New York Department of Financial Services (DFS), I worked with the agency's superintendent and my colleagues to create the first regulatory frameworks for cryptocurrencies. Our goal was twofold. 
First and foremost, we sought to ensure the safety of consumer funds by requiring that licensees were adequately capitalized and operated in a safe and sound manner. And second, we were dedicated to promoting the evolution of an innovative technology, which we understood would have a tremendously favorable impact on financial services in the United States and globally.
New York's commitment to responsible innovation in the financial services sector, led by Governor Kathy Hochul, remains as strong today. Indeed, were it not for New York's progressive regulatory program for digital assets, the two recent bank closures in California would have been far more devastating to cryptocurrency investors. It was New York's capital and operational requirements for the issuance of dollar-backed stable coins by DFS-chartered trust companies, issued in 2022, that ensured stable coin investors were made whole after Silvergate and Silicon Valley Bank both collapsed.
And as we have seen by some of the challenges facing the crypto industry, including the sudden fall of FTX, it's as important as ever to maintain sensible regulatory guardrails.
In the past ten years, blockchain technology has made tremendous inroads into the U.S. financial services industry. It has provided a valuable new medium for domestic and global payments, as well as a way to ensure broad access by underbanked populations to the financial tools that help generate wealth. 
Blockchain technology is and can be a revolutionary infrastructure for creating a wide array of new, efficient, and secure markets for assets of every kind. It simply needs the steady, guiding hand of responsible supervisors.
Now, more than ever, New York financial regulators must keep their heads when those around them are losing theirs.