Editor's Note
Editor's note: New LIRR concourse at Penn Station offers preview of what's to come
The $700 million completed section of the transit hub has been welcomed by commuters.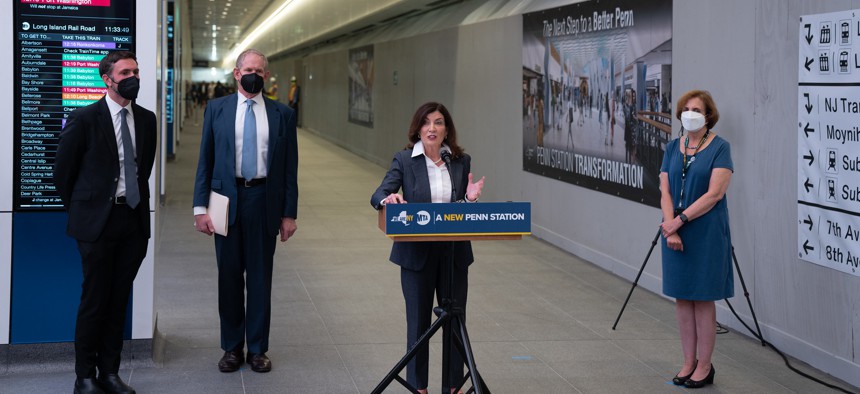 I've been passing through Penn Station for months watching the Long Island Rail Road concourse get a significant makeover. Now, as it nears completion, it offers a glimpse into what the station's possible future might look like if Gov. Kathy Hochul's $8 billion redevelopment of the transit hub goes through.
Some lawmakers have pulled their support for the governor's proposal after developer Vornado Realty Trust put its plan to build several skyscrapers in the area and help fund the project on hold because of a slowdown in the commercial real estate market. Those lawmakers may want to rethink that after checking out the new LIRR concourse. The ceilings were raised up to 18 feet, the main corridor between Seventh and Eighth Avenues was substantially widened and bright new LED lights were installed. New walls, signage and electronic screens offer a modern look compared to the discount shopping mall effect that existed before, complete with mirrors that give the impression of more space.
Aside from modernization, Hochul's plan raises the ceiling to street level where a glass shed would allow much-needed sunlight into the station. Despite losing Vornado, Hochul still plans to move forward with the project. Proponents for rebuilding Penn Station argue it will leave the station looking more like the Port Authority Bus Terminal, which itself is an eyesore. However, commuters already welcoming the LIRR concourse improvements can't be ignored. They're done living with a cramped, dingy and dark Penn Station. Lawmakers considering that may want to give the governor's proposal a second look.