Opinion
Opinion: There were a few notable outcomes from the sleepy 2023 primary
Consultants, among other observers, weigh in on the takeaways and trends from the recent contest.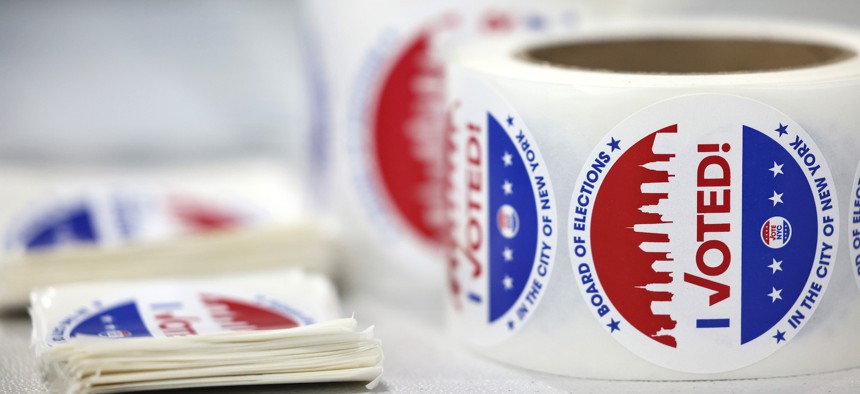 As the Democratic co-president of the New York Chapter of the American Association of Political Consultants (my Republican counterpart is Actum's Chapin Fay), I spoke to some of the leading political pros about their takeaways on last week's primary races.
Overall, last month's New York City Democratic primary elections were for the most part pretty sleepy, low turnout, with a few notable exceptions. "On the Democratic side, there were very few surprises – an unexpected result in Harlem and an incumbent defeat in Brooklyn. Otherwise, a sleeper with few voters and few headlines that leaves the council as it was before the primary," said Luis Miranda Jr., founding partner at MirRam Group.
Nevertheless, despite the low turnout, there appeared to be some important takeaways and trends worth highlighting. Here are some observations and comments from some noted political experts on the 2023 Democratic primary:
Political moderation is coming to the Democratic Party
The election results made clear that political power is beginning to shift back to the more moderate wing of the Democratic Party – at least in New York City – after the leftward surge that came about as a result of the 2018 congressional victory of Rep. Alexandria Ocasio-Cortez – a sentiment that was echoed by two political pros.
"The one thing that's clear from last Tuesday's results is that the momentum of the left which was a clear concern for the party in 2018 has been slowed if not stopped by the defund debacle," said Scott Levenson, president of The Advance Group. "The politics on the ground seem to suggest that the partisan political ugliness of the last five years has caused the voters to gravitate to those with real experiences and integrity rather than anything that looks like the same old politics." 
Sara Forman, executive director at the New York Solidarity Network, noted that while "the worst far-left extremists in the 2023 primary election (were beaten back), few incumbents were challenged and even fewer challenged on their actual far-left positions."
"But they won't be so lucky in the next election cycle," she added. "Our work to deliver commonsense government to New York is just getting started. Working together with other like-minded groups, we are going to shift the political landscape of New York City and New York state away from the far-left fringe that opposes the mainstream consensus on foreign policy and local issues such as crime and education," 
The growing power of women in electoral politics
Local politics is at an important inflection point today. The New York City Council is now majority female which will create a halo effect and encourage other female candidates to run.
"While some research has shown that women do not have as strong of a power of incumbency as men, the incumbent women had very strong results against challengers and more women in office becomes a positive feedback loop for women's political power," said Jessica Haller, executive director at The New Majority NYC. "(Female representation was aided by) the impact of well-intended redistricting, as an example, the district created to support the growing AAPI community will (now) have a woman from the community representing them." 
Voter turnout should not be a last-minute afterthought
Primary day turnout was widely expected to be low, owing to the fact there were no citywide races. And yet, some of the financial data in the public filing indicates that candidates did not prioritize a robust voter counting and get-out-the-vote effort.
"The most electable candidates in these low turnout elections were the ones that could get people to the polls," said Sabrina Lucia Rezzy, vice president of George Arzt Communications.
According to Lucia Rezzy, New Yorkers voted for candidates who inspired them this election cycle. "Where the candidate fell on the ideology spectrum had little bearing," said Rezzy. "That's why we saw Yusef Salaam's remarkable success in Harlem and Chris Banks' in East New York."
The limitations of institutional power and support
A few of the upset races in Harlem and Brooklyn demonstrated the limitations of institutional political support – especially when candidates were able to generate their own enthusiasm and political support – outside of the traditional avenues.  
"Most incumbents won pretty decisively, with the exception of incumbent Council Member Charles Barron, whose time may finally be up – and represented a big win for House Minority Leader Hakeem Jeffries," said Democratic strategist and media consultant Trip Yang.
"What was clear was that in a few upsets, the front-runner with the most institutional political support lost, such as Inez Dickens in Harlem and Wai Yee Chan in South Brooklyn," added Yang, also a member of the City & State Advisory Board. "The winners – Yusef Salaam and Susan Zhuang, respectively – were the right candidates at the right moment in time for their districts. In particular, voters in Harlem wanted to vote for a candidate with a fresh perspective and an inspiring story (Yusef), while voters in South Brooklyn wanted to vote for a candidate who leaned in on public safety (Zhuang)."
The political power of organized labor remains strong
While certain trends are emerging and evolving, certain aspects of New York City politics have remained constant – including the power of organized labor and the might and money that they bring to local politics.
"The Democratic primary results were a reaffirmation that organized labor has no equal in New York City electoral politics," said Kevin Elkins, director of political action at New York City and Vicinity District Council of Carpenters. "The unions with the strongest political programs forced one incumbent to quit rather than lose, toppled another one and protected all the incumbents who stood with them. Simply put: cross labor, lose your seat."
Bradley Honan is CEO & president of the Democratic polling and data analytics firm Honan Strategy Group. Honan is also co-president of the New York Metro Chapter of the American Association of Political Consultants.
Powered By
NEXT STORY: Commentary: Fatal Port Newark fire exposes regional dysfunction