Opinion
Opinion: Public schools need student journalists, too
Instead of subsidizing expensive journalism degrees, the mayor should invest in student journalism in public schools.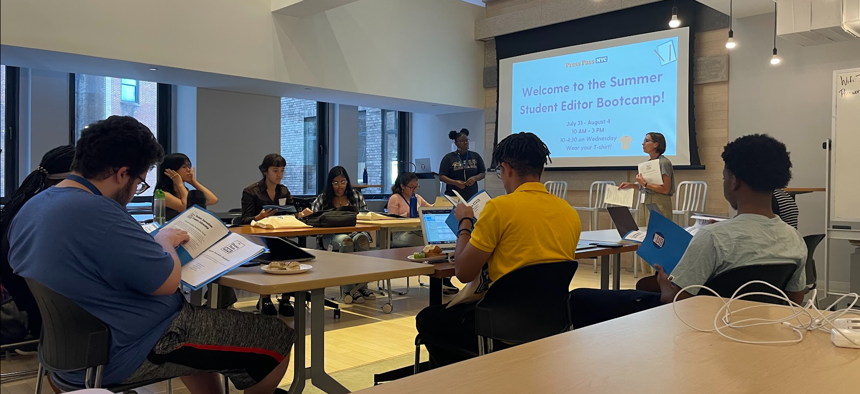 Mayor Eric Adams recently announced a plan to raise money through the Mayor's Fund to support some New York City students who want to pursue undergraduate and graduate degrees in journalism. The goal? To increase the diversity of the media industry in this, the media capital of the world.
We think that's a good idea…sort of. But we also have a more direct, cost-effective and efficient way to do this: establish student-run newspapers or news sites in every public school in New York City.
It won't just improve diversity in local media; it will help our city's overall health by teaching the next generation to express their ideas in writing, improve their media literacy and practice the civic skills they'll need to become active citizens and thoughtful voters.
And yes, maybe even some day, it will produce some working journalists.
If you think most high schools in New York City already have student-run newspapers or news sites where young journalists can cut their teeth, you'd be wrong. Unless your child attends a private school or a public school with a high population of white and Asian students, or students from affluent families, they are unlikely to encounter a school newspaper.
Here are the statistics: of the 50 public high schools with the highest percentage of white students, 38 reported having a school newspaper. Of the 50 public high schools with the highest Asian populations, 39 had a school newspaper. But of the 50 public high schools with the highest percentage of Black students, only four schools reported having a school newspaper; of those with the highest percentage of Hispanic students, there were just eight with school newspapers.
Pretty stark inequity.  
But it doesn't have to be this way. When given the chance to start a student-run news site, public school teachers and students in schools from across the city are nearly are jumping at the chance.
Press Pass NYC, the nonprofit organization I founded, aims to get sustainable student-run news sites off the ground in every middle and high school in New York City. In our first two years, we have helped start 19 different newspapers or news sites. 
Now, as we enter our third year, schools are clamoring for what we offer: mentoring, journalism bootcamps for would-be editors and reporters, and extensive support for the hardworking, passionate teachers who advise and sustain these lively student groups.
Our approach is not expensive. For the same cost as sending a single student to, say, a ten-month Master's Degree program at the Columbia Graduate School of Journalism (about $85,000, not including living expenses), we could open another 10 to 15 student-run news sites, giving at least 60 high schoolers their first taste of journalism and keen understanding of why it matters – not to mention build more community and press awareness and appreciation throughout the student body.
We can only imagine the impact if our program is adopted city-wide.
We're a scrappy start-up, but we have ambitions to make this a regular resource for public school kids in New York City. We're doing it because, like the mayor, we believe that the media business is too important to our democracy to be left solely to those who have the family wealth or discretionary income to learn these important, empowering skills.
As a former teacher, guided by some veteran media professionals and educators, I know that giving students the opportunity to be journalists will improve the outcomes for those young people, the industry, and also for our city.
We invite the mayor, the schools chancellor, media professionals and the name-brand media organizations that want to support our public schools while widening the pipelines of diverse young journalists to join our efforts in supporting students from New York City and repairing not only the inequities in professional newsrooms but in public school ones, as well.
Lara Bergen is a former teacher and the founder of Press Pass NYC.
Note: City & State publisher Tom Allon is a board member of Press Pass NYC.
Powered By
NEXT STORY: Opinion: A greater society begins by properly caring for the overlooked