Editor's Note
Editor's Note: Name-calling over the asylum-seeker crisis is the real 'buffoonery'
This is no time for New York City Mayor Eric Adams and his former mayoral challenger Curtis Sliwa to get personal over the influx of migrants.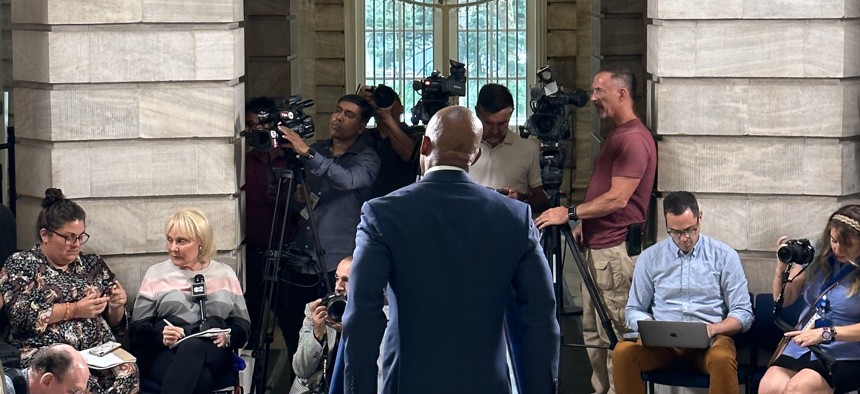 "Curtis Sliwa?" Eric Adams quipped on Aug. 29 at City Hall when asked during a press conference about his former mayoral challenger and his demands that asylum-seekers be housed at Gracie Mansion. I happened to catch the mayor's disgusted reaction, and it wasn't pretty. "Any time you start out a question with the name 'Curtis Sliwa' – that in itself states it would be a disservice to me and other New Yorkers to even respond," Adams said. "If you look in the dictionary for the word 'buffoon,' tell me what picture comes up."
Ouch! Sliwa, founder of the Guardian Angels and known for throwing around a few zingers himself, fired back at Adams. "I have always said that he is the swagger man with no plan," he told amNewYork. The Republican pointed out that he plans to challenge Adams again in 2025. "I have made it very clear that I'm running. So, he may think he can, you know, just ignore me but I'm going to become his worst nightmare on this subject."
OK boys, behave. Now isn't the time to get personal. It may be funny for some people to hear Adams put Sliwa in his place, and then have Sliwa return with one of his signature snarky comments. But 100,000 migrants who've arrived in New York since last year, many of them escaping political persecution, extortion, death threats and other abusive situations, aren't laughing. Neither are most New Yorkers. The mayor, who insists he's "managing" the situation, needs to stay focused, while Sliwa should probably stick to his fondness for cats and ready himself for that 2025 rematch.