Politics
Opinion: The House speaker fight shows the New York GOP representatives' true colors
Members of Congress like Anthony D'Esposito and Mike Lawler say they're moderates, but they're considering MAGA extremists for House speaker.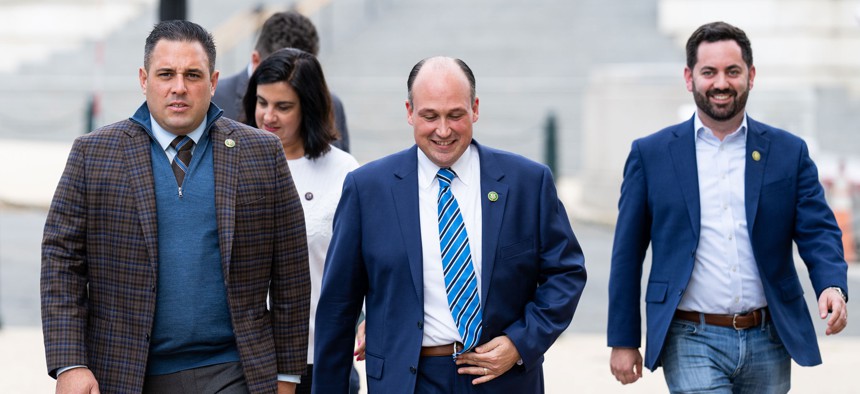 Since last weekend's House floor debacle, where Republican Matt Gaetz led his band of insurrectionists to depose Speaker Kevin McCarthy and left the chamber in disarray, New York Republicans have been working overtime to spin their party's chaos as something other than what it is. Just one year away from critical elections, they wish to cast themselves as moderates, while distancing themselves from the MAGA crowd that now dominates their party.
Their act is rather unconvincing. First, because they have a voting record. And second, because they're already playing footsie with the MAGA extremists seeking to replace McCarthy.
Since taking office, New York Republican House members – particularly those in battleground districts like Reps. Anthony D'Esposito and Mike Lawler – have sought to portray themselves as middle-of-the-road figures putting their constituents' interests above those of the extremists like Gaetz. Their voting records, however, tell a very different story. 
During this Congress, every Republican from New York has voted with Gaetz between 68% and 88% of the time, according to an analysis I conducted using ProPublica's vote comparison database. Along with Gaetz and his ilk, GOP representatives like D'Esposito and Lawler have voted time and again to take away vital services on which New Yorkers rely. In the spring, they voted to cut Medicaid, public school funding and nutrition programs that feed people struggling to get by. During the summer, they voted to take away abortion rights from service members. 
Just before McCarthy was deposed, these same New York Republicans went along with his failed attempt to placate Gaetz by voting to cut funding for Social Security offices, Head Start, nutrition aid for pregnant mothers and cancer research by 30%. While trying to keep the Speaker's gavel in McCarthy's hands, they played along with MAGA extremists' partisan games, toying with people's lives and the economy and marching our country toward a government shutdown, instead of reaching across the aisle to keep the government open and address working families' needs.
Moderates? Not so much.
What's worse, now they're cozying up to the two extreme MAGA frontrunners for Speaker: Reps. Steve Scalise and Jim Jordan. As Rep. D'Esposito himself shared on CNN, the New York Republicans are trying to stick together in the speakership vote, and they have already spoken with both men. 
Normally, it would make sense to engage with candidates in a contest like this. But these two are no normal contenders. 
Steve Scalise is an ardent MAGA Republican who voted to overturn the 2020 election. Moreover, he has long maintained ties with white nationalist groups, once telling a reporter that he was like "David Duke without the baggage." Anyone who refers to the former Grand Wizard of the Ku Klux Klan in an even remotely positive light has no business anywhere near the Speaker's gavel. And any "moderate" representative has no business entertaining the possibility of supporting such a person.
Jim Jordan is perhaps best known for helping to cover up a rampant sexual abuse scandal in the Ohio State University wrestling team, where he was a coach. His notoriety rose further after the 2020 election, when he became one of the most significant players trying to overthrow the election. Jordan repeatedly made baseless claims of election fraud, while plotting with President Trump and Rudy Giuliani to stop the certification of the 2020 elections. As Liz Cheney, vice chair of the House of Representatives' January 6th Select Committee, said: "Jim Jordan knew more about what Donald Trump had planned for January 6 than any other member of the House of Representatives…[He was] part of the conspiracy in which Donald Trump was engaged as he attempted to overthrow the election." If one cares about protecting our freedoms, this is not a man to talk to.
It remains unclear whether either Scalise or Jordan can secure the necessary 218 votes to assume the speakership. But one thing is clear: both represent a threat to this country's democracy and to any efforts to rein in the MAGA extremism that has ground Congress to a halt.
If they want to show New Yorkers that they can act as effective voices of moderation in their party, New York's GOP representatives have two options. The best choice for the state and the country would be to vote for Democratic Rep. Hakeem Jeffries for Speaker and work with Democrats to govern. Sadly, partisan politics makes that outcome unlikely. In that case, members of Congress like Lawler, d'Esposito, and Williams should clarify that they will only support a speaker from their caucus who vows to oppose MAGA efforts to overturn elections and shut down the government, and who commits to truly working with Democrats to govern effectively.
As this week's vote approaches, New Yorkers would be wise to ignore how their Republican members of Congress describe themselves. Instead, we should pay more attention to the votes they take and the men with whom they choose to associate. Thus far, they are failing their constituents on both counts.
Daniel Altschuler is the Co-Executive Director of Make the Road Action.
Powered By
NEXT STORY: Opinion: Out from under a rock