Adriano Espaillat
Rep. Adriano Espaillat is a symbol of opposition to Donald Trump. But will he get anything done?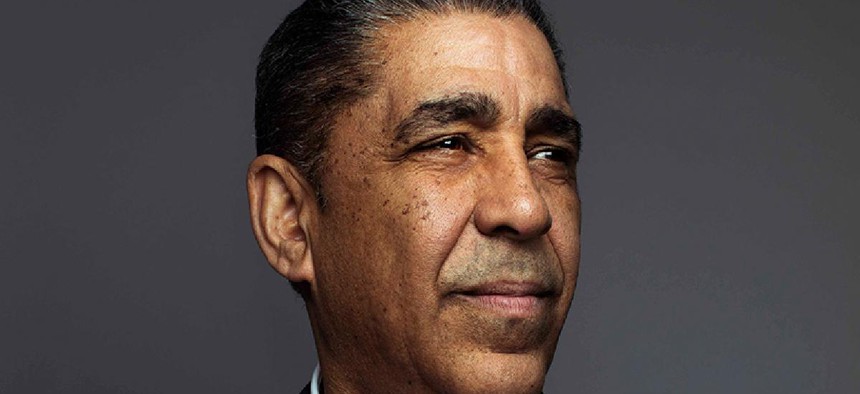 On a Wednesday afternoon in February, a young Latina walked into Rep. Adriano Espaillat's newly opened Harlem office looking for help. Greeted by two staffers, she explained in halting English that she wanted to know how her grandmother could apply for American citizenship. One of the staffers responded in Spanish, bringing her further into the office and translating for her as another staffer walked her through the immigration forms on the U.S. Citizenship and Immigration Services website. It was constituent services at its finest. And if any office is equipped to help with immigration issues, it's Espaillat's – he's one of the few members of Congress to have gone through the process himself.
Helping others navigate the difficulties of U.S. immigration has been part of Espaillat's life since he was a Dominican-American kid growing up in Upper Manhattan in the 1960s. His first job was helping out his grandmother's brother with the three "golpes."
"We Dominicans have the three golpes for breakfast, which is the mangú, queso frito and the huevo revuelto," Espaillat said, describing the classic dish, strictly translated as the "three hits," of mashed plantains, fried cheese and eggs. "The three golpes for him was the green card, a room as a boarder and a job," Espaillat continued, laughing. "He would get that for you. He would prepare the paperwork. And he worked with this lawyer, who was the lawyer who got us our green card."
Espaillat's great-uncle would send him down to the lower Manhattan immigration office on Church Street to pick up the right forms to bring back to Washington Heights. "He must have got the green card for a couple thousand people," Espaillat said. "He worked from his apartment. He had an office in his apartment and somehow he had a public phone there!"
In a sit-down interview in his Harlem office, I told Espaillat that I had witnessed a constituent in his office earlier looking for a new "golpe" – help applying for citizenship. His face lit up. "Oh that's great! I feel right at home."
RELATED: Adriano Espaillat claims historic primay win.
Espaillat has been serving Upper Manhattan for decades, so it makes sense why it would feel like home. But upon taking office in the U.S. House of Representatives on Jan. 3, 2017, Espaillat entered a new, strange territory. He is the country's first Dominican-American member of Congress, but many in his district felt that his victory came at the expense of black political power. He is a progressive Democrat entering Washington, D.C., with Republicans controlling the House, Senate and the White House. He's one of the first members of Congress who immigrated to the U.S. illegally, and he was elected at the same time as a president who has threatened to deport millions of immigrants who entered the country illegally.
Espaillat and his parents first moved to New York City from the Dominican Republic in 1964, when he was nine or 10 years old (he himself is unclear on the exact date). They came for better jobs and to reunite the family – Espaillat's maternal grandparents already lived in Washington Heights. His grandmother was a member of the International Ladies' Garment Workers' Union in her job at Bobbie Brooks in the garment district. His grandfather made less and traveled farther, to a job at the Ray-Ban factory in Flushing. But that job had other benefits. Adriano was the only kid on the block to have the flip-up sunglasses like the baseball players wore.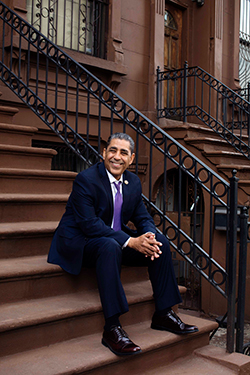 Espaillat and his parents came to the country on a tourist visa, then overstayed it. They lived illegally in the country for a little less than a year before he and his parents acquired green cards. Espaillat says the process was easier back then. His parents got an affidavit from an employer, medical tests, a police background check and proof of savings in their bank account. Then came the hard part: entering a war zone.
The Espaillats had to return to their country of origin to pick up the green card that would give them permanent residency in the U.S. But in the summer of 1965, the Dominican Republic was in the midst of a monthslong civil war. The Espaillats went to Santo Domingo, the capital, and found a city divided. Young Adriano remembers hearing gunshots as different areas of the city were fought over by the combatants. When they got into the consulate general's office with an appointment and received their green cards, the building was packed with people trying to leave the country, "like the fall of Saigon."
Safely back in Washington Heights, Espaillat fell into jobs serving the community, such as helping his uncle with the "golpes" and being a Spanish-English interpreter for his grandmother's friends at government offices.
"She would force me to cut into my baseball time sometimes on Saturdays, make me go to the hospital with somebody," said Espaillat, laughing at the memory. "Helping people. After a while I kind of liked it."
"She would force me to cut into my baseball time sometimes on Saturdays, make me go to the hospital with somebody. Helping people. After a while I kind of liked it."
In his late 20s, Espaillat felt "a rush in my body" when he became a U.S. citizen. He stayed in Washington Heights, serving at one point as a coordinator for the New York City Criminal Justice Agency, and also as a community organizer. As spokesman for the Coalition for Community Concerns in the early 1990s, he complained about federal immigration raids in Washington Heights bodegas, according to a piece in The New York Times. By 1992, the Times was describing him as a longtime community advocate.
Espaillat ran for City Council in 1989 and 1991, losing both times. In 1996 he won a seat in the state Assembly, becoming the first Dominican-American in the state Legislature. Now in his 20th year as an elected official, Espaillat's roots in the community are a fundamental element of his appeal as a public servant today – and of his own identity.
I asked Espaillat how he would fight back against President Donald Trump's administration. He responded with a question of his own: "As Democrats and progressives, how do we turn the protests and the massive show of support for our points of view into actual victories? Tangible victories that could be touched by the average American?"
"That's not an esoteric experience," he answered. "But it's real, it's on the ground, it's sweaty. That requires organizing skills. And I think deep inside of me, besides being a congressional member, I'm really an organizer."
It's a Friday night in Harlem and Espaillat is talking to a crowd in a large conference room a floor below his office in the Adam Clayton Powell Jr. State Office Building about what they can do if they are stopped by immigration officials. Democratic Congress members and elected officials all around the country have held similar events in the weeks since Trump took office promising a new era of strict enforcement of immigration laws. Espaillat kicked off the Feb. 10 event with a call for applause, saying it's a big day because the 9th U.S. Circuit Court of Appeals blocked Trump's "travel ban" executive order on immigrants and refugees.
"It shows if we mobilize, we win," Espaillat says into the mic, repeating every line in Spanish. "Let's continue this effort to make sure we resist all of Trump's negative, draconian initiatives, especially his executive orders, that stand in opposition to who we are as Americans."
RELATED: Adriano Espaillat is the biggest baseball fan on the Hill.
Even though events like this have been held around the country, this one feels like it holds extra weight: Espaillat is speaking from experience. He was once one of them, worried that he and his family would get deported. Every member of Congress uses the collective "we" when addressing supporters, but he has a stronger claim on the rhetorical device, given his shared history with other immigrants.
Espaillat's impact as a relatively powerless first-term congressman in the minority may depend on leveraging his status as "the first." He is the first congressman of Dominican descent – a fast-growing demographic that's gained political power in New York City over the past two decades. He is also one of the first members of Congress to immigrate to the country illegally. (He shares that honor with fellow first-term Rep. Ruben Kihuen, a Mexican-American Democrat from Nevada who overstayed a tourist visa. "It's OK," says Espaillat. "It's not a race to be first. He and I are in the same place. That's good.")
While Espaillat did not share his immigration story with the crowd that night, it wasn't far from other people's minds. The night's co-host, state Attorney General Eric Schneiderman, said voters "have sent an important message. Not just by sending the first Dominican to Congress, but by sending the first person who came to this country undocumented."
But Espaillat wants to do more than send an "important message." In his first few months in Congress, he landed a position on the House Foreign Affairs Committee, which the committee's ranking Democrat, Rep. Eliot Engel, had to lobby hard for, since their districts border each other. Espaillat's office has been putting out press releases at a furious pace, opposing almost everything the Trump administration does. Speaking from the House floor, he claimed that "the economic ramifications" from Trump's wall on the Mexican border "will be devastating to the entire country." The first bill the new congressman introduced would ban the building of walls or fences on federal land near the border. It has no chance of passing.
And therein lies the problem for a freshman Democrat in a Republican government. With little power available on the national stage, perhaps the best way to prove to your constituents that you're an effective representative is to focus on the people back in the district – but some people in his district may be hard to win over.
Adriano Espaillat represents New York's 13th District, the most densely packed congressional district in the entire country. It covers a pocket of the West Bronx and all of Upper Manhattan, from Espaillat's home in Inwood at the island's northern tip down through his heavily Dominican-American power base of Washington Heights and over to Harlem, the spiritual capital of black America.
Though Espaillat is widely respected in this heavily Democratic district, he's far from universally loved. A big part of that has to do with how he challenged the powerful and well-liked incumbent Rep. Charles Rangel in 2012 and 2014 – "arguably the most popular congressman in the history of New York state," a former Espaillat staffer admits. Espaillat, then a state senator, narrowly lost both times. In the racially charged primary contests, Rangel attacked Espaillat for relying on his ethnicity to earn votes and for being an ineffective legislator. When Rangel retired in 2016, Espaillat's main rival in the Democratic primary was Keith Wright, another established elected official representing black Harlem. Espaillat's win in that race was a victory for Dominicans, but it felt like a symbolic loss for blacks in the district too.
"The real thing that was so upsetting was, for some people, was to see the decline of black political power in Harlem," explained Cheryl Pahaham, a black resident of Inwood who ran for City Council in 2013 and is active in local Democratic politics. "And happening in this whole context where the real estate market is exploding, Central Harlem is becoming whiter and whiter. That's very threatening for minority communities who lived there through the bad times and now are kind of being displaced."
Pahaham praised Espaillat for his progressive policy positions. The racial tension, she explained, was about more than Espaillat being Latino. "Adriano, he can campaign or do politics in a way that will make people feel slighted, just because they are not Dominican, even though they support him," she said. "So he sort of has that reputation."
RELATED: Key New York City Council primaries by district.
That reputation for racial politics was bolstered by his robust support for fellow Dominican-American Marisol Alcantara in a bitterly contested fall 2016 primary for Espaillat's former state Senate seat. Alcantara beat out black former City Councilman Robert Jackson and the white, Jewish political consultant Micah Lasher after some pointed comments from Alcantara about who could and couldn't speak Spanish in the heavily Latino district. Alcantara's win, despite raising far less money than her challengers, was seen as indication of Espaillat's growing political influence in Upper Manhattan. But she has caused the new congressman headaches by joining the Independent Democratic Caucus, a breakaway faction that partners with Republicans to help create a majority in the state Senate. Alcantara's move has drawn greater scrutiny thanks to Trump's election, spurring protests in the district and fights on the state Senate floor. Espaillat dismissed the attacks. "She's the most progressive person in the Senate," he told me, describing her as a "union organizer and a Bernie (Sanders) delegate."
To fight the reputation, Espaillat has worked hard to court the majority black Central Harlem neighborhood he now represents. He issued a release slamming Airbnb's "Harlem Experience" tours as a way the short-term lodging service profits from the historic and gentrifying neighborhood. He issued another recognizing the first black congressman in Harlem, Adam Clayton Powell Jr., and Powell's successor, Rangel, as "African American political trailblazers." More controversially, he tried to join the Congressional Black Caucus, which was co-founded by Rangel. The CBC deflected when the issue came up in February, unsure of how to handle the Latino who had always identified as Dominican and was already a member of the Congressional Hispanic Caucus.
"Because I'm a Latino of African descent, I'm also a black man," Espaillat told me. "What's the difference if my ancestors cut sugar or they picked cotton?" As of late March, Espaillat had not been accepted as a member. Political observers speculated that even that CBC snub was political payback for challenging Rangel in 2012 and 2014.
That's not to say the issue is entirely black and white – or black and brown. Espaillat has a longstanding rivalry with a fellow Dominican-American lawmaker from Washington Heights, Guillermo Linares, who beat Espaillat in a 1991 City Council race to become the first Dominican elected official in New York. The two have since run against each other multiple times. In 2012, Espaillat's campaign mailed out a flyer accusing Linares of betraying Latinos for endorsing Rangel over Espaillat.
But lately, Espaillat hasn't been lacking in public support. Following a tense couple of days in which Wright refused to concede the close race until all votes were counted in the June 2016 primary, he joined Rangel and Espaillat at a joint press conference outside of Sylvia's Restaurant in Harlem to show a united front. And the speakers at his January inauguration event in New York City were a who's who of powerful New Yorkers, with U.S. Sen. Charles Schumer, Mayor Bill de Blasio, state Comptroller Thomas DiNapoli, Assembly Speaker Carl Heastie and countless others making the trek to Yeshiva University in Washington Heights to toast Upper Manhattan's most important elected official.
"As Democrats and progressives, how do we turn the protests and the massive show of support into actual victories?"
One month later, Espaillat sits behind a huge desk in his office on the fourth floor of the Harlem federal office building. The desk is Rangel's, he explains. Espaillat and a staffer cleaned it up, adding a new coat of shellac. "Originally, we put too much of the stain on it." It would turn the backside of all his papers brown. "Shows that I'm not an expert in it. But it looks better now! It was in bad shape," he says. In this district, even the furniture is a reminder that political succession can get messy.
From the desk, Espaillat can look down 125th Street, Harlem's Main Street, always full of people. These are his constituents, of course, but what about immigrants around the country? What about undocumented immigrants?
"Yes, of course that's my constituency," he says quietly, choosing his words carefully. "I'm an immigrant. Across the country." He continued, speaking louder, more comfortably. "When I speak about immigration, I just don't speak about it from a local perspective … particularly now, when Trump has selected this issue as one of the prominent issues that will be spearheading his administration. So yes, I will be outspoken and critical."
It's a natural evolution for the congressman whose first job was helping fellow immigrants get green cards and establish legal residency. Espaillat says that he is leaving it up to the Democratic leadership to craft a strategic response. "But I'm a soldier. I'm on the ground."