Donald Trump
5 things to know about new U.S. Attorney Geoffrey Berman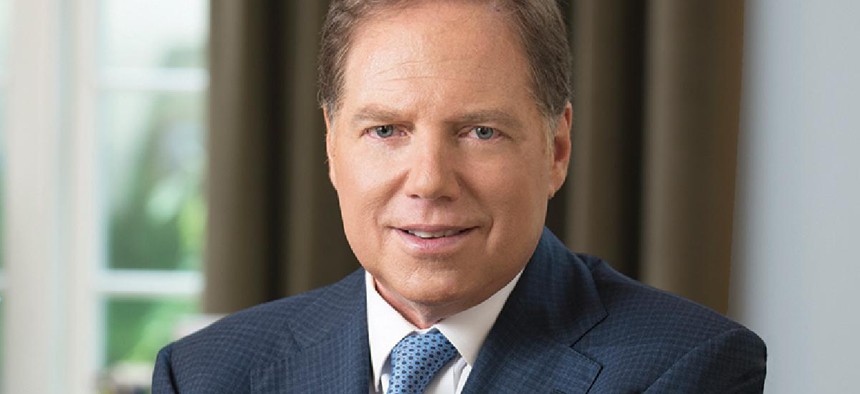 Nearly 10 months after Preet Bharara was fired by the Trump administration, trading his career as the U.S. attorney for the Southern District of New York for Twitter polemics and a podcast, U.S. Attorney General Jeff Sessions named his replacement, Geoffrey S. Berman, on Wednesday. The Trump administration had nearly reached the 300-day limit for acting U.S. Attorney Joon Kim to serve before a replacement is named. Berman was appointed under special executive authority as the interim U.S. district attorney and will serve for 120 days unless he is formally nominated.
RELATED: The army of federal leaders from New York
The first thing to know about Berman, previously the co-managing shareholder of the New Jersey office of the law firm Greenberg Traurig, is that he is not to be confused with Geoff Berman, the new executive director for the New York State Democratic Committee. Here are five other facts to know about Berman as he begins his new job today at One St. Andrew's Plaza.
Berman has deep New Jersey roots
He may be Manhattan's top attorney now, but Berman originally hails from the other side of the Hudson River. A native of Trenton, New Jersey, he is the son of Ronald Berman, a real estate developer. Although he currently lives in New York City, he was a longtime New Jersey resident and he was considered for a U.S. attorney post in New Jersey last spring. Berman's family owned the Trenton Titans, a minor league hockey team, from the mid-1990s until 2006, when it was sold to the New Jersey Devils. Like the president who named him district attorney, Berman studied at the University of Pennsylvania and received a degree from its Wharton School, before studying law at Stanford. He began his career clerking for Judge Leonard I. Garth at the U.S. Court of Appeals in Philadelphia.
He has previous experience in New York
Berman was an assistant U.S. attorney in the Southern District from 1990 until 1994. While there, he prosecuted members of a prominent New York hacking group called Masters of Deception, and obtained several guilty pleas. After leaving the U.S. attorney's office, he joined the law firm Latham and Watkins, where he helped to run the court-ordered monitoring of the mob-infiltrated New York City Brotherhood of Carpenters. He joined Greenberg Traurig in 2006, where he worked mainly on white-collar defense cases.
He has handled corruption cases before
Berman was an associate to Lawrence Walsh, the independent counsel investigating the Iran-Contra scandal, from 1987 until 1990, during which he served on the team that successfully prosecuted former CIA official Thomas Clines on tax charges. Later, when he was at Greenberg Traurig, Berman represented Philip Kwon, a lawyer at the Port Authority of New York and New Jersey who was investigated but not charged in the cases against members of New Jersey Gov. Chris Christie's administration during the Bridgegate scandal. Berman's background with white-collar criminal cases could be useful if he investigates Paul Manafort, Trump's former campaign chairman. The Wall Street Journal reported in October that the U.S. attorney's office in the Southern District was investigating Manafort for possible money laundering, in collaboration with Special Counsel Robert Mueller's probe into Russian interference in the 2016 election.
RELATED: Cuomo positions himself as the anti-Trump
He has ties to Trump
Former New York City Mayor Rudy Giuliani, a prominent Trump ally, is also a Greenberg Traurig shareholder. Berman gave $5,400 to Trump's presidential campaign in 2016 and has previously donated to Republicans. Berman was reportedly supported for a U.S. attorney appointment by Trump's son-in-law Jared Kushner, whose family is prominent in New Jersey real estate development. BuzzFeed News reported in August that the White House had sent a document to U.S. Sens. Chuck Schumer and Kirsten Gillibrand of New York naming Berman as a potential nominee for the Southern District.
He will have a full caseload
Berman hasn't appeared in court as the lead lawyer on a criminal proceeding since 1994, but his office will soon be tackling several high-profile cases. He will be overseeing the upcoming corruption trial of Joe Percoco, a former aide to Gov. Andrew Cuomo, and the retrials of former Assembly Speaker Sheldon Silver and former Senate Majority Leader Dean Skelos. The Southern District is also prosecuting several terrorism cases, including the one against the man accused of detonating a pipe bomb in a subway tunnel in December. Berman will have to decide whether to recommend the death penalty against Sayfullo Saipov, the man accused of driving a pickup truck down a bike path in Manhattan in October.
Powered By
NEXT STORY: Winners & Losers 1/5/18