Cynthia Nixon
Updated: 5 things to know about Cynthia Nixon
The actress and activist is challenging Gov. Andrew Cuomo in the Democratic primary.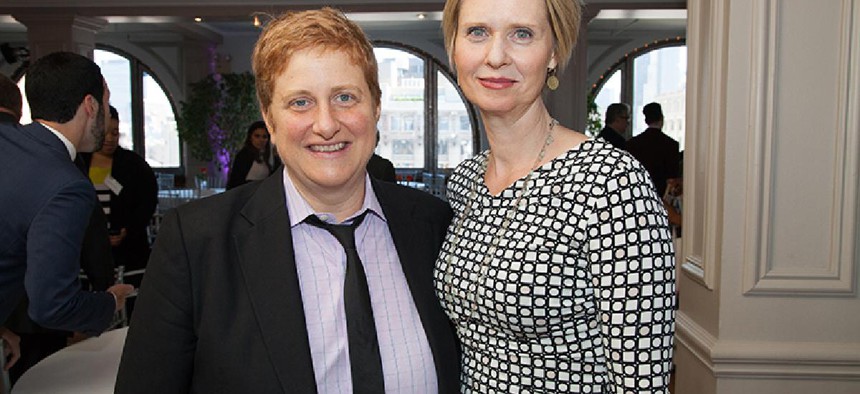 Does New York need a Miranda to bring the state into order?
Cynthia Nixon, an activist and actress best known for her role as Miranda Hobbes on the show "Sex and the City," is launching a Democratic primary bid against Gov. Andrew Cuomo.
I love New York, and today I'm announcing my candidacy for governor. Join us: https://t.co/9DwsxWW8xX pic.twitter.com/kYTvx6GZiD

— Cynthia Nixon (@CynthiaNixon) March 19, 2018
Cuomo is currently facing a floundering public transportation system in New York City, the damaging corruption conviction of former senior aide Joseph Percoco and criticisms from progressives who accuse him of being unwilling to address inequality through measures like progressive tax increases. He survived a surprisingly strong primary challenge from Fordham University law professor Zephyr Teachout in 2014, who received one-third of the vote. Although Cuomo has overseen liberal victories on same-sex marriage, gun control and paid family leave, and has already received the endorsement of unions and the LGBT advocacy group Human Rights Campaign, he could be vulnerable to a challenger on the left with high name recognition.
As first reported by NY1 on March 6, Nixon is consulting with two former advisers to New York City Mayor Bill de Blasio, a would-be progressive icon and perennial Cuomo rival. She has not announced if she is running, but the mere specter of Nixon's candidacy shows that there is deep dissatisfaction with Cuomo's administration in some circles. Here are five things to know about Nixon as she upends the discussion surrounding the 2018 gubernatorial election.
She has ties to the de Blasio administration
Nixon has spoken with Rebecca Katz and Bill Hyers, who both ran de Blasio's 2013 campaign, but that conversation is far from her first brush with the mayor's administration. Nixon was an avid de Blasio supporter during his first campaign, endorsing him on the day he announced his bid for mayor in 2013. During that race, she encouraged other celebrities to endorse de Blasio, was a key member of the Women for de Blasio group and held an LGBT benefit for his campaign. Nixon was reportedly considered for a position in the mayor's cabinet. Her wife, Christine Marinoni, served in the de Blasio administration as the special adviser for community partnerships in the city Department of Education, although she recently stepped down from her post. Nixon also was onstage for de Blasio's second inauguration in January.
She has a history of activism
Nixon was a vocal advocate for same sex-marriage before it passed in the U.S. Supreme Court, and has also rallied for women's rights. She continues to be a staunch advocate of LGBT causes, and received an award for her activism from the Human Rights Campaign in February, appearing at the same event as Cuomo. (At the event, she also called for "better" and "bluer" Democrats.) More recently, her focus has been on education issues. In an interview with the "Today" show in August, Nixon said that "there are a lot of people who would like me to run" for a variety of reasons, but "the No. 1 is education." Nixon has advocated for equality in school spending, arguing that Cuomo has not done enough to ensure that schools in wealthier districts and in poorer districts have the same quality of education.
She has not faced significant scrutiny on the issues
Nixon criticized Cuomo's handling of education in an interview with "The View" in April. She spoke about her potential gubernatorial bid in August. She responded "maybe" in January when asked if she would launch a primary campaign against Cuomo, and reaffirmed that she was considering a run in early March. But other than her advocacy on education, and the mystery surrounding her potential bid, Nixon has not publicly discussed her concerns with other important issues in the state, such as problems with New York City's beleaguered transportation system. According to reporting by The New York Times, Nixon is boning up on policy issues, such as transportation, and has been traveling around the state recently.
She has New York credentials
Nixon was born and raised in New York City, and attended Hunter College High School and Barnard College. She began acting on Broadway at age 18. Marinoni has been active in Park Slope, Brooklyn, and founded a lesbian coffee shop and bar there in the 1990s.
She's more than just Miranda
Although best known for "Sex and the City," for which she won an Emmy, Nixon is also an accomplished Broadway actress. She has won two Tony Awards, most recently for her role last year in "The Little Foxes." She has also appeared in several movies.