Donald Trump
Kiss and tell: A brief history of Rudy Giuliani and Donald Trump
The history of President Donald Trump and former New York City Mayor Rudy Giuliani's long-running friendship.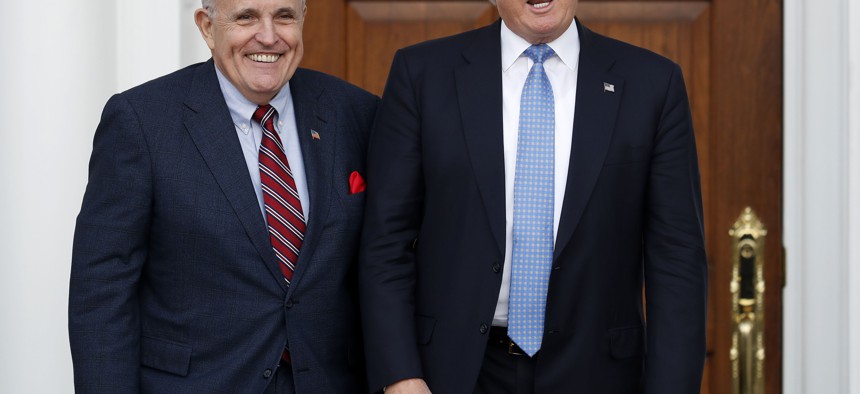 Rudy Giuliani and Donald Trump are close to a match made in political heaven – they're brash New Yorkers famous for their media savvy, public divorces and arguably race-baiting rhetoric. So, despite his dearth of experience as a criminal defense attorney, it was not a total surprise when the former federal prosecutor joined Trump's legal team last month.
Giuliani's days as the unifying "mayor of the world" who presided over New York City during and after the 9/11 attacks are long gone, replaced by a partisan figure who eagerly promotes fellow Republicans and gladly bashes their opponents.
What shocked many observers, however, was the two suddenly embracing a daring legal strategy when Giuliani said on Fox News that the president reimbursed his lawyer Michael Cohen for a $130,000 payout to porn star and alleged Trump mistress Stormy Daniels before the election.
There have been several notable moments in Trump and Giuliani's nearly 30-year association. From fundraising to an awkward kiss, here are the highlights of their relationship.
Trump supports Giuliani for mayor
In 1989, Giuliani was the former U.S. Attorney for the Southern District of New York and an aspiring mayoral candidate and Trump was a real estate mogul who placed full-page ads in New York newspapers calling for the death penalty for the Central Park Five, a group of black and Latino teenagers from Harlem who were accused, convicted and imprisoned for a rape it later turned out they didn't commit. That year, Trump co-chaired Giuliani's first campaign fundraiser. He also donated $3,000 to Giuliani's campaign. However, for good measure, Trump also donated to Giuliani's opponent, David Dinkins – who ultimately narrowly defeated Giuliani in the race. When Giuliani ran for mayor again in 1993, Trump did not donate to his campaign. After Giuliani was successful in that race, Trump was back on board, donating $5,000 in 1994.
Trump supports Giuliani for Senate
Giuliani ran for U.S. Senate in 2000, and was considered the presumptive Republican nominee against the eventual Democratic candidate, Hillary Clinton. Trump was gung-ho about Giuliani's campaign from the beginning. In October 1999, Trump was flirting with his own presidential bid on the Reform Party line. He called Giuliani "the greatest mayor in the history of the city of New York."
When asked if he would endorse Giuliani publicly as the Reform Party candidate, Trump said, "he's the best." He also donated to Giuliani's campaign in 1999. Giuliani ultimately withdrew from the race amid personal and political turmoil.
Kiss and tell
In a sketch for the 2000 "Inner Circle Show," a satirical performance put on by New York City's political reporters, Trump kissed Giuliani while the latter was dressed in drag. Trump then buried his face in Giuliani's faux bosom, with Giuliani reacting in mock horror.
Mutual wedding guests
Trump attended Giuliani's third wedding in 2003 at Gracie Mansion. Giuliani returned the favor in 2005, making an appearance at Trump's lavish third wedding at Mar-a-Lago, where he presumably rubbed elbows with his once-and-future political enemy and fellow wedding guest, Hillary Clinton.
Giuliani becomes Trump campaign surrogate
Giuliani made an unsuccessful bid for the Republican presidential nomination in 2008, then flirted with running for governor of New York in 2010 and for president again in 2012. In 2016, the former mayor briefly returned to relevance as a prominent Trump surrogate. Giuliani announced in April 2016 that he would vote for Trump in the New York primary. He began introducing Trump at rallies – incorrectly saying at one point that a terrorist attack had never occurred on American soil before President Barack Obama took office – and appearing on Trump's behalf on television. He gave a rousing speech at the Republican National Convention in July, criticizing Clinton's credentials. His strident behavior led some pundits to question his sanity. Giuliani was also one of Trump's prominent defenders after the "Access Hollywood" tape was released.
Giuliani considered for secretary of state
After Trump won the election, Giuliani was reportedly a contender for secretary of state. Giuliani pulled his name from consideration for the post in December 2016. In January 2017, he was named a cybersecurity adviser to the Trump administration. He remained an informal adviser and Trump surrogate in the press after Trump took office. He also may have recommended Trump's eventual pick for Manhattan U.S. attorney, Geoffrey Berman.
Giuliani joins Trump's legal team
On April 19, Giuliani was named to Trump's legal team to represent the president in the ongoing investigation into Russian interference in the 2016 election. Giuliani's tenure as Trump's lawyer started with a bang, as Giuliani told Fox News' Sean Hannity on Wednesday night that Trump had personally reimbursed Cohen. This was contrary to previous statements made by the president and the White House. Trump confirmed the repayment in a series of tweets on Thursday.
Powered By
NEXT STORY: Who's up and who's down this week?