Kathy Hochul
Moms in elected office perform a delicate balancing act
Moms in elected office perform a delicate balancing act. For Mother's Day, we recognize the challenge of parenting while campaigning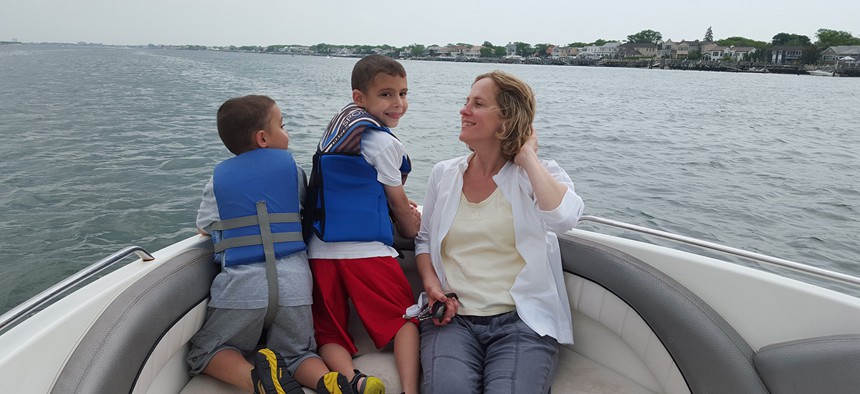 Being a mom is never easy, and being a mom while running for office or serving as an elected official can make parenting even more complicated. Sometimes it means missing a child's bedtime, as Lt. Gov. Kathy Hochul once had to do, and still remembers two decades later. Other times, it involves shuttling between New York and Washington, D.C., to make sure the kids never go more than three consecutive nights without seeing their mom, a promise Rep. Grace Meng mostly keeps. Frequently, it requires bringing kids along for campaign and community events.
"It's definitely a hardship on little children, who don't understand why their mom isn't home like the other moms," said Hochul, who first ran for office when her two children were around four and five years old. "But I also tell women considering running for office that you have your children for a very brief time in the scheme of life, when they're little, but the lessons they learn from their mother who is in public office at that young age carries through to them for their lives."
Several women in public office said that they believed their example was teaching their children valuable civic lessons.
"You don't always like to share your parents, so I get that," Queens Borough President Melinda Katz, a single mother, said about her two young sons. "My kids understand that mom's job, and what she does and what she believes in, is helping families and helping folks the best I can."
The trick for many mothers with young children seeking or serving in office is finding balance, or toting the kids along. Meng, the mother of two young sons, remembers that when she was running for Congress, she would space her schedule according to campaign and child care needs. She might do campaign events while her kids were in day care, take two hours to eat dinner with them, and then go to an evening event.
Katz said that not having a fixed schedule while campaigning could help, because it allowed for flexibility. Jessica Ramos, who is running against incumbent state Sen. Jose Peralta, described a similarly hectic schedule as mom and campaigner.
"I drop the kids off at school in the morning, my mother picks them up while I'm in the campaign office, and my husband puts them to bed when I'm at a fundraiser," Ramos said. "It's a balancing act for sure, but fathers have run with kids for centuries – why not mothers?"
One of the most difficult aspects of public service is guilt and feeling like an inadequate parent, something that fathers may not face to the same degree, Hochul said. "Women are notorious for experiencing guilt, and I was very guilty about the time that I could not be with them," Hochul said. "I don't know that I've ever met a man considering running for office who said that he would not run because of his children."
Meng also brought up feelings of guilt, and the judgment she received from herself and others. "I think women, oftentimes moms, are expected by our culture and society to be the main caretakers of their children," she said.
Fathers in general do not face the same societal expectations as mothers, and especially so when serving in office. Meng recalled seeing a male elected official who brought his kids to an event being praised as a good father. "That's not the response I get when I bring my kids out," Meng said with a laugh. She said that one time at an event, someone told her that they hadn't "elected a babysitter."
Babysitters, unlike mothers, do not provide child care for free. Every woman agreed that a support system was necessary to run for office as a mother, whether it's family, friends or people in the community who can help take care of the children. Liuba Grechen Shirley, a congressional candidate challenging Rep. Peter King, recently asked the Federal Elections Commission to allow her to use campaign funds to help with child care. "Our babysitter is just as integral to our team as my campaign manager or my finance director," she said. "My children were my biggest hesitation when I was considering running for office – but in the end, they're the reason I ran."
The FEC ruled on May 10 that Grechen Shirley could use campaign funds for child care, in a victory for her, her campaign and other women who may need a little extra help running for federal office in the future. "We need more women, more working women, and more diverse women in Congress. And I can't run for Congress unless I have childc are," Grechen Shirley said, shortly before the FEC's decision was announced.
The need to find child care is especially difficult for single mothers. Katz said that she had been lucky to have support, and to have a job where she was able to take her children to events.
Ultimately, these women believe that whatever disadvantages there may be, holding an elected office will make their children more active citizens. Hochul has the benefit of hindsight, as her children are now adults. She said that her children are proud of her accomplishments, and that her daughter, then 21, was the one who convinced her to run for Congress in 2011.
"There are tradeoffs, but I've lived long enough now that I believe that my children are better citizens," Hochul said, adding that her "grandkids will have a grandmother who broke some barriers."