Andrew Cuomo
New York doesn't do royal weddings, but it has its own royalty
New York doesn't have royalty, but the former colony seems fond of dynastic succession in politics.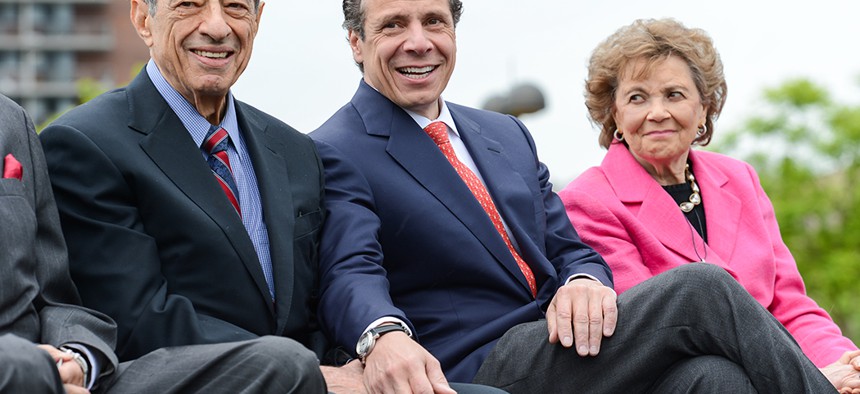 As the American media obsesses over the weekend's royal wedding between Prince Harry and actress Meghan Markle, one can expect to see the usual complaint that if the country declared independence from the British monarchy over 200 years ago it should ignore its ceremonies.
Maybe so, but the United States has shown a remarkable enthusiasm for governing dynasties of its own. The Bush family produced two presidents, a senator from Connecticut and governors of Texas and Florida. California had the Browns and Massachusetts had the Kennedys. New York has the Cuomos, its own Kennedy offshoot, and countless lesser-known local dynasties.
In honor of the royal celebrations across the pond, here's a guide to some of New York's recent prolific political dynasties.
The nationally known
The Clintons
Sure, Hillary Clinton is from Illinois and former President Bill Clinton is from Arkansas. But New York is Hillary's adopted home. She served as the junior senator from New York for eight years, and became the first woman to win the presidential nomination from a major party. Although they might have preferred spending the next few years in the White House, their Chappaqua residence will have to do. Hey, at least there's hiking nearby!
The Cuomos
Arguably, no family had a greater impact on New York politics over the past four decades than the Cuomos. Mario Cuomo was the New York secretary of state in the 1970s, then the lieutenant governor in the early 1980s, and finally the governor for three terms from 1983 until 1994. He also ran unsuccessfully in the 1970s for the Democratic nominations for lieutenant governor and mayor of New York City, gave a legendary address to the 1984 Democratic National Convention, and declined after much deliberation to run for president. Cuomo's eldest son, Andrew, is the former state attorney general and current second-term governor of New York. His other son, Chris, is a news anchor on CNN.
The Trumps
Fred Trump Sr. was a real estate mogul in mid-century New York City, and his son Donald turned the family business into an empire. While Fred Trump built massive middle-class apartment complexes in Brooklyn and Queens, the gold-embossed "Trump" name now decorates luxury apartment buildings and golf clubs. Trump's three most important adult children – sorry, Tiffany – are following in their father's footsteps. Donald Jr. and Eric manage the Trump Organization, while Ivanka is an advisor to her father. Don Jr. is also reportedly considering running for office in New York one day. Ivanka and her husband Jared Kushner seem to have more influence in Washington than in their native New York, where the Kushner family is losing its grip on local real estate.
The local dynasties
The Diazes
Ruben Diaz, Sr. served as a state senator for over a decade in the 2000s, and is currently a New York City councilman. His son, Ruben Diaz Jr., was a longtime assemblyman and is now the Bronx borough president, and a potential contender in the 2021 mayoral race.
The Flanagans
State Senate Majority Leader John Flanagan, who is arguably the most powerful Republican in New York, isn't the first in his family to serve in elected office. His father, also named John Flanagan, served in the Assembly from 1972 to 1986. The younger Flanagan succeeded his father in the Assembly in 1987. 
The Spanos
The Spanos are a Yonkers institution, not least because there are 16 children in the family. The father, Leonard Spano, was a county legislator and county clerk. His oldest son, Nicholas, was an assemblyman and a state senator. A Republican, Nicholas Spano was defeated by Democrat Andrea Stewart-Cousins, who now serves as state Senate minority leader, in 2006. The ninth child, Michael, was an assemblyman and is now the mayor of Yonkers.
The Vallones
Peter Vallone Sr. was a New York City councilman and the body's first council speaker. One of his sons, Peter Jr., was a city councilman and is now a judge of the New York Court of Claims. Another son, Paul, is currently a city councilman.
The Weprins
Saul Weprin was an assemblyman and served as speaker of the Assembly from 1991 until his death in 1994. His son Mark replaced him in the Assembly in the special election that year, and later served as a New York City councilman. He then joined the Cuomo administration in 2015, and left in 2017. Another Weprin son, David Weprin, served as city councilman and is now an assemblyman.
The Clarkes
Una Clarke was the first Caribbean-born woman elected to the New York City Council in 1991. After 10 years in the council, she was succeeded by her daughter, Yvette Clarke. Una unsuccessfully ran for Congress against incumbent Major Owens in 2000, and then her daughter unsuccessfully ran for the same seat in 2004. The odds turned in the Clarkes' favor in 2006, when Yvette defeated Owens' son, Chris, in the primary for the congressional seat, and she was later elected to Congress.
The historical leaders
The Roosevelts
Theodore Roosevelt was, among other things, the governor of New York and then the president. That may sound like a tough act to follow, but his fifth cousin, Franklin, had the same positions, and was elected president four times. After his death, his wife Eleanor was a national leader for liberal causes. Both presidents' Roosevelt sons served in the World Wars and FDR's grandson Kermit Roosevelt, Jr. was a high-ranking officer in the CIA.
The Kennedys
Although famously from Massachusetts – with the accent to prove it – the Kennedys have been players in New York politics. Robert F. Kennedy was a senator from New York. His son Robert F. Kennedy, Jr. is a prominent local environmentalist, having been senior attorney for the Natural Resources Defense Council until last year and a board member and chief prosecuting attorney for Hudson Riverkeeper. RFK's daughter Kerry was married to Andrew Cuomo for several years. Caroline Kennedy Schlossberg, daughter of John F. Kennedy, was almost appointed to the U.S. Senate seat that was ultimately filled by Kirsten Gillibrand in 2009.
The Clayton Powells
Adam Clayton Powell Sr. was a prominent pastor in Harlem in the early twentieth century. His son, Adam Clayton Powell Jr., was a mid-century politician and civil rights leader and the first black man to be elected to Congress from New York. His youngest child, Adam Clayton Powell IV, was a New York City councilman and an assemblyman in the 1990s and early 2000s.
The Rockefellers
Nelson Rockefeller, scion of the wealthy Rockefeller family, was also famously the governor of New York, failed presidential candidate and vice president to Gerald Ford. He wasn't the only politician in the Rockefeller family – his brother Winthrop was the governor of Arkansas, and another relative, Jay Rockefeller, was a longtime senator from West Virginia. Nelson's other brother, David, helped New York City resolve its fiscal crisis in the 1970s.
The Wagners
After serving a decade in the state Senate, Robert Ferdinand Wagner I served as a Democratic U.S. senator from New York, winning four terms and working closely with FDR to implement the New Deal. His son, Robert F. Wagner Jr., was a three-term mayor of New York City in the 1950s and 1960s. Wagner Jr.'s son, Robert Ferdinand Wagner III, was elected to the City Council. Although he lost a primary race for Manhattan Borough President, a job his father also had held, he served as deputy mayor for policy, head of the City Planning Commission and president of the New York City Board of Education.
The Patersons
A member of the legendary political network known as "the Harlem Clubhouse," Basil Paterson served as state senator and deputy mayor under Ed Koch and was the first black secretary of state in New York. His son David Paterson is a former state Senate minority leader, lieutenant governor and the first black man to serve as governor of New York.
The honorable mentions
William Boyland, former assemblyman; his brother Thomas Boyland, former assemblyman; his son William Boyland Jr., former assemblyman; and his daughter Tracy Boyland, former New York City councilwoman
John Catsimatidis, businessman and talk show host, failed candidate for the Republican mayoral nomination; and his daughter, Andrea Catsimatidis, Manhattan Republican chairwoman
Rep. Joe Crowley and his cousin, former New York City Councilwoman Elizabeth Crowley
Giorgio DeRosa, prominent lobbyist, and his daughter Melissa DeRosa, secretary to the governor
Rep. Peter King and his daughter Erin King Sweeney, Nassau County legislator
Former Assemblyman Jimmy Meng and his daughter, Rep. Grace Meng, who also served in the Assembly
Guy Molinari, former assemblyman, congressman and Staten Island borough president, and his daughter Susan Molinari, former congresswoman and prominent lobbyist
Assemblyman Jose Rivera; his son, former New York City Councilman Joel Rivera; and his daughter, former Assemblywoman Naomi Rivera
Rep. Jose E. Serrano and his son, state Sen. Jose M. Serrano
John Venditto, former Oyster Bay town supervisor, and his son Michael Venditto, a former state senator
Bruce Wright, former New York state Supreme Court Justice; and his sons, Keith Wright, a former assemblyman and current chairman of the Manhattan Democratic Party, and state Supreme Court Justice Geoffrey Wright
Powered By
NEXT STORY: Who's up and who's down this week?