Andrew Cuomo
Paladino: Molinaro backs Trump, and the rest of the GOP should too
Former Republican gubernatorial candidate Carl Paladino says the Marc Molinaro, the GOP's nominee against Gov. Andrew Cuomo this year, is supportive of President Donald Trump - and the rest of the party should be, too.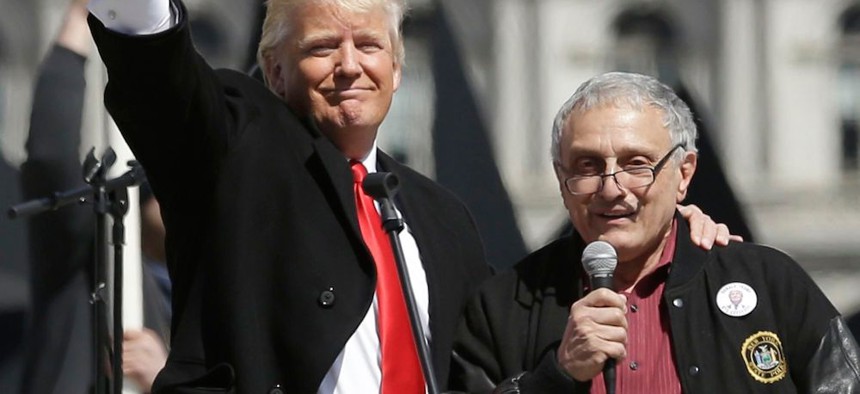 Maybe it has to do with their similar backgrounds or their penchant for racially charged rhetoric, but Carl Paladino saw the political appeal of Donald Trump long before the rest of the country. The 2010 New York Republican gubernatorial nominee encouraged Trump to run for president, and co-chaired his campaign in the state. But with Trump's approval rating in his home state south of 40 percent, the state Republican Party seems to be staying away – the president was barely mentioned at the state Republican Convention in May. City & State caught up with Paladino at the convention and asked him about the current state of the party.
C&S: Republican gubernatorial nominee Marcus Molinaro didn't vote for Trump and avoids mentioning the president in speeches. Is that the right way to win in New York in 2018?
CP: I think the right way to win in 2018 is to accept Donald Trump. Molinaro, despite the fact that he has said a number of times that he didn't vote for Trump, has told me is a Trump supporter and he supports Trump.
C&S: As in, supporting him as the president?
CP: He supports him as the president. Because I sat down and I eyeballed with him at dinner. And I asked that question. Obviously, it's very important to me.
C&S: You don't think the party is avoiding talking about Trump because it's potentially toxic to most voters in the state?
CP: The Republican Party in the state of New York, most of them, were strong with us in the primary campaign. We had good support from all around upstate and from the boroughs in New York (City). Yes, he lost (New York in the general election). Because we didn't advertise. They made a decision to forget about New York in that sense and not spend heavy here. They thought their chances of winning Pennsylvania were better, and they were right. Good call.
So these people that want to interpret Trump as having animosity against the state of New York, I don't think that's true, OK? He's going to make Andrew Cuomo and the mayor of New York prove to him in some reasonable financial sense that digging that tunnel from New Jersey over to Manhattan makes sense. And eventually, when they go by the book – because (Trump is) a by-the-book guy – then he's going to make sure that they aren't pounding their chests saying, 'Look at what we did for you.' That they're saying, 'Donald Trump made this deal.' I think that's the important thing.
C&S: Is there a rift in the New York Republican Party among people like Molinaro who didn't vote for Trump and those that did?
CP: It doesn't have anything to do with Molinaro. There's a lot of people in upstate New York that feel that (state GOP Chairman) Ed Cox has done his thing, and that maybe after this election this year we get some change and we get a leader of the party from upstate, where a great majority of the Republican, conservative voters are.
C&S: Who would that be, you? Erie County Republican Committee Chairman Nick Langworthy?
CP: Oh, it'll be Langworthy. It won't be me. (Laughs.) I've got other fish to fry.
C&S: I didn't see a single "Make America Great Again" hat at the state GOP convention.
CP: That's because I forgot to even – I didn't even think about bringing one. I would've brought one!
C&S: Is there a movement away from Trump within the state party?
CP: No. No. In fact, the county chairs I've talked to are very supportive of Trump. They were very supportive in the primary except for a couple of them. (Suffolk County Republican Committee Chairman John) Jay LaValle got up there and he started talking Trump. But Jay LaValle did not vote for Trump in the primary; he voted for Kasich. And it was three days after (the primary) that both he and Ed Cox endorsed. After the primary! After we kicked the shit out of the opponents, that's when Cox and LaValle decided to get on the bus. (Lavalle denies this and says he voted for Trump in the primary. In fact, LaValle introduced Trump at a rally two weeks before the primary and publicly endorsed him. Cox endorsed Trump two days after the primary.) And then they were strong supporters in the final. They weren't pro-Trump in the beginning.
Editor's note: This post has been updated with John Jay LaValle's response to Carl Paladino's allegations about him.
Powered By
NEXT STORY: Who's up and who's down this week?