Campaigns & Elections
Jessica Ramos looks to capture that Ocasio-Cortez energy
Jessica Ramos is challenging state Sen. Jose Peralta, a former member of the Independent Democratic Conference.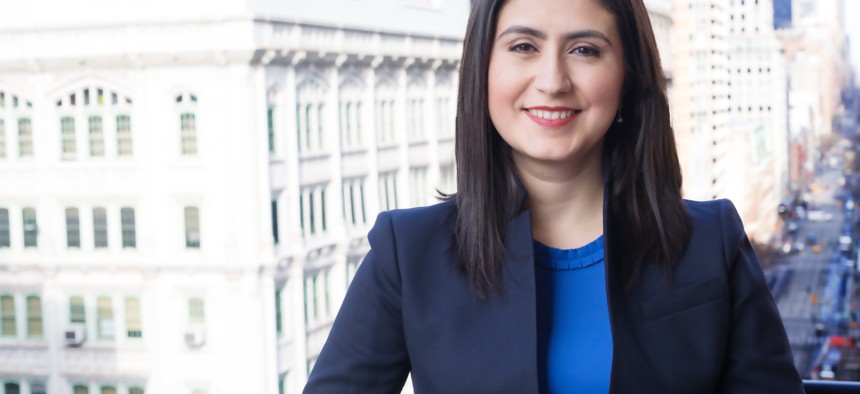 Jessica Ramos is mounting a Democratic primary challenge against state Sen. Jose Peralta, a Queens lawmaker who was once of member of the now-defunct Independent Democratic Conference. Despite a deal brokered by Gov. Andrew Cuomo earlier this year to dissolve the IDC and unite Democrats in the state Senate, a number of candidates – including Ramos – have continued their challenges of former members of the breakaway conference, which was criticized for partnering with Republicans in Albany. In a Q&A with City & State, Ramos talked about how the race is shaping up.
C&S: How has Alexandria Ocasio-Cortez's win affected your race?
JR: Most of all, I think her win has created a lot of enthusiasm for the small "d" democratic process in the district and that enthusiasm is what we're hoping to maintain our momentum. I think that it's up to us to keep voters engaged and to keep speaking to their issues and their values because the only way that we can win this race is to make sure that we're exemplifying all of the different issues that our neighbors are going through and how we can fix them in the state Senate.
C&S: You recently received a cross-endorsement from Cynthia Nixon. Had that been in the works for a while or was that decided more recently?
JR: I had been watching the gubernatorial race for months, just like every other voter. I've liked several of the measures that the governor has been able to pass. But many of those measures, and specifically items like paid family leave and raising the minimum wage, are wins that were hard fought by union members and New Yorkers who took to the streets to put pressure on him to do the right thing. And if you have a Democrat as your governor, it shouldn't be that hard to get him to do the right thing. I think we've given him eight years to make sure that Roe v. Wade is codified, to make sure that the DREAM Act was passed, to make sure that regulations are passed so that we're keeping me York affordable and eight years is enough. We're ready to support Cynthia Nixon who has time and again proven that she stands up for children. She stands up for New Yorkers and she stands up for the rights and issues that are most impacting union workers today.
C&S: State Sen. Jose Peralta has said that he received about 10,000 signatures compared to your about 5,000. Does that intimidate you at all?
JR: No, look, as the candidate for the Queens County Democratic organization, he had the advantage of several Democratic clubs within this district to help him petition. So it's not as clear cut as that.
C&S: Do you see your campaign as being in the same progressive vein as Nixon and Ocasio-Cortez, both who identify as democratic socialists?
JR: I've always been a progressive Democrat. Every issue that we've talked about on this campaign shows that we are running on an unabashedly progressive platform and making sure that we are reforming everything from criminal justice, direct regulation, to being bold on how we support the LGBTQ community, not just to check a box, and pass GENDA and actually look past the level at which we've been before. Try to do more for every single constituency that we're seeking to represent.
C&S: When you were out petitioning, did you notice a change in constituent energy after the federal primary election?
JR: I definitely feel that there's more enthusiasm and hope in seeing change happen. But it really is, you know, work that I think (goes) back all the way to Occupy Wall Street and making sure that we are resisting Trump at every step of the way. I think this entire movement that we're seeing take shape and progress really is a testament to all of the organizing that so many not-for profit organizations, community organizations have been doing for a long time.
C&S: Do you see candidacies like yours as presenting a choice between a progressive wing of the party or unity, or do you believe embracing progressive ideologies is the way towards better unity?
JR: So I think you're conflating two things in your question, which is one is ideology and the other is this idea that you know the Democratic Party should just encompass as many people as possible. And we are making it very clear that we believe that the Democratic Party needs to have a stiff spine and be able to stand up not only against what the GOP has become today, but also standing up for the middle class and the working poor to make sure that we're able to keep New York home, to make sure that you know, the rent doesn't just keep climbing, while we just stay stagnant. But to ensure that we have good jobs, to ensure that our children are attending the best possible school, to make sure that the MTA is running on time and isn't crumbling before our eyes. I don't think that's a choice. I think that when you have primaries and people running for primaries that's what the choice is. It's not that we're choosing unity versus new. No, we should be united nevertheless. But we are the purpose of primaries is to make sure that we are pushing for a platform that is the best possible platform to help working families in New York
C&S: Now that you have filed petitions for your campaign, what's the next step for you?
JR: So we just finished filing more than 5,000 petitions. We're hoping to show a slew of grassroots support, especially from neighbors right here inside of the district. That's what we're focused on is making sure that our message is reaching as many neighbors as possible. We're actively knocking on doors and working with many community organizations that have already been standing up for working people, so for us it's about continuing the work that we've been doing for the past six plus months and making sure that we are doing everything we can to win on Sept. 13.