New York City
Ocasio-Cortez's lineage: a history of 'socialists' from New York
Everyone's talking about socialism because of Alexandria Ocasio-Cortez's shocking win.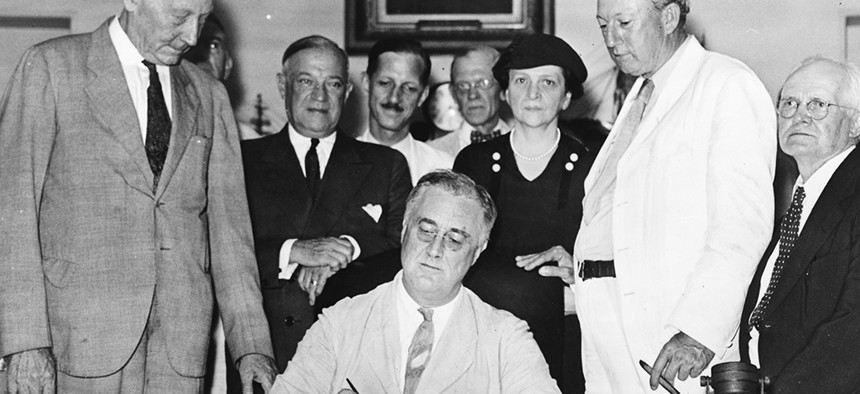 Alexandria Ocasio-Cortez's victory against Rep. Joseph Crowley sent shockwaves through local and national political media. It was significant not only because she toppled a longtime leader of the Queens political machine and the fourth-ranking Democrat in the House of Representatives, but because she is a member of the Democratic Socialists of America. Ocasio-Cortez represents a new wave of young, left-wing candidates having electoral success, inciting backlash among conservatives.
This is not the first time that New York, a hotbed of progressive political agitation since at least the abolitionist movement, has been at the forefront of a wave of egalitarian economic activism.
While Ocasio-Cortez does not actually promote socialism – which is traditionally defined as worker or collective ownership of industry – like Brooklyn-bred Bernie Sanders, she refers to a left-leaning platform of an expanded social safety net, paid for by higher progressive income taxes and tightened regulation of businesses – as democratic socialism. (Referring to this platform which, in American history, has usually just been called liberalism or progressivism as democratic socialism is consistent with the terminology in Europe, where parties with socialist roots have enacted much of this agenda.)
Here is a list of other prominent New York socialists who have made an impact in New York history.
 
Meyer London
London served three terms in Congress as a member of the Socialist Party, representing New York's 12th Congressional District, from 1915-19 and 1921-23. He was one of 50 House members to vote against entering World War I.
 
Franklin D. Roosevelt
Roosevelt, a Democrat and former New York governor, was not a member of the Socialist Party, but that didn't stop his critics from calling him a socialist and even a communist during his time as president. Upon taking office as president in the midst of the Great Depression, Roosevelt heavily invested the federal government in the U.S. economy through his New Deal programs and he invented the social safety net that has kept seniors from starving ever since. He proposed the Social Security Act, which established the Social Security program in 1935. He also initially called for the creation of universal health care during his presidency.
Fiorello LaGuardia
The former congressman and mayor of New York City had socialist tendencies. Upon becoming mayor in 1934, his biggest priorities included expanding work relief for the unemployed and modernizing infrastructure, and he was a vociferous proponent of having an active government in social affairs.
 
Shirley Chisholm
Chisholm, another Democrat, was also not a socialist, but held political stances that were considered radical during her time in office. As an assemblywoman from Brooklyn in the mid-1960s, she passed legislation that extended unemployment benefits to domestic workers. During her time in Congress from 1969 to 1983, she helped create the Special Supplemental Nutrition Program for Women, Infants and Children, worked on a bill to give domestic workers minimum wage and advocated for increasing social spending and decreasing military spending. She unsuccessfully ran for president in 1972.
 
Bella Abzug
Abzug, a pioneering liberal and feminist, was a lawyer who represented people accused of communist activities by U.S. Sen. Joseph McCarthy. As a congresswoman, she advanced radical progressive causes for the time, such as the Equal Rights Amendment, opposition to the Vietnam War and gay rights. She was in Congress from 1971-77.
 
Howard Zinn
Zinn, a famous historian and Brooklyn native, identified as "maybe a democratic socialist." Zinn, a veteran of World War II, was a civil rights and anti-war activist in the 1960s. He also received a personal copy of the Pentagon Papers from Daniel Ellsberg. Zinn published "A People's History of the United States" in 1980, which provided alternative perspectives on American history to the traditional wealthy, white and male point of view, with a heavy focus on labor and the underclass.
 
Bernie Sanders
The crazy-haired, Brooklyn-accented self-described democratic socialist inspired millennial voters across the country in the 2016 presidential Democratic primary with his message of redistribution of wealth and single-payer health care. Although he lost, he has continued to advocate for progressive causes and support liberal candidates across the country.