New York State
William Larkin's honorable discharge
State Sen. William Larkin is leaving Albany after seven decades in public service – and confident his seat will stay red.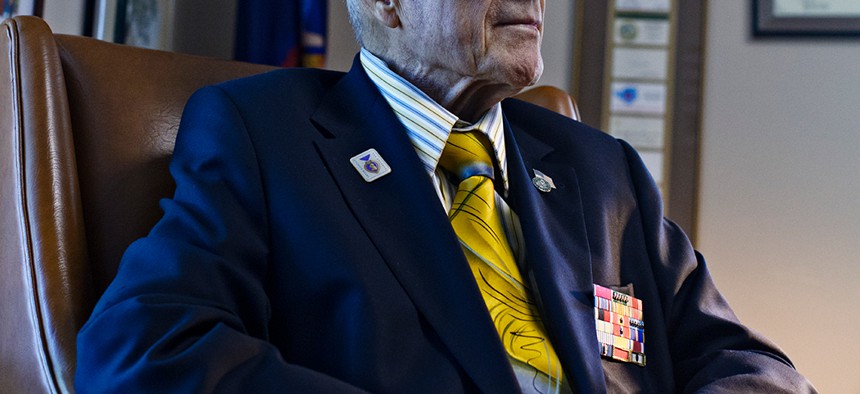 State Sen. William Larkin, all of 90 years old, sat in the Senate Chambers with his arms crossed and a scowl on his face. He was probably the only 90-year-old in New York on the clock at that moment, 1:19 a.m. on a Thursday.
It was the final hour of the last day of the legislative session, but before Larkin could retire to his bed, he had to withstand the glare of the spotlight one more time. State Sen. Terrence Murphy, a fellow Republican, took the floor to speak about a bill that would designate July 25 as "Medal of Honor Day" in New York state. It was purely ceremonial – the Assembly had adjourned hours earlier without touching the bill – but Murphy didn't talk about the merits of the bill. Instead, he praised his co-sponsor, William Larkin.
"Tonight, I know, is your last night in our wonderful chamber here. … This is a fitting end to your career, and to us, being able to do the Medal of Honor, in your honor, for the last night here," Murphy said, referring to Larkin's long career in the U.S. Army. "Senator, thank you very much for all you have done. For your service to our country, for your service to the state."
As staffers, aides and his fellow senators rose to give him a standing ovation, Larkin stayed seated, leaning back. He shook a couple of hands, unsmiling. He seemed mildly uncomfortable about all the attention.
But accepting praise is often a necessary part of retiring, especially if you're retiring from as long of a career as Larkin, who has been serving in the state Legislature since 1979. When Larkin took office as assemblyman that year, state Senate Majority Leader John Flanagan was in high school. Larkin's youngest colleague, state Sen. Jamaal Bailey, wasn't even born. But Larkin has stayed around, a veteran of the Army turned a veteran of Albany. His retirement might throw a wrench in Republicans' efforts to hold on to control of the state Senate, but nobody can hold it against a 90-year-old for wanting to retire. So Larkin has been accepting more praise than ever in the two months since he announced his retirement. And he's doled it out as well.
"I thank God for keeping me going all these years," Larkin told City & State in a later interview. "But I never was going to stop."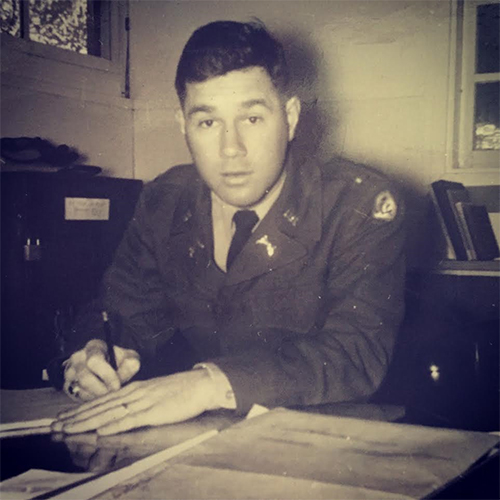 As gruff as he looked on the last day of the session, Larkin was in a cheerier mood a week earlier. It was a Friday morning at his Orange County district office in New Windsor, a converted residential home on Little Britain Road. It's about five miles from the Hudson River and one mile from the newly christened Senator William J. Larkin Jr. Highway. The sign for the highway was unveiled on June 8, designating a short stretch of Route 300. He was certainly proud of it – "Did you see my sign?!" he asked – but it seemed like a rare indulgence. Larkin said he has turned down a number of offers to name things after himself, including Gov. Andrew Cuomo's pitch to name the National Purple Heart Hall of Honor, a museum the senator helped create in his district, after Larkin.
"I said, 'No. No, no, no. I do not have a Purple Heart and I don't want to insult those who do have a Purple Heart,'" Larkin said. "But the governor submitted a bill with it and he said, 'But you've done so much for this.' I said, 'Governor, talk is cheap, blood is expensive.'"
A visitor to Larkin's office might be quite surprised to hear that he doesn't have a Purple Heart, the military decoration given to those who are wounded or killed while serving. There are no fewer than seven pieces of Purple Heart memorabilia in his office. They include a cup holding pens and letter openers, a street sign honoring the late Spc. Doron Chan and an aerial photo of a Purple Heart medal cut into a cornfield somewhere. Their share of the office is only outnumbered by the elephant figurines, of which he has at least 12.
The Purple Heart has been a political obsession for Larkin in the latter years of his career. He helped open the Hall of Honor in 2006 in New Windsor. He sponsored a bill to name the new Tappan Zee Bridge the Purple Heart Memorial Bridge. When Cuomo got it named after his father, Gov. Mario Cuomo, Larkin got the Bear Mountain Bridge renamed instead. He worked successfully for three years to get the U.S. Postal Service to issue a stamp bearing the Purple Heart, and another eight years to get it designated a "forever" stamp that remains in circulation despite changes in price. The 2011 announcement is one of his greatest triumphs. As Larkin tells it, "I said, 'You can stay with us, or you can walk away, but we will have a stamp before I die.' We did."
"I said, 'Governor, talk is cheap, blood is expensive.'"
Larkin doesn't have a Purple Heart, but he has no shortage of war stories. He tells them, like many 90-year-olds, in a meandering way, a series of snapshots and rehearsed lines rather than linear narratives. But with his clear voice and direct eye contact, it's hard to look away.
Born in Troy, Larkin joined the Army in 1944, at age 16. He was younger than the minimum age of 18, but he claims to have not known his true age until 1965, when Larkin said he learned he was actually born in 1928 and not 1926. (His original count would make him 92 years old, rather than a chipper 90.) He fought in New Guinea and the Philippines, and when World War II ended, he took a job at the Fitzgerald Bros. Brewery in Troy for about three months before he got roped back into the Army. (As a young, single man, he said this was a cost-saving measure by the Army. Married soldiers are expensive.) Larkin then stayed in the Army for more than two decades, serving in combat in Korea, and retiring in 1967 as a lieutenant colonel with a Legion of Merit and seven Army Commendation Medals. He said of his honors, "Can't be the worst guy in the world!" But there's a common thread in all of his stories: praising others.
Larkin guarded President John F. Kennedy on his famed 1963 trip to Berlin – but he seemed to be most impressed by the other guards. "Secret Service – I don't care what anyone says, this was the class of class," he said.
The Army also sent him to the third march in Alabama, where civil rights leaders like Martin Luther King Jr. marched from Selma to Montgomery in 1965 in favor of African-American voting rights. "It gave you a good understanding of respect and accountability," Larkin said.
And telling the story of getting medically evacuated from Korea in February 1951 for "frozen hands, frozen feet, frozen ears," Larkin couldn't help but praise a television show.
"I don't remember getting on the helicopter going back. I look at 'M.A.S.H.' now, and know what it's all about," he said with a laugh.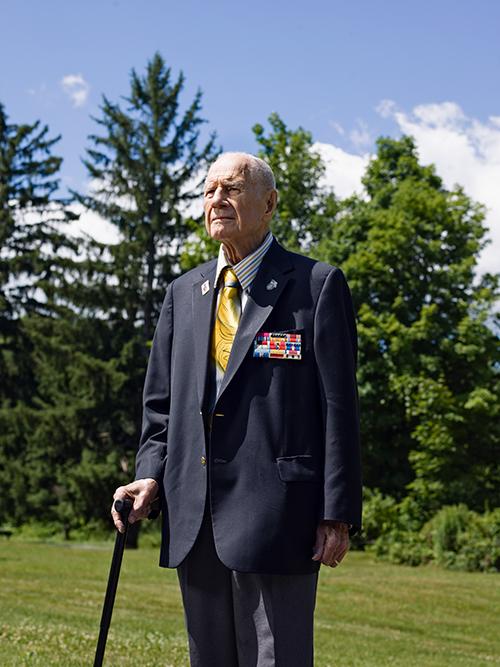 Now, 67 years later, Larkin cites that injury as one of the reasons he isn't running for re-election. "It's very simple," he said. "I'm 90 years old. Some of the aches and pains of Korea, 1951, are coming to hurt. My legs are swelling up more so than they were."
Predictably, the father of eight, grandfather of 17 and great-grandfather of two, also gives another reason.
"I think my family deserves something. My grandchildren say, 'Grandpa, you didn't come to the game last night. I got two hits! Grandpa, I scored two baskets!' I think my wife deserves it too," he said. "Because she's got a life too. I don't want to say, 'Everything you have, put aside, I'm in charge.'"
But a Republican lawmaker retiring in 2018 will inevitably raise questions. Larkin brushed that aside in the second sentence of his public statement announcing his retirement. "To be clear, my decision has nothing to do with some mythical blue wave that state Democrats have been wishing for."
So in the waning days of his political career, Larkin is now focusing on keeping his seat red. In an election year in which Democrats are hoping to win a majority in the narrowly divided state Senate, Larkin is one of five Republicans who are not running for re-election. Democratic Assemblyman James Skoufis is running for Larkin's seat, as is Republican Orange County Legislator Mike Anagnostakis. But Larkin quickly endorsed Tom Basile, a former executive director of the state Republican Party who once served in President George W. Bush's administration. Basile had been raising money since last fall with Larkin's blessing, and the retiring senator has been turning regular public appearances into Basile rallies.
"I thank God for keeping me going all these years. But I never was going to stop."
Basile joined Larkin on a Friday afternoon in June in the town of Blooming Grove. Forty or so municipal employees had gathered in the town hall's parking lot, ready to accept a giant Publishers Clearing House-style check from Larkin for $244,000. The state grant, for a snowplow and an ambulance, is the kind hyperlocal bread and butter that Larkin thrives on. "Ladies and gentlemen," he said to the crowd. "This money that came, I didn't give you this. This was your money, and I made sure it came back here."
Larkin then tried to shift attention toward Basile, his chosen successor standing a few men down the line in a blazer and slacks. Apparently attempting to make a reference to Basile having big shoes to fill, Larkin halted midsentence. "Someone said my shoes – " Then Larkin jumped straight into the compliment, stumbling over metaphors.
"His feet are bigger than mine!" Larkin said of Basile. "So he'll have a lot of feet. And they'll be your feet. He'll be walking in your feet. And prove to you that you did not waste your vote. Thank you and God bless you."
The crowd clapped politely. Basile smiled. Larkin smiled. Six months left in office, with a lot more praise to come.
But for Larkin, that necessary part of the job has always been unnatural.
"He's not a self-promoter," Basile told City & State after the event. "He's not somebody who is always having a press conference every other day. He doesn't have a big press release machine that he cranks out. He just wants to do the job. And that's why people love him."