Andrew Cuomo
She waited. Will good things come to Andrea Stewart-Cousins?
With the IDC out of the way, the state Senate may finally be Andrea Stewart Cousins'.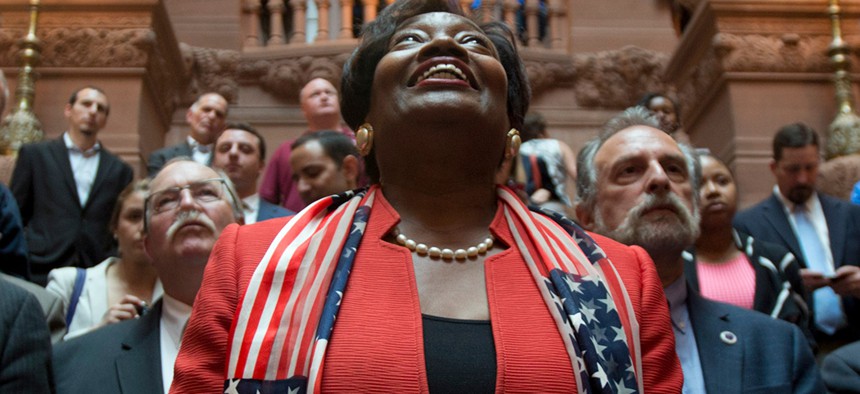 The state Senate Democrats are united going into the election, hoping to finally break years of Republican rule. The Democrats' leader, Andrea Stewart-Cousins, "stands on the brink of becoming the first woman – and black woman, to boot – to enter the famous 'three (and sometimes four) men in a room' equation that runs New York State politics."
That was then, from an October 2014 profile in the Observer. But it didn't work out for Stewart-Cousins, a Democrat representing Westchester County. Republicans rolled in the November election, and retook an outright majority, keeping control in GOP hands for the next two years. And the Independent Democratic Conference didn't rejoin the mainline Democrats, instead maintaining its privileged position with the Republican majority.
Two years later, Stewart-Cousins was again on the brink of becoming majority leader. Democrats gained a seat in the 2016 elections, but with registered Democrat Simcha Felder announcing that he'd still caucus with the Republicans, the GOP maintained control, and Stewart-Cousins, once again, remained minority leader, shut out of the real decision-making.
Now it's 2018, and Stewart-Cousins is, like clockwork, on the brink of becoming the first female majority leader. Democrats are predicting a "blue wave" of support in the November elections, and with five senior state Senate Republicans declining to run for re-election – and every Democratic incumbent hoping to return – Stewart-Cousins seems to have her best chance yet of winning the state Senate's top job.
She has been patient, but that doesn't mean her past four years as minority leader have been spent sitting around and waiting. Stewart-Cousins has been engaged in a deliberate, yearslong effort to legitimize and professionalize the Democratic caucus, which had its reputation tarnished when it had its brief taste of power nearly a decade ago. Unlike other Senate Democrats, she has never attempted to seize power, has never made a power-sharing deal with Republicans. And she's cautiously optimistic that she will finally get her chance to lead in 2019.
"I think we're in certainly the best position we've been in, for a number of reasons, to actually achieve a working and functional majority," she told City & State in a recent interview. "I do see the potential light at the end of a very, very long journey."
"It's not even a different chapter. It's a new book."
The Democrats last had majority control of the 63-member state Senate during the 2009-2010 session, a period marred by confusion and crises of leadership. A year after Democratic Gov. Eliot Spitzer resigned amid a prostitution scandal, tumult again came to Albany as Democrats Pedro Espada Jr. and Hiram Monserrate tried to gain influence by coordinating with Republicans to elevate Dean Skelos to majority leader in June 2009. The Democrats then chose John Sampson to lead their conference over Malcolm Smith, who had lost control during the coup. Democrats regained power by electing Espada majority leader with the caveat he rejoin the conference, but his year as leader was marked by a late budget and utter dysfunction. The Republicans won back an outright majority in the 2010 election, and in the subsequent years, all of the key players – Espada, Monserrate, Skelos, Sampson and Smith – would be convicted on corruption charges in separate cases.
But that didn't end the power struggles. Fed up with Democratic dysfunction, state Sen. Jeff Klein and three other senators formed the IDC at the beginning of the 2011 session, earning a bigger budget for their offices and weakening the remainder of the Democrats. Klein and the IDC's power grew from there. After Democrats won the majority of the seats in the November 2012 election, the IDC formed a power-sharing agreement with the Republicans that kept the mainline Democrats from leading the Senate. It was under these circumstances that the Democratic conference first elected Stewart-Cousins as its leader – a weakened, embarrassed conference that even fellow Democrats didn't think deserved to be leading the body.
"To understand why (Andrea Stewart-Cousins) has been so successful, you have to go back to the moment in which she became leader," state Sen. Kevin Parker, a Democrat first elected in 2002, told City & State. "It was a moment of chaos and you needed somebody with a sure and steady hand to manage some of the confusion that was happening at that moment."
Parker, more than most legislators, once helped earn Senate Democrats a reputation for dysfunction – he was fined and given probation for assaulting a news photographer and reportedly called another senator a "bitch" during a heated debate. But other members of the conference agreed that she was the perfect leader for the moment. They variously described her as smart, a good listener, a consensus builder. State Sen. Brad Hoylman, a fellow Democrat, called her "ethically irreproachable." She doesn't take outside income, and – though she considered running for Westchester County executive in 2017 – she wasn't looking for a higher position outside of the Senate at the time. She was a black woman who brought the perspective of underrepresented groups to Albany, but she was also a suburbanite, representing a Westchester County district that helped emphasize that the Democrats weren't just the party of New York City.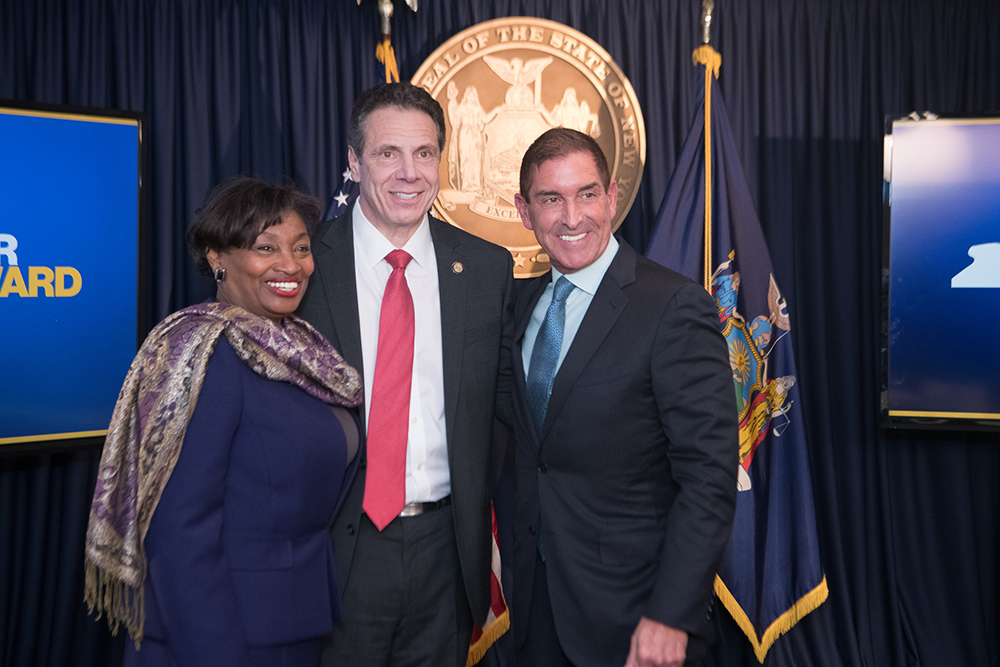 Now, after almost six years as minority leader, all the same qualities still apply, plus one more: proven.
Though, a criticism will occasionally arise: Why didn't she do more to get Democrats the majority? To bring the IDC back in the fold?
"I don't look at it as my not being able to unite the conference," Stewart-Cousins said. She spoke carefully, seeming to weigh every word. "I think my colleagues electing me sort of spoke to the fact that we wanted to just kind of turn a page and move forward and that's really what I did."
To be sure, criticism of her is rare, and she's in no apparentdanger of being deposed. When criticism does come, it's countered in force. After charter school backer Daniel Loeb wrote Stewart-Cousins had done "more damage to people of color than anyone who has ever donned a hood" by not supporting charter schools to his liking, the leader's supporters staged a star-studded Harlem rally.
This year, Senate Democrats are confident they'll win the majority and are eager as ever to show a united front. She has the full support of the conference "without question," Hoylman said. "There's not even a peep of dissension."
State Sen. Joseph Addabbo Jr., who has served under three Democratic leaders, agreed. "I'd heard criticism of Malcolm (Smith); I'd heard criticism of (John) Sampson; I've never heard criticism of her."
Stewart-Cousins said she has spent her years as leader not trying to amass power, instead trying to build a team environment within her conference and stay vocal on issues that matter, such as ethics and electoral reform – neither of which have been advanced in Albany in any meaningful way.
Despite being in the minority, the conference has played a role in passing other key priorities, such as raising the minimum wage and enacting statewide paid family leave. Still, Stewart-Cousins expressed irritation with the environment in which those laws were passed. "You had an IDC that was pretty much saying they believed in the same things that we believed in," Stewart-Cousins said. "So the frustrating part was that we weren't working together to achieve those things."
Asked to elaborate, the leader refused to assign blame. "I didn't say I had frustration with the IDC," she said. "I said I was frustrated that we were all espousing the same ideals but we weren't working together to achieve them."
"Basically, if you do the right thing, the right thing happens."
The reason for her hesitancy was obvious: the IDC no longer exists, and – at the time of the interview – all eight of its former members were back on her team, members of the mainline conference. The conferences reunited in April, right after the state budget was passed, amid fears that the anti-IDC sentiment had grown so much among Democratic voters that it actually could cost some of the ex-IDC senators their jobs. Those fears became reality the night of the Democratic primary, as six of those members, including Klein, were voted out of office.
From one perspective, it was a blow to Stewart-Cousins' leadership. She had endorsed Klein and all the former IDC members in their respective primaries, despite strong support for the candidates challenging those incumbents, even among some of the most prominent Democrats statewide. Her backing of the former IDC members was an explicit part of the reunification deal, but it fit with Stewart-Cousins' leadership style. "We've got to work together. We've all got to feel like we're on the same team," she said.
But Stewart-Cousins was quick to spin the IDC challengers' wins as support for her leadership. After all, Stewart-Cousins and Klein have had years of bad blood. Both initially supportedchallengers to get the other one voted out of office in 2014, and mainline Democrats had frequently attacked Klein for keeping a black woman out of power. The pair had, by all accounts, put their past behind them since the reunification, and were working well together. ("It's not even a different chapter. It's a new book," Stewart-Cousins said of her peace with Klein.) But it's easy to see the election results as a widespread endorsement of her style of Democratic purity over Klein's party-agnostic pragmatism. "Voters again made it clear that this is a new day and politics as usual are no longer acceptable," she wrote in a series of tweets Thursday night. "I welcome the primary winners and look forward to working with all of our Senate Democratic candidates to finally give New York voters the progressive leadership they deserve."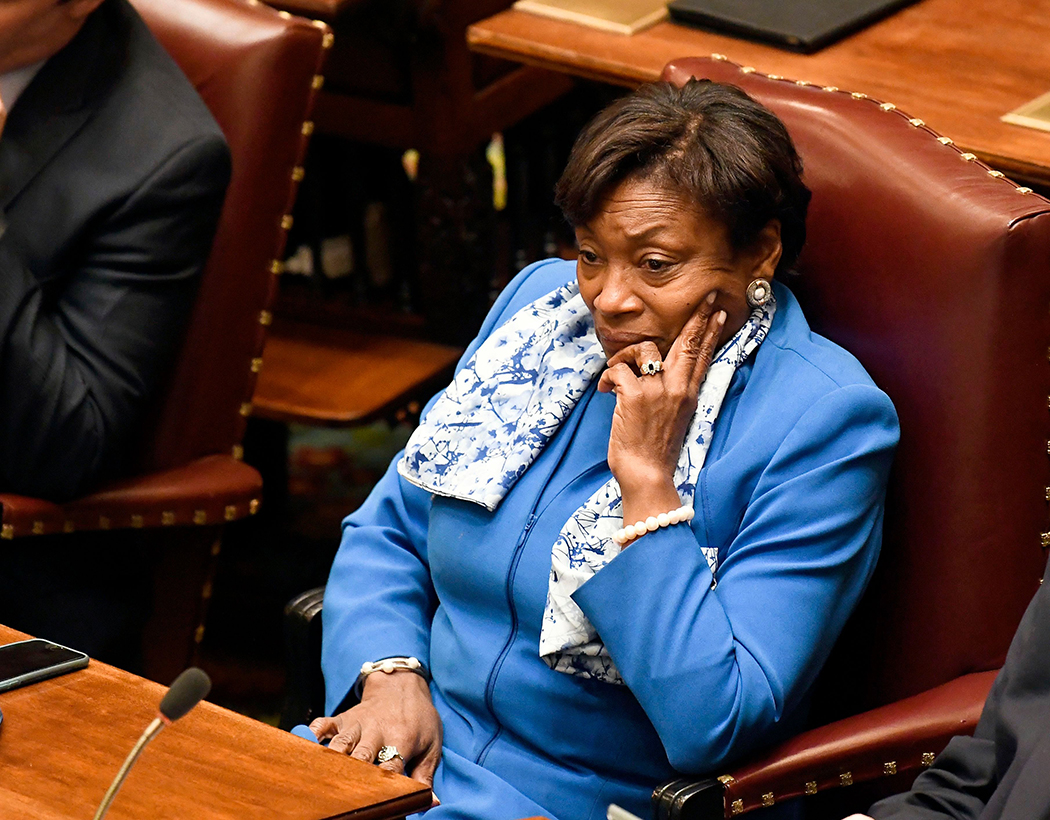 Stewart-Cousins has always been a patient political operator. She grew up in public housing in the Bronx, and was unmarried when she had a child at age 19. She worked for New York Telephone Co., married Tom Cousins, moved to Yonkers, became a teacher and, briefly, a newspaper reporter and didn't enter politics until 1992, whenshe was 41. Even then, she took on new responsibilities slowly. Four years as the director of community affairs for the city of Yonkers. Eleven years as a Westchester County legislator.
She first ran for state Senate in 2004, challenging Nick Spano, a two-decade Republican incumbent. She lost by just 18 votes. She ran again two years later, and won handily. After six years, she was elected leader.
But that didn't change the 68-year-old's patient style of leadership. Stewart-Cousins had seen leadership coups and cross-party alliances, but she would do neither.Each year, she was left out of the private negotiations among the governor and legislative leaders that typified the "three men in a room" governing style of Albany – even as Klein was included to make it "four men in a room." She would speak out about her exclusion, but always kept her arguments rational. "My conference represents half of New York," she said in March. "I think it's important we be included in the discussion." Stewart-Cousins never stormed the governor's office or held political stunts, which gained her respect but not entrance to the room.
"She has always believed in the longer view," Hoylman said. "She's patient and deliberative. You've heard that expression 'young man in a hurry?' Andrea is like the photonegative. She's the photonegative of that power-hungry, prototypical politician."
Addabbo praised Stewart-Cousins for staying cool, even under political pressure. "Emotions run high. She could bang on the door, but she doesn't. That's not her," he said. "She's professional."
"I'd heard criticism of Malcolm Smith; I'd heard criticism of John Sampson; I've never heard criticism of her." – state Sen. Joseph Addabbo Jr.
Over her six years as Democratic leader, Stewart-Cousins has seen other leaders toppled. Sampson was arrested on corruption charges weeks after she replaced him as leader. Former state Senate Majority Leader Dean Skelos and former Assembly Speaker Sheldon Silver were both convicted on corruption charges, caught capitalizing on their political power for personal gain. Republican Deputy Majority Leader Thomas Libous was convicted of lying to the FBI, though the case was vacated after his death. By comparison, Stewart-Cousins has been the picture of consistency. And she's made it clear this patient, clean strategy was deliberate. "Basically, if you do the right thing, the right thing happens," she said.
Now, once again, Stewart-Cousins is on the brink of becoming the first female state Senate majority leader, on the brink of altering the Albany lexicon to "three people in a room." Winning that position would mean a substantial gain in her personal power, something Stewart-Cousins said she understands, and is ready for. It also means the pressure of high expectations to pass Democratic priorities if the party ends up controlling the governor's office, the Assembly and the state Senate. But Stewart-Cousins is speaking humbly.
"I appreciate the fact that people, over the years, have given me more and more responsibility," she said. "And I also believe that part of that is because I act responsibly with the power I get. So people trust me with more."