David Valesky
Rachel May looks to be a fresh voice in Albany
Rachel May on her primary victory, upstate Democrats and reforming New York elections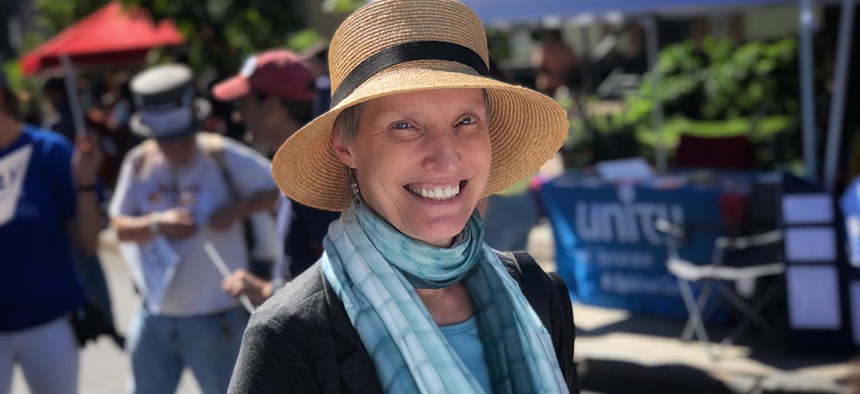 Rachel May was the last of the six victorious challengers to former Independent Democratic Conference members to declare victory after the Sept. 13 primary. Although the race had been called in her favor, May withheld her victory speech until Sept. 20, when600 outstanding absentee ballots had been counted.
Politicians are usually eager to declare victory, but May's opponent, state Sen. David Valesky, could still have technically won if the majority of those votes were for him. Although that was unlikely, May felt that emphasizing the importance of every vote was consistent with her campaign message. "I had talked to so many voters about how important it was for their votes to count," May told City & State. "And I even had people say 'Oh, I won't be there on primary day, so there's no point in voting absentee,' and I said 'No, no, you need to vote absentee!'"
May, now the Democratic nominee in Senate District 53, which is in Central New York, was one of eight challengers to former IDC members. Hers was one of only two races to take place outside of New York City and it turned out to be the closest. Many would say it was the most surprising upset.
Valesky also waited before officially conceding and declaring his intention to suspend his re-election campaign – he will still technically appear on the Independence Party and Women's Equality Party lines. Following the primary, Valesky said he was considering a third party run, waiting over a week after May officially won before saying he would not mount a campaign against her. Some might say that this proves Democratic primary voters were right to be skeptical of Valesky's loyalty. But, despite the delay, May said she understood his reasoning. "He's been in office a long time and he does have a lot of support in the district – people just like him," May said. "I don't resent that. I'm grateful to him for having done the right thing eventually."
May now goes on the face Republican Janet Burman in a race she is favored to win. Democrats have a nearly 20,000 voter enrollment advantage in the district, which also overwhelming voted for Hillary Clinton in the 2016 presidential election.According to new financial disclosures, May has over $66,000 in her campaign coffers, while Burman has less than $200. May said nothing should be taken for granted upstate. "We're going to keep working really hard," May said. "People assume that the primary is the election and in our case, there aren't any safe Democratic seats – we have to work for it."
Although she has long been civically engaged in her community as an activist, May is a first-time candidate. Previous to her run, May had been an educator, teaching high school math and college Russian language and literature. She later retrained in environmental science and most recently served as the coordinator of sustainability education at Syracuse University.
The education profession is underrepresented in Albany, a town filled with lawyers, according to May. "Looking at the big picture, I think you need people who aren't just lawyers or people who've just come up through the political sphere," May said. She said teachers in particular have a lot they could offer. "We are people who spend our lives trying to spread knowledge," May said. "This is a group of people who are really dedicated to public service."
Provided that she emerges victorious in November, May expects to enter a Democratic majority in the state Senate. The party is targeting races all over the state and need to flip just one seat regain control. "I think that the candidates are extremely strong that Democrats have fielded this year," May told City & State. "And I think, having defeated so many of the IDC members, that Democrats can send a consistent message about what our party stands for." The idea about uniform messaging was one of the reasons May decided to run and get involved in the broader anti-IDC effort of which she was a part. "I really felt that Democrats didn't have a story to tell, May said. "I felt like we really need a story that can galvanize people, that can get all the grassroots energy moving."
Part of that effort involves passing reform in Albany to make it easier for people to get involved in the political process. "That is largely because of everything I heard in the course of the campaign," May said. "People were angry about having two primaries, and having a primary on a Thursday. Upstate, we could only vote from noon to nine in the primary and people felt like their votes were being discouraged."
May thinks that she and other first-time candidates who won their primaries and others who are running in November will be able to bring about some of those changes. "I think bringing a new perspective to Albany, where people have taken for granted for a really long time that things would be done behind closed doors and with secret handshakes … I think that's really important," May said.
Powered By
NEXT STORY: Who's up and who's down this week?