New York City
Watch: Jumaane Williams, Ruben Diaz Jr. beatbox and rap together
The candidates are both looking for higher office.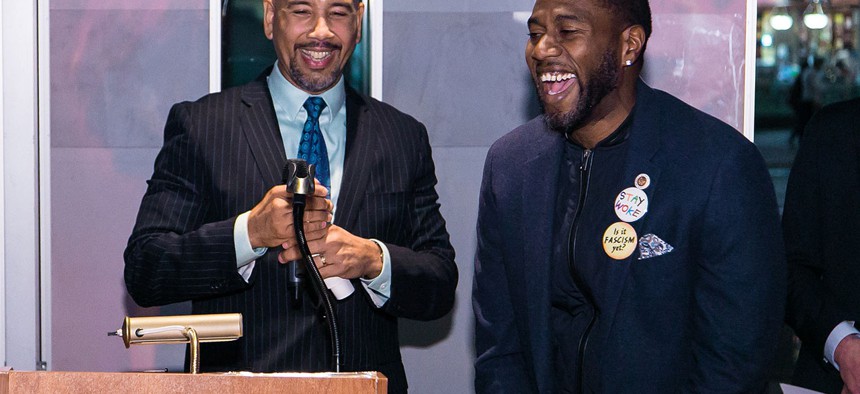 Remember this moment when they're fighting over tax policy some day.
Brooklyn City Councilman Jumaane Williams and Bronx Borough President Ruben Diaz Jr. each beatboxed into the microphone at City & State's New York City 40 Under 40 event Tuesday night. Then Diaz broke into a few bars of the 1985 hip hop classic "La Di Da Di" by Bronxite Slick Rick and Harlem's Doug E. Fresh.
Diaz, 45, invited Williams, 42, up to the mic during his brief keynote remarks at the annual event, and it was caught on video by Bharati Kemraj, a consultant with Patrick B. Jenkins and Associates and 40 Under 40 honoree. Kemraj previously worked for Diaz.

Williams had announced his candidacy for New York City public advocate that morning. Diaz has previously announced that he's running for mayor in 2021. The two politicians' love of hip hop has never been a secret.
Williams beatboxed on stage in July during his losing campaign for lieutenant governor and has tweeted about the rapper Raekwon. Diaz rapped on stage with Doug E. Fresh back in 2012 and again with Brand Nubian in 2015. Last year, he tweeted praise to Bronx native Cardi B on her Grammy nominations.