New York City
Jumaane Williams is ready to be public advocate, assuming there's a vacancy
Defeated in his bid for lieutenant governor, Jumaane Williams has set his sights on the office of public advocate.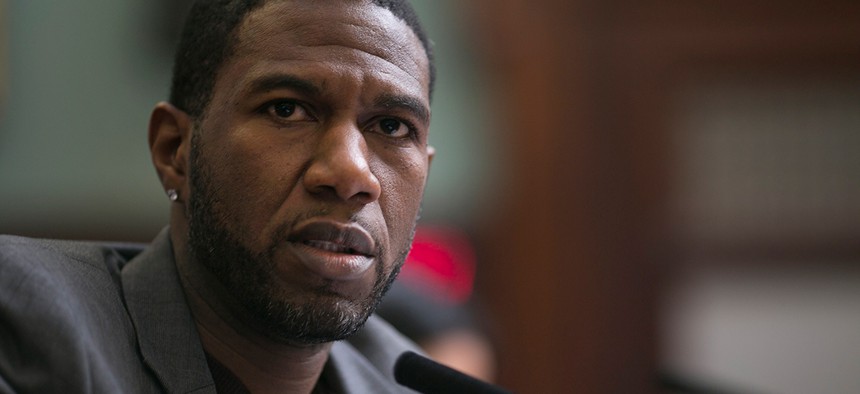 New York City Councilman Jumaane Williams has his eyes on a public office that isn't exactly vacated yet. If, however, New York City Public Advocate Letitia James is elected state attorney general in November, her office will be up for grabs – and the field of candidates already thought to be vying for it is getting crowded. In the Democratic primary for lieutenant governor, Williams, a Brooklyn lawmaker, won more votes than Lt. Gov. Kathy Hochul in New York City, but ultimately lost the race. In announcing on Tuesday his plan to run for public advocate in the event of a special election early next year, Williams says he's starting this race from scratch.
Why are you running for public advocate?
The city is a place where people can't afford to live, except for the ultra-wealthy. The office of the public advocate, I think, is tailor-made for someone that has experienced being an activist and an elected official without compromising either one of those, and has shown to be effective on those types of issues. I've been a housing advocate long before I was a council member. I think I've shown that I can be both – the activist and the elected official is needed to get things done.
There will only be a vacancy in the office of the public advocate if Letitia James is elected attorney general in November. Is it premature to announce your decision to run as that election is still two weeks away?
I don't think it's premature to express interest. There were a lot of people who were trying to figure out what I would be doing should that position become open. I took some time to really think it through and really think it out, and I think it was important to let my intention be known. There were some people who also let their intentions be known, and there were a lot of questions about what I would do. I'm not going to get ahead in terms of campaigning, in terms of really officially launching a campaign. We will officially launch a campaign if and when it becomes available in November.
When did you decide that you would run?
I would say last weekend I made a final decision.
On what issues is the public really in need of an advocate?
This city is not doing enough to make it affordable to live in New York City. There are very specific ways in which we can do that. The public advocate's office has to be front and center in holding the city and the state, in particular, accountable, especially in issues around housing. Just having been in government, I see the huge spaces and gaps that they have, and that's probably the No. 1 thing I want to start on.
How would you start tackling housing issues?
The rent laws are going to be up next year. You have to have someone who is not worried about the politics of it, but is going to drive home the message and hold people accountable. It's clear this administration has an issue with giving accurate information, particularly to the City Council. So I want the public advocate's office to help push the accuracy of information coming from this administration, whether it's on NYCHA, NYCHA lead, or NYCHA rats.
In what other instances has this administration had an issue with providing accurate information?
I just came from a tour at Horizon. They misled everyone in believing that we'd be ready to effectively run Horizon, and that information led to the incidences that we saw when it opened. So we have to have someone that is going to hold them accountable.
What would be your ideal relationship between the public advocate and the mayor?
We're all partners in government. As I always say, partnership doesn't necessarily mean always following what someone does. My job is to make sure that the public is advocated for, and that has nothing to do with alliances, it has nothing to do with whether the mayor or someone else is an ally or friend. It has to do with, "What did we say we want to get done?" "Is that thing getting done?" "What is blocking that thing from being done?"
As you said, other potential candidates are letting their intentions be known. Are you concerned about a scenario in which a Republican is elected public advocate because a crowded field of Democratic candidates splits the vote?
Right now, I'm focused on the Nov. 6 election. I wanted to make sure that my intentions were clear. I think we did that, and we also know that our message is one that's very receptive, and I think it's the right one irrespective of how this field finally plays out.
How much will the visibility and recognition you attained while running for lieutenant governor assist you if you run for public advocate?
I am running as if I have no advantages in this race. I'm starting from scratch. That's how I look at every race I've ever been in, and that's how I'm going to look at this race. The one thing I know is that the message that we have, the message that many thought wouldn't work, we know that people are receptive to it and people want it.
Some consider the public advocate a springboard for higher offices. How much is that on your mind?
You have to have a public advocate who is not trying to use that position to get to the next position, but is really dedicated to holding government accountable, and raising the voice of people in New York City.
You've said you won't run for mayor in 2021. Would you consider running in 2025?
I am definitely not running in 2021. I have no plans to run in 2025 because that's a long way ahead. It's hard to say definitively.
What else do you want voters to know if you do run for public advocate?
I want voters to come out on Nov. 6. It's the general election, it's critically important. There is a number of races in New York City and across the state that we cannot take for granted.
Powered By
NEXT STORY: Who's up and who's down this week?