Joe Lhota
Lhota's troubled tenure
Joe Lhota's stint as MTA boss was marred with controversy and missteps.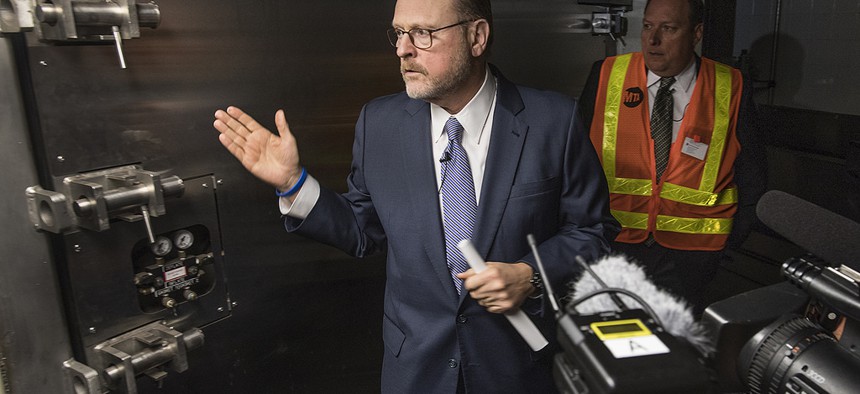 Joe Lhota, the now-former chairman of the Metropolitan Transportation Authority, resigned from the post, effective immediately, on Friday morning – despite indicating just weeks earlier that he had no intention to leave. Gov. Andrew Cuomo appointed Lhota in June, 2017 for his second stint in the role; Lhota previously served as the chairman and CEO of the MTA from January, 2012 until December of that year.
Although Lhota's first tenure was well-regarded, as he was credited with getting the subways running again shortly after Superstorm Sandy, his second round at the agency went less smoothly. During the last year and a half, subway service continued to deteriorate - although the MTA has touted statistics in recent months indicating marginal improvement in the number of trains delayed. 
Lhota also became embroiled in controversy regarding his many conflict of interests. Unlike past heads of the MTA, upon his second appointment, Lhota was allowed to keep a separate full-time job as an executive at NYU Langone Health and numerous other sources of income as well, including with groups that had transit interests or business before the city. Most notably, he served on the board of the Madison Square Garden Company while it was in the middle of contract negotiations with the city about the fate of Madison Square Garden, which sits above Penn Station.
Lhota leaves office with not only perceived failures and ethics questions, but also a string of gaffes that left New Yorkers befuddled. Here are three of the most noteworthy brushes with controversy from Lhota's second span at the helm of the troubled transit agency:
Lhota the NIMBY
When New York City announced its plan to temporarily shut down the Brooklyn Heights Promenade in order to make much-needed repairs to the Brooklyn Queens Expressway, Lhota took to Twitter to say "not in my backyard."
"I always wondered what would turn me into a Community Organizer," he tweeted, "This is it. NIMBY (and proud of it)." New Yorkers on Twitter did not take too kindly to the buttoned-up Republican's newfound activist streak, questioning why it took a threat to his own affluent neighborhood – rather than the crumbling subways he was in charge of – to inspire him to get in touch with his inner organizer. He promptly deleted the tweet. Around the same time Lhota was complaining about the Promenade, a different tweet was making its rounds with a video of the ceiling at the Atlantic Terminal 4/5 platform falling down in chunks.
Who, me?
Cuomo often likes to assert that the subway really belongs to New York City, not the state, and that it's ultimately the city's job to make sure it is up and running. Despite this being misleading according to media fact-checkers – critics would go further and say it's downright false – Cuomo continues to make the claim. Evidently looking to back up his boss, or perhaps hoping to wriggle out of the blame for the condition of the subways, Lhota parroted the claim, saying that the subways are simply an "affiliate" of the MTA and that the city truly controls the system. If that's the case, it sure is a good thing Lhota was only getting paid $1 a year.
Send some Twitter love
During a budget hearing this year, Lhota endured question after question about the MTA and how it is operating. But at one point, he told them what the beleaguered agency really needs is a little bit more love on Twitter. Apparently, the near-constant stream of negativity that likely fills the mentions of the MTA twitter account is just really a bummer. Lhota said that seeing more positive feedback on social media would allow the agency to determine success. Although one would think success could be determined in other ways, such as increased on-time performances and a decrease in malfunctioning signals. Unfortunately for Lhota, his call for more positivity did not sit well with straphangers and instead inspired even more of the dissatisfied tweets that seem to so bother him.
Powered By
NEXT STORY: Who's up and who's down this week?