Joseph Griffo
Filling in for John Flanagan
Upstate Republican Joseph Griffo discusses his stint as acting GOP Senate leader.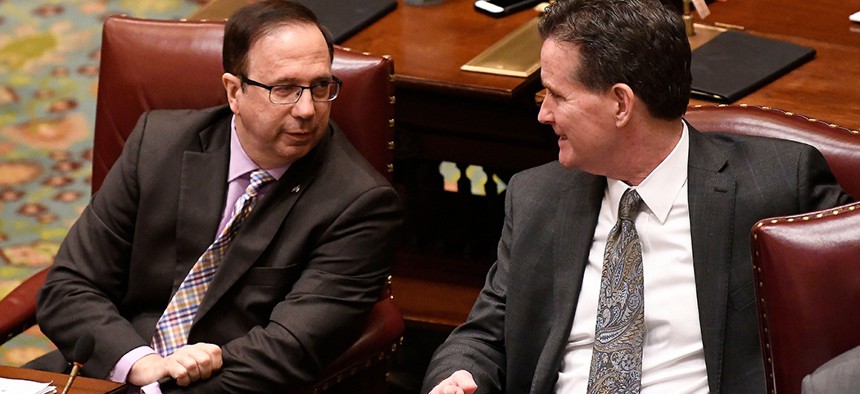 The new year has presented some hefty challenges to state Sen. Joseph Griffo. As the newly appointed deputy minority leader of the Senate GOP conference, Griffo had to step up while state Senate Minority Leader John Flanagan sought treatment for alcoholism. Before Flanagan returned to Albany on Jan. 28, City & State caught up with Griffo to hear what he learned during his brief tenure leading Republicans in the state Senate. This interview has been edited for length and clarity.
How have things been different as acting leader of the state Senate Republicans?
If you're not the leader, you can commiserate (with fellow senators) and discuss what could and should be done. As the leader, they're going to approach you differently and ask for things and lobby for things and then you're in a position where you've got to make some difficult choices. It could be anything from policy to politics to personalities. They all come into the equation when you're trying to run a conference.
Some of your members say that you love to tell anecdotes. Has any particular one come in handy with the conference during the past couple weeks?
I try to dwell on past experiences. I like parables every now and then. We're all different individual personalities, right? We try to dig into that personality and use that to help us and try to guide our conference and lead our people. It's been quite an intensive period. My dad is hospitalized, very serious right now, and my mom is dealing with some issues too. There are those professional obligations and everything going on and the personal responsibilities all landing at the same time. That's why I've got to keep looking in the mirror and see what I look like.
Has it been easy dealing with the new Democratic majority in the state Senate?
I've had an opportunity to meet with (state Senate Majority) Leader (Andrea) Stewart-Cousins. We had a very good dialogue about the relationship moving forward, but I'm a caretaker right now. So after (Minority Leader John Flanagan's) return it will be upon him to forge and develop that relationship. We have to continue to communicate and respect one another. You saw me take a couple of nice friendly shots at (state) Sen. (Michael) Gianaris on opening day, talking about our Mediterranean ancestry and how passionate we can both be, but we'll also be able to conduct the business at hand.