New York City
How de Blasio's D.C. agents keep tabs on Trump's government
As Bill de Blasio wages a war on Washington, his agents in D.C. keep tabs on Donald Trump's government.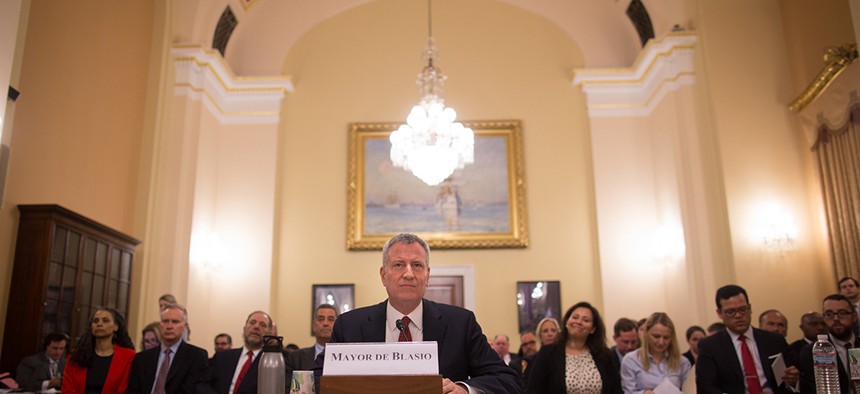 Donald Trump's election as president put New York City Mayor Bill de Blasio in an awkward position. On one hand, de Blasio vehemently opposed the man who he said sounded like "a Third World dictator" and whose tweets assertedmultipletimes that de Blasio was "the worst mayor in the United States." On the other hand, Trump was living on Fifth Avenue, and it was the job of de Blasio's government to protect the president-elect at all costs.
"All costs" in the end meant $61 million spent on security for Trump in New York. And de Blasio was determined to get that money reimbursed by the federal government.
Luckily for the mayor, he had a team in Washington to help him – a team very few other mayors have: the New York City Federal Affairs Office. The six-person office may be a little-known outpost of the sprawling de Blasio administration, but as City Hall wagesa political war against Trump, this staff is the first line of defense – gathering intelligence, directing troops and setting up meetings with critical allies.
"There's a constant need and desire to make sure that we are influencing the process in D.C. so that no harm comes to New York City," said Matthew McNally, the office's director. "And so that we maximize the good outcomes for New York City."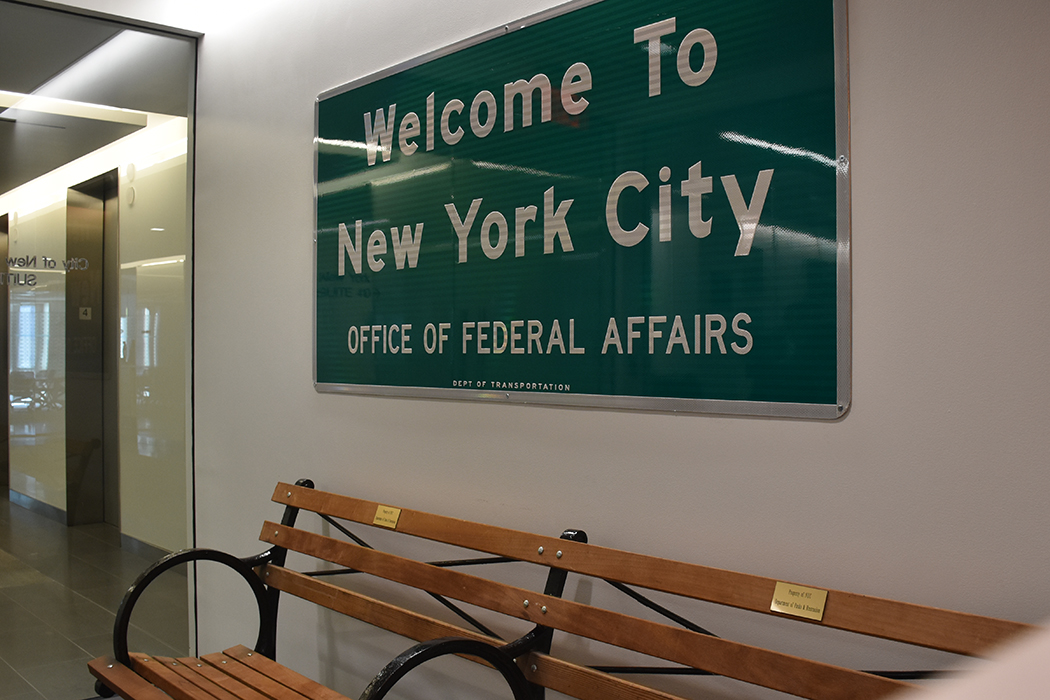 These threats have come in waves since Trump was elected in November 2016. The city has faced a Republican Congress eager to cut funding streams to the city and a president who has taken aim at high-tax states like New York, sought to undermine reproductive and LGBT rights and repeatedly vilified immigrants, of which there are more than 3 million in New York City.
De Blasio seemed wary a couple days after Trump was elected, saying that he expected challenges around reproductive rights and New York City's status as a "sanctuary city," but he struck a defiant tone. "We're not going to take anything lying down," de Blasio said. "Anything we see as a threat to New Yorkers, we will confront."
But Trump's status as a native New Yorker initially offered a glimmer of optimism. "I take solace in the fact that the president-elect is a dyed-in-the-wool New Yorker," de Blasio said, "and I hope and trust he will remember the lessons of a life lived in New York City."
After two years of Trump, has the president's New York roots ever helped the city?
"No," McNally said during an interview at their Washington office last month.
"Hard no," echoed McNally's deputy, Rebecca Kagan Sternhell.
There's a constant need to make sure that we are influencing the process in D.C. so that no harm comes to New York City." – Matthew McNally, New York City Federal Affairs Office director
The team works in nondescript fourth floor office a couple blocks from Union Station, the capital's main train and bus station. The space serves as an oasis of New Yorkiness in the Washington swamp. There's a New York City park bench at the office's entrance underneath a genuine "Welcome to New York City" street sign. Photos of the city line the conference room, from the Fearless Girl to the Flatiron Building, and there's an old FDNY call box on top of a filing cabinet. But the local touches have a limit – the TV plays C-SPAN, not NY1.
In many ways, the federal affairs office is a typical lobbying operation. The staff keeps its ear to the ground to learn about proposals and rules that could affect their client, and coordinates a response. Often that response is a public comment, like one the office submitted in December opposing the proposed "public charge" rule change that would make it more difficult for some immigrants to receive legal status and could discourage them from seeking public services. New York City's was just one of more than 200,000 comments submitted to the government. But sometimes the issues are more specific to New York, such as the $61 million in Trump Tower security costs.
McNally led the city's efforts to get its money back from the federal government. He pulled out all the stops, bringing House Appropriations Committee staff up to Manhattan to show them the security apparatus on Fifth Avenue. When de Blasio traveled to Washington in March 2017 to make his case in person, McNally guided the mayor as he met with the top lawmakers on the Appropriations Committee – Republican Rodney Frelinghuysen and Democrat Nita Lowey. In the end, New York got the vast majority of the security money that also went to Palm Beach, Florida, and Bedminster, New Jersey, the sites of Trump's other residences.
It was a major win for McNally and his team on their first big job. Both he and Kagan Sternhell were appointed in January 2017, the week after Trump's inauguration. McNally makes $167,000 a year representing the city. Sternhell makes $125,000. She had bounced among government jobs for years, including a previous stint in the Washington office spanning both Michael Bloomberg's and de Blasio's mayoralities. Before rejoining the office, the California native was a deputy assistant administrator at the U.S. Small Business Administration. McNally, who hails from Connecticut, had also bounced around political jobs in Washington. For a year, he worked as communications director for another tall, white progressive politician – U.S. Sen. Jeff Merkley of Oregon.
McNally is an under-the-radar player in de Blasio's administration, rarely getting public attention, or mention from the mayor. His name wasn't mentioned once during de Blasio's 90-minute Jan. 17 press conference on the partial federal government shutdown. But the mayor appears to rely on his expertise in times of need. The mayor's publicly released schedules show de Blasio on the phone regularly with McNally in 2017, including 14 calls in July 2017. The city was dealing with dueling threats that month. One, the proposed Faso-Collins amendment could have forced New York to reduce its funding for Medicaid. The other was a threat to cut federal policing grants to sanctuary cities like New York City. De Blasio threatened to sue the federal government over the policing grants, and a year later in July 2018, the city followed through on its threat. But by then, de Blasio's contact with McNally – at least as revealed in the public schedules – dropped off precipitously. The mayor would go entire months – such as in February, April and June 2018 – without an official call or meeting with his director of federal affairs.
McNally is an under-the-radar player in de Blasio's administration. But the mayor relies on his expertise in times of need.
If limiting contact with your man in Washington doesn't sound like the actions of somebody gearing up for a presidential run, as de Blasio seems to be by courting national press and traveling to Iowa, McNally couldn't tell you.
"No," he said with a laugh. "What the mayor mostly talks to us about is how to advocate for New York City best down here."
It's no surprise that McNally was eager to deflect. De Blasio has a history of muddling the lines between political and government work, including in the realm of national politics. City Hall staffers worked to compile information for de Blasio's now-defunct nonprofit, the Progressive Agenda Committee, Politico New York reported. And when de Blasio wanted to make a 2015 political trip to Washington, he asked staffers to find a governmental justification to pad his Progressive Agenda-focused schedule. They apparently couldn't, and the trip was delayed.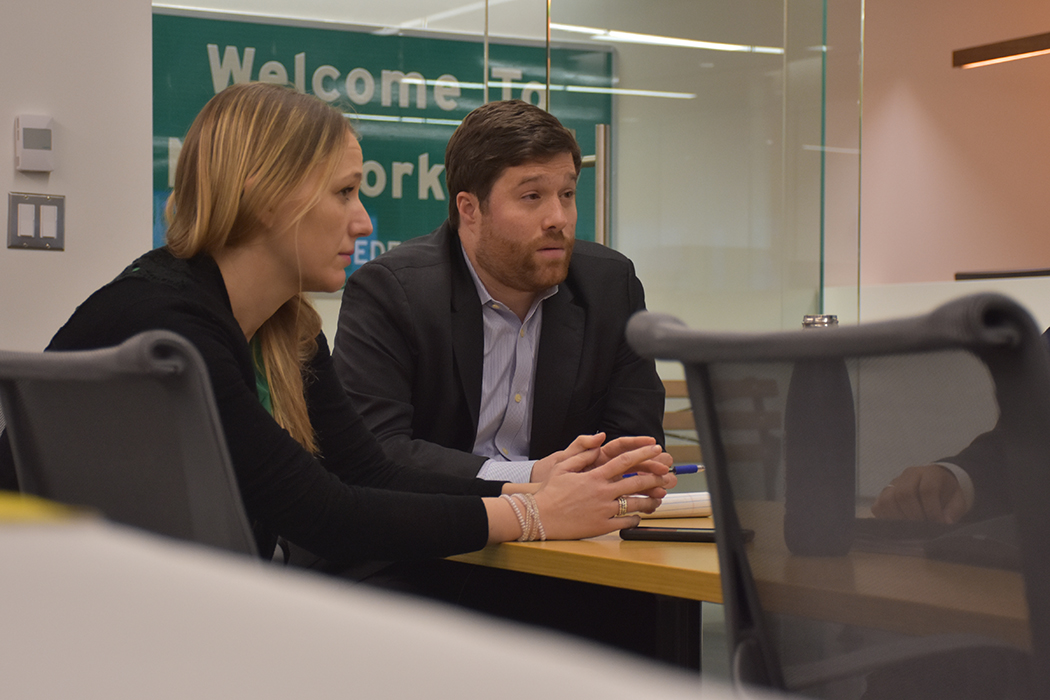 As much as de Blasio wants to have a national impact politically, he's a rarity among mayors for having his own federal affairs team based in Washington. McNally said Los Angeles and Chicago are the only other cities with dedicated teams. Other cities rely on collectives like the U.S. Conference of Mayors and hire private lobbying firms to represent their interests. New York City has had a team in Washington since 1969, according to a 1991 New York Times article, which credited then-Mayor John Lindsay, himself a former congressman, with creating the office. The office seems to have taken on a different character with each administration. Gale Brewer, now Manhattan borough president, was director of federal affairs in New York City under then-Mayor David Dinkins and recalled focusing on winning federal grants and building relationships with other big-city mayors. The office was quieter during Mayor Rudy Giuliani's tenure, as he largely ignored the federal government, according to a 2002 New York Times story, even as the city saw money roll in under President Bill Clinton. Mayor Michael Bloomberg, who already knew about federal lobbying from running his company, beefed up the Washington office – but that brought its own problems.
"I found Bloomberg's people extremely arrogant," said Rob Gottheim, who has worked for Rep. Jerrold Nadler for more than 20 years. "De Blasio's people, they're an open door."
The office, which prizes itself on collaboration, has seen some changes in recent years. Max Sevillia, who was appointed to lead the Washington office at the beginning of de Blasio's first term, was replaced by Andrea Zuniga in 2016. Zuniga resigned after less than a year and McNally took over.
Their office is mere blocks from the Hall of the States, an office building near the Capitol that hosts state governments' federal affairs offices, including Gov. Andrew Cuomo's. Representatives for the State University of New York, the Metropolitan Transportation Authority and the Port Authority of New York and New Jersey are based there too, for close access to the agencies that regulate them and the legislators that fund them. Cuomo's team has been led by former lobbyist Alexander Cochran since 2012, but the officedid not respond to repeated requests for an interview. McNally insisted that none of the personal animosity or political disagreements between the mayor and governor extend down to Washington.
"We are just tight as a tick, because so many of our things are the same priorities," McNally said of Cuomo's office. "We talk all the time about whatever is facing New York City and New York state at that time."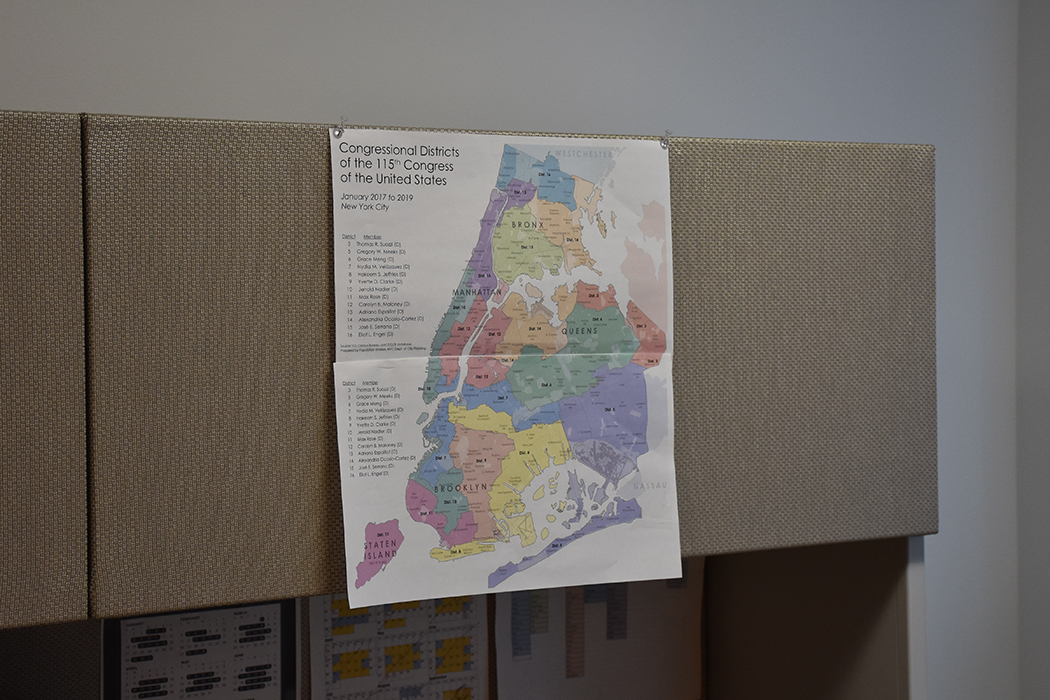 What's facing New York is always changing. One month it's the state and local tax deduction cap, the next it's proposed cuts to food stamps. Looking ahead, according to a document shared with City & State outlining the city's federal priorities, the office is focused on securing more funding for public housing in an infrastructure spending plan. De Blasio and U.S. Department of Housing and Urban Development Secretary Ben Carson met twicein December to discuss the future of the New York City Housing Authority, which the federal government has threatened to take over. The pair had agreed to give the city until the end of January to come up with a plan, but the government shutdown halted negotiations.
Last month, McNally had been optimistic about New York City's fate in Washington: Democrats had won a House majority, elevating New Yorkers to key committee posts and giving the party a much larger influence over the federal budget. As the shutdown lingered into January, de Blasio had to confront a new threat from Washington. At a Jan. 17 press conference, he was once again thrust into an awkward position of publicly appealing to a former constituent.
"I have to give a message to a New Yorker who, at this moment, is creating horrible pain for the people of his hometown," de Blasio said. "A president is supposed to protect us. You're making it worse."
Powered By
NEXT STORY: Top state financial regulator steps down