Latrice Walker's plan to advocate, agitate, legislate and litigate
With a special election set for Feb. 26, Brooklyn Assemblywoman Latrice Walker has under two months to win a tough race to be the next New York City public advocate. But she says she's a perfect fit for the position, whose role is "to advocate, agitate, legislate and litigate."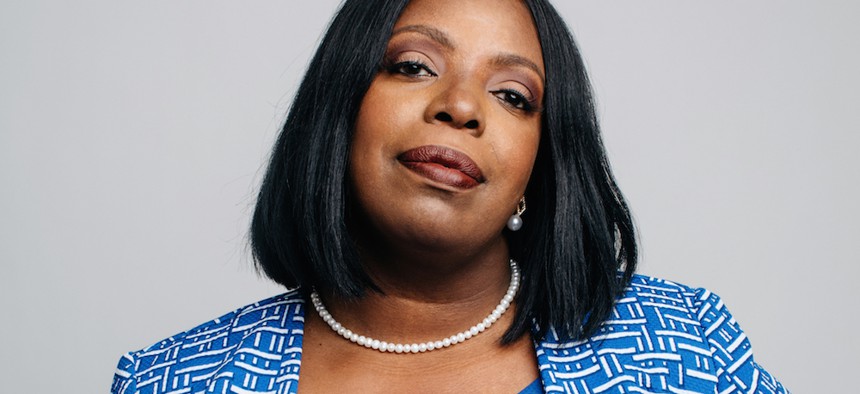 With a special election set for Feb. 26, Brooklyn Assemblywoman Latrice Walker has just under two months to win a tough race to be the next New York City public advocate.
She faces an uphill battle in the race to replace Letitia James, who was sworn in this week as the state attorney general. For starters, Walker lacks name recognition among an increasingly crowded race that includes city political heavyweights like City Councilman Jumaane Williams and former City Council Speaker Melissa Mark-Viverito. But in a race when a plurality of votes could push a dark horse candidate to victory – even a Republican – Walker says that she can catch voters' attention.
In an interview with City & State before the holidays, the three-term Democratic assemblywoman explained how she will highlight her experience as an attorney and legislator representing southeastern Brooklyn. The interview has been edited for clarity and length.
You're running for New York City public advocate. How will you stand out in the race?
There are four components to the office that I see. The public advocate's role is to advocate, agitate, legislate and litigate. I've been an advocate all of my life, most recently as a result of Raise the Age. The mayor wanted to open up a juvenile detention facility within the community that I live in and also represent. At the same time he wanted to open up this facility, he proposed closing a high school, which is just a few short blocks from the juvenile detention facility. We advocated in Albany and also agitated by rallying the support of the community on the ground to prevent (A) the closure of the school and (B) the opening of the juvenile detention facility, and we won.
I've been a legislator passing groundbreaking bail reform bills and also many election law bills, including our voting rights act. And as a litigator and an attorney, I have been successful in preventing evictions for many people across the city who were facing the prospect of losing their homes, as well as preventing a number of young people who were in the criminal justice system from ending up on Rikers. So the thing that I believe in the most is the fact that even when you're yelling into a microphone and it's just not good enough and no one is listening, at least my advocacy doesn't have despair.
You grew up in New York City public housing. What do you make of the current situation?
NYCHA has three parents: the federal government, the state government and the city government. For many years NYCHA has been experiencing a decline in financial resources being utilized on behalf of the residents. In addition to that, NYCHA has divested from many of its social programs within the developments as well. There's a certain feeling that people have when they look at a neighborhood as a community and I think people are losing pride in their homes and people just don't necessarily care as much about where they live because the people who owned it showed they didn't care about where they live.
Everyone is enraged and they want to do something about it. The sad part is that so many residents have been allowed to languish for so many years. This situation could have been avoided had the clarion call been listened to a lot sooner.
I'm excited that the level of attention that it's getting will actually get a lot of things done. But of course being a victim of privatization in NYCHA (as a child, Walker lived in Prospect Plaza, a NYCHA development that was demolished by a federal grant), I'm also extremely cautious of what the pervading solution is to this problem.
Legislation that you supported set up the state Commission on Prosecutorial Conduct. But state leaders will delay appointing members of the commission until new legislation addresses concerns about the law's constitutionality. What is the next step to holding bad actors on the prosecution side accountable?
We still have an independent prosecutorial structure that will be utilized and a new New York state attorney general will be at the helm of that. I'm very confident in her ability as the attorney general to be fair and to also make sure that justice has been granted at every turn.
How will you relax over the holidays?
My daughter's birthday is Dec. 21 so I am going to have a birthday party for her. We are going to eat lots of ice cream and cake and play a lot with her dolls. I love dolls. I grew up with Cabbage Patch Kids and I still have a number of them around my house from my childhood. So I think being a mom and having a daughter makes me the luckiest girl in the world because I get to have a best friend – even though she'll only be seven years old.