New York State Senate
Will Kirsten Gillibrand flip or flop in the Democratic primary?
New York's junior senator enters the race with hopes that her votes on gender parity will outshine her inconsistency on progressive issues.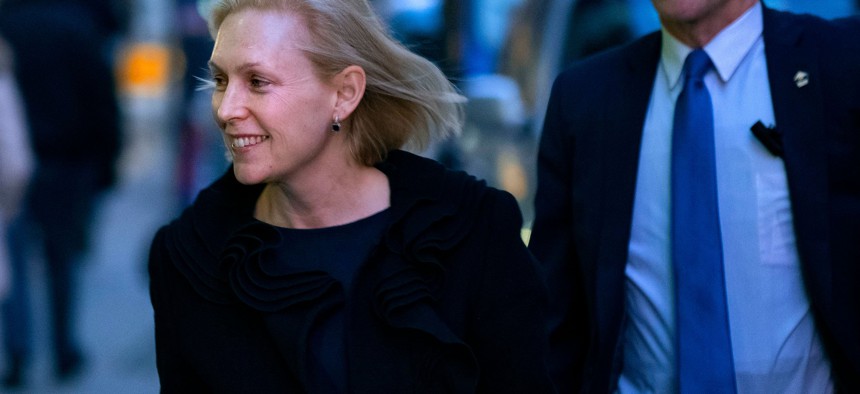 On Tuesday, U.S. Sen. Kirsten Gillibrand announced her formation of an exploratory committee for a presidential campaign, joining the first tranche of Democrats to throw their hat in the race. The ambitious New York Democrat is certainly running, and while she's making a mad dash toward the left, it may not be fast enough to clinch the Democratic nomination.
Since the election of Donald Trump, Gillibrand has had the fortitude of an oracle, joining the capital "R" resistance early on by voting against nearly every Trump appointee in addition to positioning herself at the forefront of the #MeToo movement. But Gillibrand's record as a legislator hasn't survived even superficial scrutiny following her announcement, and her former conservative positions may winnow her chances among a Democratic constituency that is moving away from the center, where Gillibrand has positioned herself for the majority of her political career.
In her announcement on "The Late Show with Stephen Colbert," Gillibrand, 52, branded herself as the "young mom" candidate, willing to "fight for other people's kids" as if they were her own, a message bolstered by her efforts to enact legislation for new families that could work to her advantage among Democratic voters. In 2013, the New York senator and Rep. Rosa DeLauro of Connecticut co-sponsored a bill to create paid family and medical leave, a proposal she has since reintroduced in every congressional session, according to "The Washington Post." The bill has since gained additional sponsorship from at least a dozen Democratic colleagues.
Her move to capitalize on her status as a young mom – by her own characterization – could pay more dividends than one. It's fair to say that Democratic leadership skews old, and while 52 might be considered solidly middle-aged to millennial voters, it's more than two decades younger than top Democratic leaders, including House Speaker Nancy Pelosi, 78, Senate Minority Leader Charles Schumer, who is 68, and outspoken Rep. Maxine Waters, who is 80 years old.
"Seeming relatively younger is an advantage," said politics expert Mark Schmitt, director of the Political Reform program at the New America Foundation and former executive editor of "The American Prospect." "The biggest split in American politics is generational. There is nothing as dramatic as the generational split."
And Gillibrand has demonstrated her willingness to break with older party bosses when it matters. After sexual harassment allegations broke implicating beloved party member Sen. Al Franken, Gillibrand was the first and loudest voice calling for his resignation – a move that drew significant backlash from party elites at the time. "While Senator Franken is entitled to have the Ethics Committee conclude its review, I believe it would be better for our country if he sent a clear message that any kind of mistreatment of women in our society isn't acceptable by stepping aside to let someone else serve," Gillibrand wrote in a Facebook post on Dec. 6, 2017, putting a political bullet in a Democratic senator with few blemishes on his voting record.
Gillibrand supports key progressive policies embraced by many in the Democratic Party, including gender parity, racial equity, Medicare-For-All and criminal justice reform, and has even joined the controversial chorus of calls from the left to abolish the U.S. Immigration and Customs Enforcement agency, a nascent movement that has gained traction in response to the Trump administration's family separation policy and detentions at the border.
But in a political environment that demands purity from party leaders, the New York senator has a glaring vulnerability. She joins a crowded field of primary hopefuls – some who have announced and some who haven't – who hold all of the same policy positions, with one critical advantage over her. Many, like U.S. Sens. Bernie Sanders and Elizabeth Warren, who announced her candidacy ahead of Gillibrand, have been progressive for far longer and more consistent on issues like gun regulation, universal health care and immigration.
Gillibrand's December 2012 op-ed in the Daily News accusing Congress of "ducking a serious national debate over common-sense gun laws" might have had many scratching their heads, particularly her former constituents in upstate New York who in 2006 voted her into office based on her pro-gun conservative platform. Similarly, her previous stances on issues of immigration law have drawn scrutiny from liberal pundits like MSNBC's Rachel Maddow, who grilled Gillibrand on her previous "conservative bona fides" in a Jan. 16 interview on her show.
"She runs the danger of looking like she was one thing when she was in a conservative district and looking like something different once she began to campaign on a state and national level," said Iona College political science professor Jeanne Zaino. That appearance of political expediency can be damning, especially in a contentious primary, painting a senator with little name recognition outside of her home state as "too much of a political animal," Zaino said.
Gillibrand also has the added burden of having to court scorned Democratic donors who didn't look favorably on her rebuke of Franken, a reliable party vote in Congress. She has a residual $10.5 million on hand from her midterm campaign, according to OpenSecrets.org, but she's recently sworn off PAC funding and will need to compete for resources within the party.
In a thinner primary, Gillibrand's early embrace of the #MeToo movement might have been enough to push her to the front of primary contenders. But in the current landscape, her candidacy is much more shaky and may just lose its wheels when the race picks up. As more Democrats enter in the second and third quarter, the New York senator will have to prove her authenticity or risk falling behind.