New York State
5 couples who found each other in New York politics
Meet 10 of New York's lesser-known power couples this Valentine's Day, and learn all about what makes these dynamic duos great.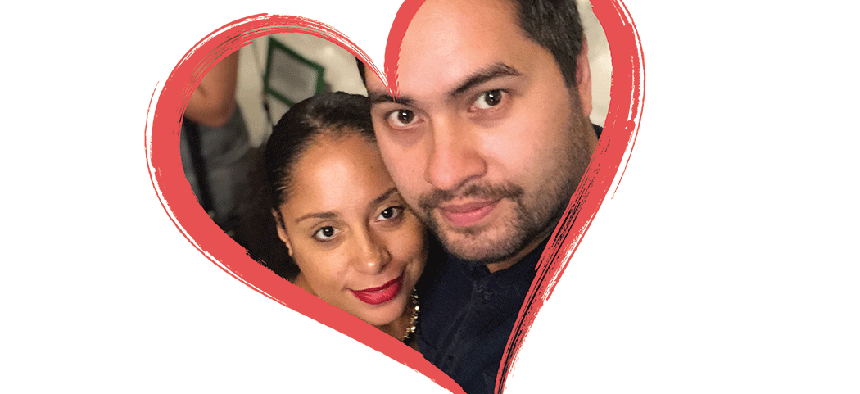 New York has been home to some of the most notable power couples in history, from Franklin Delano and Eleanor Roosevelt to Bill and Hillary Clinton to Bill de Blasio and Chirlane McCray. This Valentine's Day, we're recognizing a handful of lesser-known power couples in New York – and why you should get to know these dynamic duos.
JONATHAN WESTIN & CAMILLE RIVERA
Jonathan Westin is the executive director of New York Communities for Change, and Camille Rivera is national political director for the Retail, Wholesale and Department Store Union. They have been married six and a half years.
How did you meet?
Camille: Jonathan and I always have a disagreement about this. We both agree that we were introduced by my mentor the late (Working Families Party founder) Jon Kest but I remember our first meeting being at the ALIGN benefit in 2011 and Jonathan says it was like at a big coalition meeting and I just never paid attention to him.
Jonathan: I met Camille for the first time organizing protests against Wall Street in 2011. She did not remember meeting me then, but I definitely remember meeting her.
Do your professional lives ever overlap?
Camille: Yes, Jon and I became close working while I was the executive director for United NY and he was working for NYCC as the organizing director under Jon Kest. It was during the Occupy movement and we became very close. We worked closely to organize the march on Oct. 5 and then again in November we also worked closely on the fast food and minimum wage organizing. I was building our low-wage coalition, political and community work, and he was just taking on the lead role as executive director for NYCC. It was a very busy time and we worked very closely together.
Jonathan: A lot. We did a lot of organizing together during Occupy Wall Street, and then on the #FightFor15 and even today (we) are both organizing to stop Amazon from coming to New York City.
Have you ever disagreed on a political issue?
Camille: Umm yeah, all the time! Even though we both have strong progressive values we approach the work differently and sometimes from different lenses. We are not always on the same side regarding our work. For example, Jon was very intimately involved in the Cynthia Nixon campaign and my organization endorsed and were staunch supporters of the governor. And when I worked for the mayor, there were a lot of times when he was at odds with the administration.
Jonathan: We disagree on politics a lot! I usually take more left-flank positions than Camille on lots of issues and races, which more often than not ends up causing her lots of headaches!
Do you have any advice for other couples in politics?
Camille: Yes, it is always important to maintain your independence and individuality and remind folks of that you're your own person in this field. It's always important let other people know that you're not your partner's keeper. As for you as a couple, you don't always talk politics. Working in politics and living a life that is attached to your progressive values aren't the same. Ensure that you have a firewall when it comes to work and never bring it home. If I have a work conversation and our paths cross, I call him at his office. And I always call him by his last name Westin when talking about him and or if it's work-related. Praise each other often and never let the bad stuff from the outside in. And when nothing else works, always say you love each other at the end of the night.
Jonathan: Yes! Don't let politics get in the way of your relationship. Understand that you both have to have as much independence in your work lives as possible to be able to do the things you think are necessary to achieve your goals.
ALEXIS OGRA & CHRIS CATT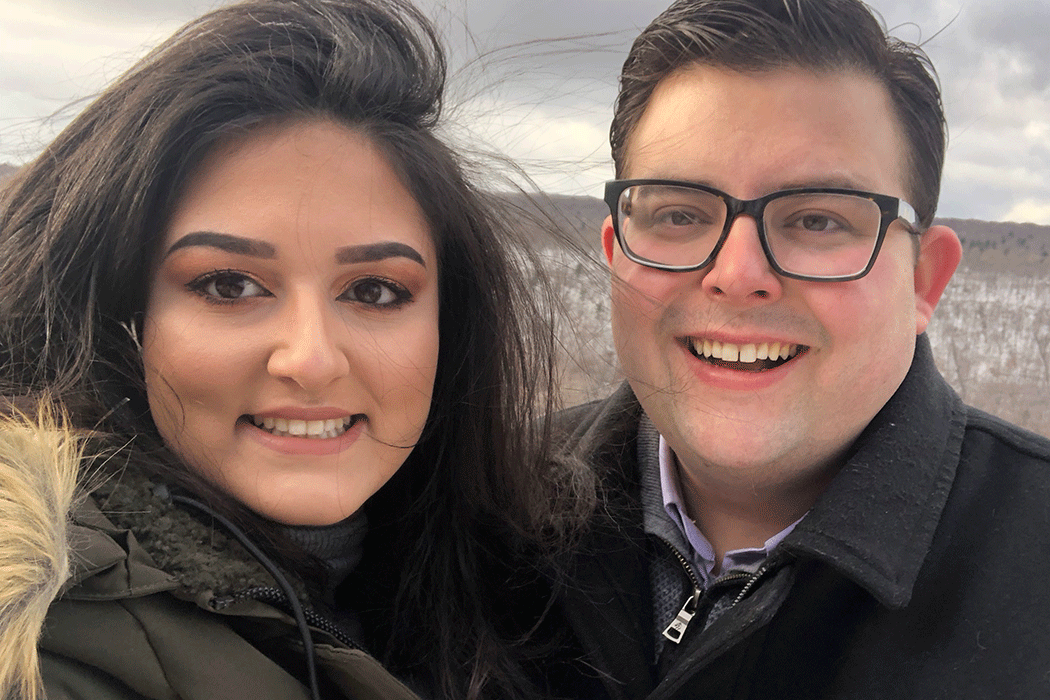 Alexis Ogra, former chief of staff to then-Assemblyman Joseph Errigo and current constituent service liaison for Rep. Chris Collins, is engaged to Chris Catt, chief of staff to state Sen. Pam Helming and vice chairman of the Ontario County Republican Committee.
How did you meet?
We met while Alexis worked for the Erie County Republican Committee in Buffalo and Chris worked for the House of Representatives in the Rochester area. A mutual friend of ours that knew us both from College Republicans introduced us as friends back in 2014. But it wasn't until years later when we were both in Washington, D.C., for President Trump's inauguration that we began dating. While some say President Trump has divided our country, it's exciting for us that his election brought us together, and two years later, we're engaged.
Do your professional lives ever overlap?
Yes, constantly. It's one of the perks of being in the same field. Working in politics is fulfilling; you have the opportunity to help people and make a difference in your community. However, it can be demanding. You have odd hours, things pop up very last minute and it's important to have a partner who understands this and enjoys it as much as you do. It isn't a 9-to-5 job, and for us that is part of the excitement.
Have you ever disagreed on a political issue?
Alexis: Absolutely! Someone has to kill Chris' crazy campaign ideas. He's always saying only 1 out of 10 of his ideas will be a home run. Well, guess who has to hear the other nine? Me. But I love working on campaigns and bouncing ideas around together. We might work in politics, but it's also our hobby.
Chris: We always have the same goal, but there are lots of paths to achieve any objective, and we don't always agree on the path. When it comes to policy issues, though, lower taxes and less spending, we can easily agree on that. It's not rocket science.
JOSEPH GLAZER & KATE GLAZER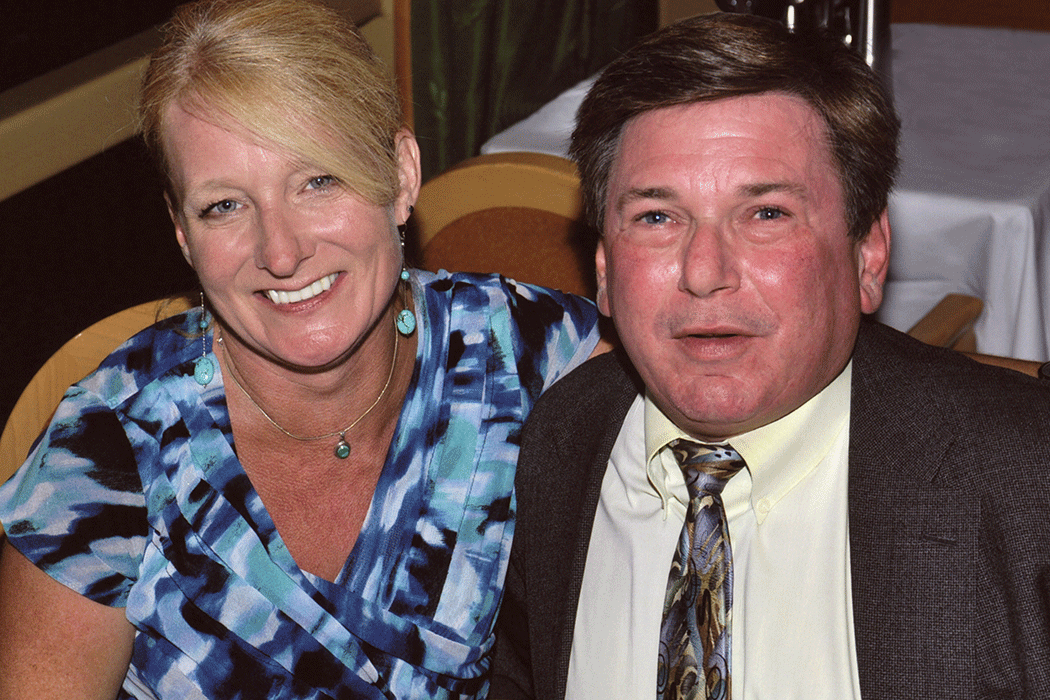 Joseph Glazer is the deputy commissioner in the Westchester County Department of Community Mental Health and served as chief of staff and counsel for then-state Sen. Cecilia Tkaczyk. Kate Glazer is deputy secretary for the state Senate and has spent almost 10 years with Senate Majority Leader Andrea Stewart-Cousins. They have been married 14 years.
How did you meet?
Joe: In 1999, while I was president and CEO of the Mental Health Association in New York State, she was working for Assemblywoman Betty Connelly, the former chair of the Mental Health Committee. Connelly was one of our go-to members on mental health issues, and after numerous stops in the office, I got up the nerve to ask Kate to lunch.
Kate: After a few visits to the office, Joe asked me to lunch and I thought to myself why not? So I agreed to a lunch date.

Do your professional lives ever overlap?
Joe: Absolutely. Beyond the mental health advocacy days, Kate worked for Democratic Leader Stewart-Cousins while I was chief of staff and counsel to state Sen. Cecilia Tkaczyk. We spent two years working closely to keep the most marginal member of the Democratic Conference in office.
Kate: Joe and I frequently volunteer to work on our respective members' campaigns and often find ourselves working out of the same campaign offices doing whatever was needed, i.e., distributing lawn signs, knocking on doors, sending out mail. Also, when Joe was counsel to state Sen. George Latimer, I would often see him in conference. Sen. Latimer represented parts of Westchester County, as does Leader Andrea Stewart-Cousins.
Have you ever disagreed on a political issue?
Joe: Not really. We tend to use each other as a sounding board in the political decision-making process.
Kate: We generally share the same progressive political views. I cannot recall having disagreements on any political issue.

Do you have any advice for other couples in politics?
Joe: As a Yankees fan, and her a Red Sox fan, there are times when it is best to tread lightly. Find a beach and recharge every now and then. And don't drink cheap wine.
Kate: Take care not to make the politics of the day personal. Maintain a good sense of humor.
TAI JOHNSON & CHRIS JOHNSON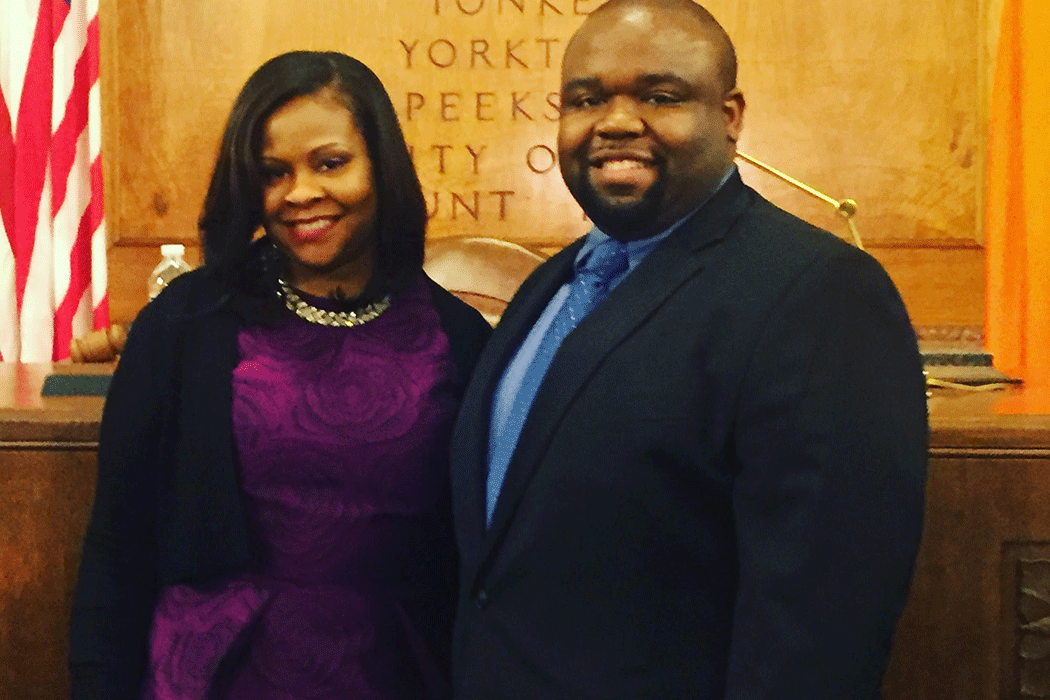 Tai Johnson is a special adviser for state Attorney General Letitia James, and her husband is Westchester County Legislator Chris Johnson, a former member of the Yonkers City Council. They have been married almost five years.
How did you meet?
Tai: I was working for the Senate minority leader and Chris was working for state Sen. Andrea Stewart-Cousins and we both volunteered on state Sen. Kevin Parker's 2008 re-election campaign. #CampaignLove
Chris: Often electeds ask their staff if they would like to volunteer on a campaign. In 2008 we ended up on the same one. One of us – me – was interested in more than just a friendship, but that's all it was for a few years. It worked out in the end!
Do your professional lives ever overlap?
Tai:Our professional lives sometimes overlap, but never in a negative way. We've worked on a few campaigns together and share advice and best practices, but I try to keep my responsibilities separate as to avoid any big conflicts.
Chris: Absolutely, and I love it. Tai is a star! I'm often referred to as "Tai's husband" and that's fine. In this day and age it's cool being in a relationship where it's the woman who commands the space, and I get to be special too. Only thing that remains constant: Everyone likes Tai more. I get it.
Have you ever disagreed on a political issue?
Tai: Not really. Lucky for us our political views are pretty aligned … but since Chris is an elected, he always thinks the electeds are right. I remind him that he used to be staff and he comes back to earth. LOL.
Chris: It's very rare. However, usually after a conversation and thoughtful debate we come to an understanding. #HappyWifeHappyLife
Do you have any advice for other couples in politics?
Tai: Try, if at all possible, to keep your personal lives personal – just because they are political friends doesn't mean they are your friends. And don't bring work drama home; home should be a place of serenity for both of you.
Chris: 1. #WorkHard #PlayHard
Make time for family and friends – the people that don't care about your titles.
You are a team, remember that ... and make sure everyone else knows it too!
KHARI EDWARDS & JAHMILA EDWARDS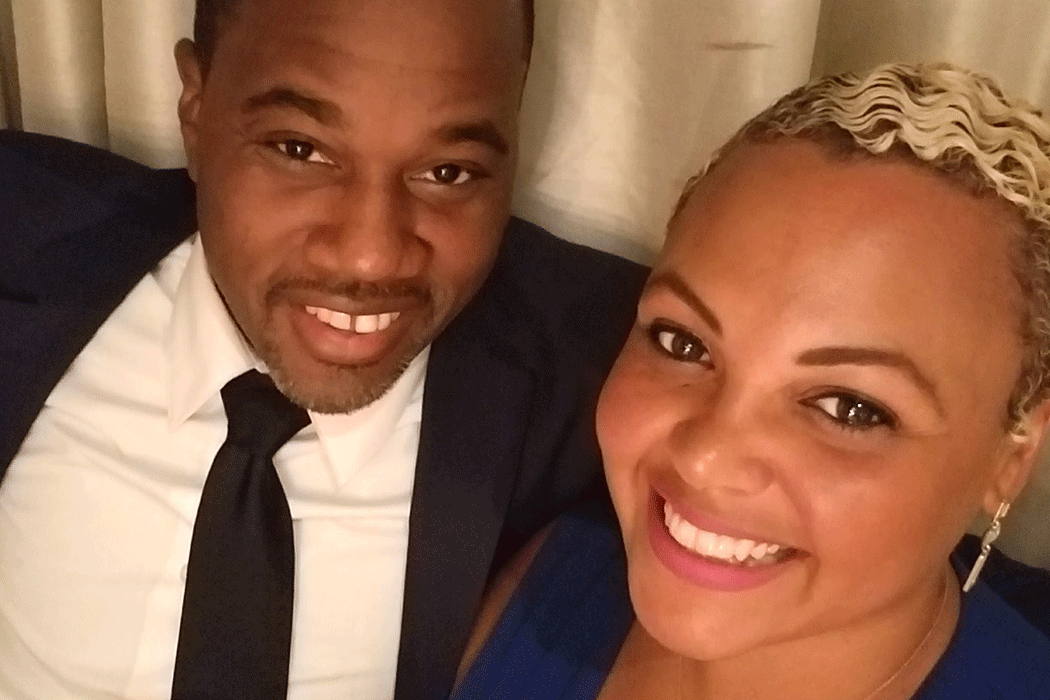 Khari Edwards is the vice president of external affairs for the One Brooklyn Health System at Brookdale Hospital. His wife, Jahmila "JJ" Edwards (formerly Jahmila Joseph) is the assistant associate director of District Council 37, New York City's largest municipal labor union. They have been in a relationship for more than 10 years and were married about six months ago.
How did you meet?
Khari: We met during the Brooklyn 2008 State of the Borough address, held at the Brooklyn Cruise Terminal. I was working for the governor's office and Jahmila was working for the Brooklyn borough president.
Jahmila: After that night, Khari asked me for my number every time he saw me until finally, six months later, I said yes and agreed to go out on a date with him.
Do your professional lives ever overlap?
Khari: When I was working for the Senate and Jahmila with then-Public Advocate Bill de Blasio, we did some work together on regarding Hurricane Sandy.
Jahmila: We also worked together on a fundraising project for the NAACP's centennial celebration. I was in charge, and let's just say Khari probably doesn't want to come work for me again. Honestly, I often call him to better understand wonky health care policy and he's called me for labor issues and political gossip.
Have you ever disagreed on a political issue?
Khari: We usually compare notes and challenge each other on political issues rather than disagree.
Jahmila: I would add we haven't yet had a meeting of the minds when it comes to term limits. Where Khari believes elected officials should hold office as long as they are elected to serve, I believe sometimes change has to be not just encouraged but enforced so that we can develop the next round of leaders.
Do you have any advice for other couples in politics?
Khari: We use each other to vent about situations and only ask for an opinion when needed. There are times that it is easy to want to give unsolicited advice and you have to be careful not to become too opinionated in your partner's arena.
Jahmila: Make time for each other. And while you have to keep your private life private to the greatest extent possible, it's OK to show off your love every now and then.