New York City
Brad Hoylman: The person behind state Senate's progressive bills
Six-year Senate veteran Brad Hoylman is as progressive as many newcomers, and his bills are finally moving.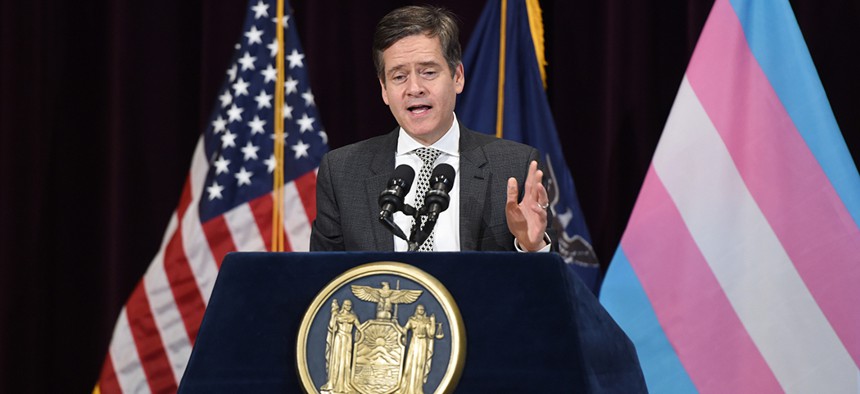 The new Democratic majority in the state Senate has had a whirlwind first month of session, quickly passing long-stalled pieces of legislation and racking up early wins for their sponsors. Among those lawmakers is state Sen. Brad Hoylman, who saw three high-profile bills with his name on them pass both chambers of the Legislature. And he seems to have no plans of slowing down. After six years of patiently waiting to enter the majority, Hoylman's moment has finally arrived.
Hoylman was the prime sponsor of the Gender Expression Non-Discrimination Act, or GENDA, and the Child Victims Act, two of the longest-languishing and (highest-profile) bills passed so far, as well as legislation banning gay conversion therapy for kids. He has since introduced a bill to make it more difficult for Immigration and Customs Enforcement agents to makes arrests in and outside courthouses, signed onto another bill considered the first step to universal rent control and advocated alongside Long Island senators against offshore drilling.
Hoylman is not new, having been elected in 2012, but it might be easy to confuse him with one of the state Senate freshmen such as Zellnor Myrie, who shepherded through a voting reform bill, or Julia Salazar, who introduced universal rent control bill. Like them, Hoylman is loudly and staunchly progressive, with a large Twitter following he regularly updates on the happenings in the upper chamber. And he seems to have the energy of a newcomer, with strong opinions on a wide range of issues.
Hoylman, who represents Manhattan's Upper West Side, Chelsea, Hell's Kitchen and Greenwich Village, considers the new unity among Democrats in the state Senate as partly attributable to a healthy balance that exists between the newcomers with their fresh idealism and the maturity that comes with experience, particularly among those who were around the last time Democrats had control. In some ways, Hoylman himself represents where those two sides meet – he already has six years under his belt as a senator, but this is his first legislative post and he is new enough that he had never been in the majority before. And although he doesn't hold a leadership title, he is emerging as an unofficial leader in the chamber.
Hoylman demurred when asked if he considered himself a leader, deferring to the strong leadership of Andrea Stewart-Cousins, especially in regard to his own recent legislative wins. "I think we all in the 39-member majority have a role to play in supporting Andrea Stewart-Cousins," Hoylman said. "For me, personally, I think we all have to look at our committees, our expertise, our skill sets, and try to help out to the extent we can and bring our constituents' interests to bare." He added that he represents a very diverse and very progressive district, giving him what he considers a "unique perspective" to be able to speak out on myriad issues.
Hoylman chairs the Judiciary Committee, which has jurisdiction over his legislation about ICE arrests in courtrooms and the Child Victims Act.
Hoylman sees himself as an activist in government, rather than as a legislator first and foremost, referencing his grassroots past with his local block association and community board. "It's kind of in my DNA as someone who grew up gay, as a gay man, moved to the Village and was inspired by Stonewall and the early successes of of legislators like (Assemblywoman) Deborah Glick and (state Sen.) Tom Duane," Hoylman said. He succeeded Duane, the Senate's first openly gay member, with Duane's support.
Hoylman, 53, took a much more traditional path than sudden progressive phenoms like U.S. Rep. Alexandria Ocasio-Cortez or Salazar, who came out of nowhere to challenge incumbent Democrats. He did not enter run for office as a complete outsider: Before joining the state Senate, Hoylman was the chairman of Community Board 2 in Manhattan, a Democratic district leader and president of the political club Gay and Lesbian Independent Democrats. And when he won his current seat, he did so with the support of his predecessor, other prominent lawmakers and unions. But unlike Queens, the Bronx and Brooklyn, Manhattan has no powerful machine controlling the borough politics. In the Village and on the Upper West Side, being a progressive reformer is not at odds with being an insider.
With the new Democratic control of the state Senate and the presidency of Donald Trump, Hoylman said it is a very idealistic time for Democrats chamber, and he himself as always been an idealist. "At the end of the day, I believe myself to be an optimist and hoping for the best in government," Hoylman said. He remained an optimist under Stewart-Cousins in the minority, patiently waiting for exactly what is happening in the Senate now, when a self-described idealist like himself can shine. "After these three weeks, I think you'd be hard pressed to find a senator who wasn't at the end of the optimism spectrum," Hoylman added of his colleagues.
Of course, Hoylman acknowledges the current honeymoon period cannot last forever. "I don't think anyone is wearing rose-colored glasses – we are, after all, in Albany," Hoylman said with a laugh. But he said that the balance of experience and idealism, of old and new, in the chamber will enable the conference to remain united and productive. It's a dichotomy that Hoylman embodies, and so far it's a recipe for success in the majority.
Powered By
NEXT STORY: Child Victims Act sponsors top weekly winner vote