New York State
Dana Balter tries her progressive message again
In an exclusive interview with City & State, activist Dana Balter says what she has been up to since the election, how she thinks she win in 2020, why political labels just aren't her thing.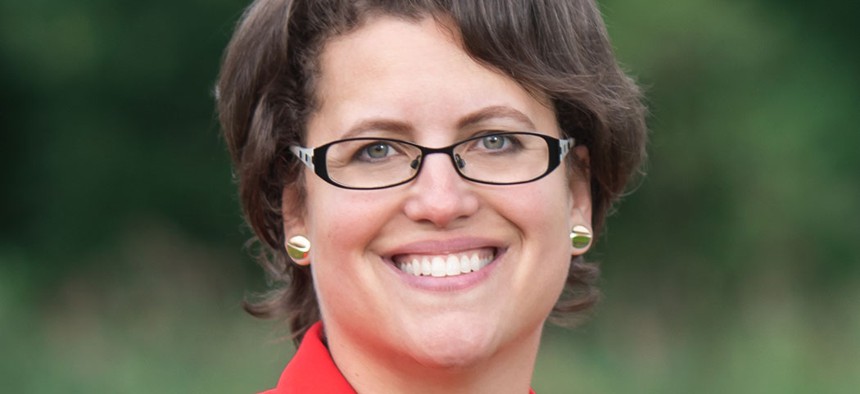 Activist Dana Balter fell 5 percentage points short of unseating Republican Rep. John Katko last year, but she says that she can pull out a win in her second campaign to represent the Syracuse area in Congress.
To do that she will need to do especially well in three Republican counties outside of Onondaga County, which Katko lost for the first time in 2018. In contrast to some upstate Democrats who have tried to stick closely to the political center, Balter remains an unapologetic progressive who nonetheless says she can win over Republicans and independents on kitchen table issues like health care.
In an exclusive interview with City & State, Balter talks about what she has been up to since last year's election, how she thinks she will win in 2020 and why political labels just aren't her thing. The interview has been edited for length and clarity.
So how might 2020 compare to your last campaign?
I would say that I know a lot more about the political process and what it means to be a candidate for Congress. I am even more sure than I was when I started back in 2017 that this district, the entire Central and Western New York region needs something different from their representation in Washington. Our current congressman is somebody who stands for corporate interests, the interests of his large donors. And that's not how it should be.
You started a nonprofit, Enter the Public Square, earlier this year to promote civic engagement. What has it been up to since then?
We think about civic engagement broadly, right? It's not just about voting or being involved in electoral politics. It's about being involved in shaping your community, right? We have a series of workshops that we're all offering to the public. We just had our second one on April 23 about media literacy. It was called "Fighting Fake News." The previous event was a workshop focused the skills necessary for healthy civic engagement. Our next meeting coming up is a "Get to Know Your Government Meeting," where we're bringing in members of local government to talk about what it is that they do and how community members can engage with them.
Will you be stepping away from the nonprofit now that you are running for Congress?
Yes, I am working now to find professional staff to take over the organization so that there is no confusion for the people who want to be involved that they can do so with the full certainty that it is nonpartisan.
Rep. John Katkohas built his political persona around bipartisanship. Is that reputation deserved?
I think that the congressman gets far more credit than he deserves for his positions. I believe it was the Violence Against Women Act that just passed where he criticized Democrats working on a bipartisan piece of legislation. What's an even larger problem is ignoring the climate crisis. That should be an area for bipartisan work. Congressman Katko and his party have not offered any real solutions to address that really, really important security challenge.
Other Democrats in Central New York like Reps. Anthony Brindisi and Antonio Delgado focused on local issues a lot in their 2018 campaigns rather than hot-button progressive topics like "Medicare for All." How are you striking your own balance?
The notion that Medicare for All is not a local issue is incorrect. I've spent the last two years crisscrossing this district talking to people in every corner of the 24th. The No. 1 issue people are talking to me about, its health care. It is a very, very local issue. If you look at public opinion data, the majority of Americans, including a majority of Republicans, support Medicare for All. It's people like John Katko who try to paint that as an extreme position; the extreme position is the one that John Katko has.
Do you consider yourself a progressive?
Yes I do, and if you look at public opinion on all of these issues, the majority of Americans, whether they would call it progressive or not agree with progressive ideas, the majority of Americans support Medicare for All. The majority of Americans support getting big money out of politics. The majority of Americans support increasing the minimum wage. These are all things that we call progressive ideas. If we just talked about the ideas, it turns out that most people agree.
You won Onondaga County in 2018, but you lost the district's three other countries by wide margins. What are you going to do this time around to appeal to voters outside Onondaga?
We did win Onondaga County and it's the first time that Katko lost the county in any of his races. While we lost other counties, we made a lot of progress. The perfect example is Wayne County, which is the most conservative part of the district. If you want to represent people, you need to show up and you need to listen to what they have to say. And you need to fight for what's in their best interest, so I was committed from the very beginning to showing up for the community. We ended up with 40% of the vote and that's a tremendous amount of movement, and it shows me that people there are looking for somebody who is going to stand up and fight. We are going to keep working in all parts of the district and I think in every part of the district, there's room for more growth.
One thing that was important for you winning the Democratic primary two years ago was securing the endorsements of four Democratic county committees. Have you received similar commitments this time around?
We are certainly talking. I am optimistic about that part of the process, but it's still quite a ways away. I believe that I will win again the support of all of the county committees for all the same reasons that I did last time.
Powered By
NEXT STORY: New York politicians' iconic fashion choices