Budget
The post-budget priorities for businesses
Ken Pokalsky, vice president of the Business Council of New York State, talks about the big victories for businesses and what's on the organization's agenda in the final few months of the legislative session.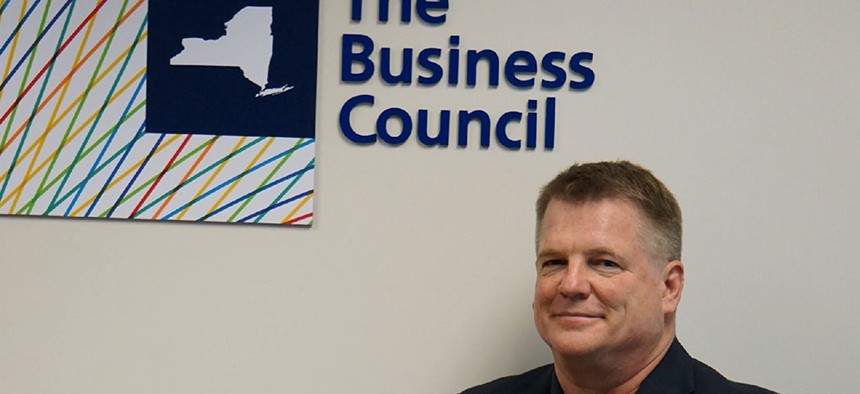 New York lawmakers recently passed the state's $175.5 billion budget, and the business community was pleased that the permanent property tax cap was included, while other measures, like a bill expanding prevailing wages, was left out – at least for now.
City & State spoke with Ken Pokalsky, vice president of the Business Council of New York State, about the big victories for businesses and what's on the organization's agenda in the final few months of the legislative session. The following interview is edited for length and clarity.
Why was the property tax cap a win for business owners?
There are four major reasons. One is that New York state property taxes are historically, disproportionately high. Two is that the property tax cap is having the effect of bringing New York state's historically high property taxes back, sort of bent toward the median of what states do. Three, 40% of all property taxes in New York are paid by business. So, it's a big number for business. And four, for a lot of businesses, it's the largest tax they pay in New York state. So it's a material issue. The property tax cap is making it, arguably, better.It does not apply in New York City. So that's the major caveat. But for the rest of the state, it's a really useful thing for businesses who are sensitive to the disproportionately high cost of doing business in New York state.
What fell out of the budget that you had opposed?
Single-payer health care never really made it into the budget. It was really sort of off the table early on for as a serious matter. That was by far the biggest number of anything. The second biggest one was the governor's climate change proposal. And a lot of people may have looked at it and said, well this is setting targets for 2030 and 2050, but it directed, mandated, the Department of Environmental Conservation to start adopting enforceable regulatory limits on carbon emissions within four years. That could apply to any source of emissions, commercial buildings, commercial activities, heating and powering commercial offices and activities, residential properties, off-road vehicles, all of the above in a state that's already one of the most carbon efficient of any states. It would, in very near terms, impose additional regulatory limits in compliance costs. Potentially everybody in New York would see hardly any material impact on global emissions. I'm sure we'll continue to talk about climate change issues post-budget. The third one was the extension of prevailing wage. That certainly will be the post-budget issue. A lot of other things fell off the table that I don't think many people would have much sympathy for, but a whole new set of more stringent regulations, registered lobbyists to the state, the governor's extension and modification of the MWBE program that fell out, almost everything related to campaign finance or ethics reform fell out.
What were your concerns with minority- and women-owned businesses, or MWBEs?
It will lock the state into an unrealistic and we believe, frankly, an unconstitutional standard for MWBE participation in state contracts. It was an unsupportably high assertion of what percentage of contractors in the state were MWBEs and that sets the target for more contracts. It was simply unworkable. It did not provide original differentiations in terms of minority contracting capabilities and the list goes on from there. It would just be an unworkable, or difficult to comply with, a burden on anyone doing state contracts. It's not just construction. It could be applied to a contract for anything with the state, whether it's accounting services or financial services or even the selling of commodities could have some of the mandates attached to it. We would support a reasonable reform sort of program and one that's really more aimed at supporting the business of MWBE rather than unrealistic participation mandates.
Which items are going to be most important post-budget?
I think prevailing wage will probably be the one to get the most attention. What's likely to come out of it, I think, has the biggest potential adverse impact. I think they'll probably do some work on climate. I don't think it's anywhere near as broad as what the governor proposed. So, I would say the prevailing wage piece is probably one of our biggest concerns post-budget.