New York City
Borelli on running for a 'remarkably useless' office
New York City Councilman Joe Borelli talked to City & State about breaking bread with Williams, sticking with Trump and why he doesn't want to be like Scott Stringer.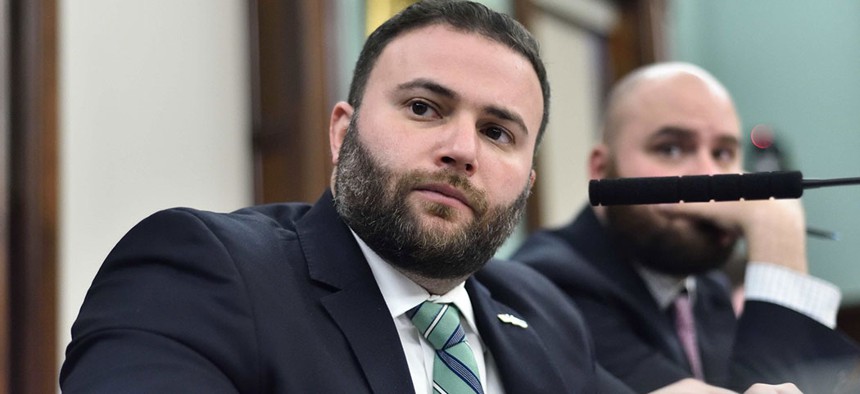 Joe Borelli's rare status – as a Republican New York City councilman who proudly backed Donald Trump's presidential campaign – has been getting him TV bookings on cable news for years. He considered parlaying that minor fame into a run for Congress on Staten Island, but instead decided to look local in 2019, running this November on the Republican line for New York City public advocate. As a long shot against his former council colleague Jumaane Williams, Borelli is running a nontraditional campaign to either "pump it or dump it." That is, either strengthen the office, or cut it down to the bare bones.
Borelli talked to City & State about breaking bread with Williams, sticking with Trump and why he doesn't want to be like Scott Stringer.
A Republican hasn't won a citywide election since Michael Bloomberg in 2005. Why are you volunteering to face almost sure defeat?
This is a unique situation. It's a special election. It's an off year. There are no other races on the ballot. Usually in a citywide race there are between 30 and 56 local races on the ballot. And in this case, they're not going to play a factor. All those things drive Democratic turnout. However, I am told I face an uphill battle.
You met with your Democratic opponent, New York City Public Advocate Jumaane Williams, over cigars and wine in former Staten Island Councilman Vincent Ignizio's backyard in April. What did you talk about?
We actually talked about prison reform. We were jamming. He's someone I enjoy talking about issues with. We have genuinely different views on things. But most of the people I serve in the council with have different views than me on most things.
Should there be more civility in politics? Or are the issues at the national level too serious for that?
I think there's more civility in politics than the mainstream media likes to admit, because it doesn't generate clickable articles. If you went to the member's gym in the House of Representatives, you'd see a lot of collegiality and friendship.
Do you plan to introduce a policy platform for the race, beyond potentially getting rid of the office?
Yeah, it's going to be to strengthen the office, or get rid of it. But I'm not going to sit here and hyperventilate over things I'll have absolutely no control over. "I'm going to solve traffic problems." "I'm going to solve homelessness." "I'm going to solve all these things." And the truth is, I can't, because there's no power in the office of public advocate to do any of those things. A City Council member has more power than a public advocate.
You called the public advocate "a remarkably useless office" in the Daily News. But you can't actually get rid of the office without changing the City Charter, right?
Correct 100%. The power doesn't fall unilaterally on the public advocate to do that. However, it does fall on the public advocate to scrap the majority of the 50 staffers that they have.
You'd just hang out in the big office on your own?
No! The charter suggests that the public advocate should make recommendations to how city services could be improved. The poor schmuck who's stuck on the Gowanus (Expressway) tweeting pictures of a pothole and saying DOT should fix that is technically doing the job of the public advocate, because the charter doesn't proscribe the actual form in which these recommendations are to take.
You could write reports. The public advocate has done that. But they get stockpiled, a la (New York City Comptroller) Scott Stringer in a pile of reports no one reads.
You've complained about the $40 million price tag for public advocate elections this year. Will you accept public matching funds, raising that price tag?
We'll be talking about that a lot in the coming weeks.
You've done a lot of fun, informal videos, like the one introducing your campaign and one riding around an illegal e-scooter –
I would characterize them as tacky.
You also have more Twitter followers than any City Council member apart from Speaker Corey Johnson. Are you the Republican Alexandria Ocasio-Cortez?
I don't like to think of myself as AOC, because I actually show up on local issues that affect my constituents, and try to solve some of the problems they face, unlike what I've been told AOC does.
There's a theory that you're just running a doomed race to raise your profile, then running for higher office in the future. Is that the plan?
We are all the sum of our experiences. I'm running for public advocate this year. Period. End of story.
You were a co-chairman of President Donald Trump's 2016 presidential campaign in New York. Are you going to have a formal role in the 2020 campaign?
They haven't reached out to me to take on any leadership role. That's not precluding me from doing so. I imagine I'll be a delegate to the convention, and I've done the TV commentary from a pro-Trump perspective for a while. And will probably continue doing that.
Powered By
NEXT STORY: Inspired by AOC, democratic socialist takes on Meeks