David Paterson
David Paterson wants websites to be more accessible
The former governor on digital accessibility, the arrogance of Amazon and Democratic control in Albany.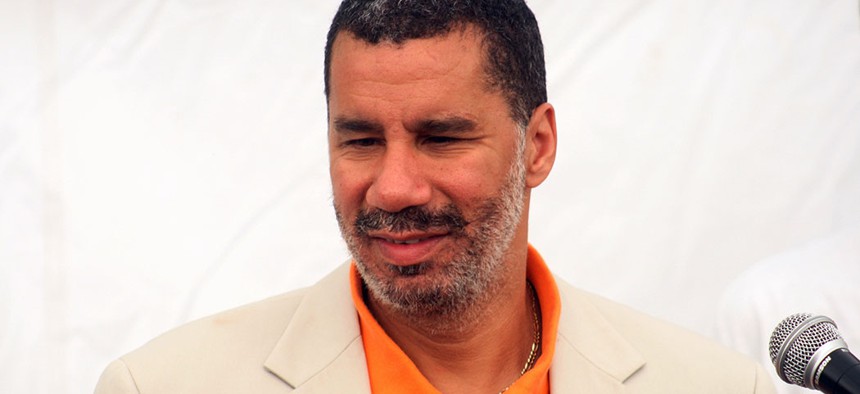 Former Gov. David Paterson has a new gig, and according to him, it's one that has been a lifelong mission. Paterson, who is completely blind in his left eye and legally blind in his right eye, is now consulting for AudioEye, a company that offers tools to make websites more accessible to people with disabilities, including vision impairment, epilepsy and autism. New York, in particular, has seen a rise in the number of lawsuits claiming that companies with inaccessible websites are violating the terms of the Americans with Disabilities Act. AudioEye is a platform to help websites cater their accessibility offerings to those with a range of disabilities, not just a single tool like a screen reader that can read text to those with vision impairments.
City & State spoke with Paterson about the next frontier in digital accessibility, how the state Legislature can help and his advice to the state's new Democratic majority. The responses have been edited for length and clarity.
What does it mean for a website to be fully accessible?
I define a difference between accessibility and usability. Accessibility means, for instance, if you have a Kindle, it can read to you, as opposed to you reading print. But the Kindle has never been particularly usable because you have to see to turn it on. As I found out – which is when my Kindle got hurled out my window – if you stop reading and go to the kitchen or something and come back, it'll take you 45 minutes to get back to where you were.
How did accessibility offerings change when the Americans with Disabilities Act became law in 1990?
The interesting thing about the Americans with Disabilities Act is the speed with which the real estate industry and the construction industry adapted to providing accessibility in buildings to the disabled. When women got the right to vote years ago, they didn't really get to exercise it for a long time. And even after the federal Civil Rights Act or the Brown v. Board of Education decision, we still had school districts and areas not in compliance 35 to 40 years later. But a very good campaign was waged to the point that as soon as maybe five to 10 years after the (ADA) was signed, if you wanted to build a building and you told a construction company, 'Oh, forget the disabled accessibility, we're not going to do that, don't build any ramps, if they sue us we'll deal with it,' you couldn't even find a construction company to build a building because everybody knew that lawsuits might be coming. There's been tremendous strides in that area.
Have we seen those same strides with digital accessibility?
In the digital corollaries – the websites, the mobile sites, the mobile utilities – that kind of rigor has not been extended to those areas. Even right now, on the United States government's websites, there are only two that are really functioning, and they are the Social Security Administration and the Federal Communications Commission. One of the worst is the Department of Education, which is of course one of the real needs of people with disabilities. Both of them were corrected by AudioEye in the last few years.
What is it about AudioEye that stands out to you as a platform that makes accessibility work?
Basically what they've done is extend it beyond just blind people, to people with epilepsy, for instance. Websites that have a lot of activity, where there are always flashing picture of ads coming in or content that's not related to what you're looking at, or even sometimes just lights going off and on – AudioEye has been able to put snippets of code on the websites that signal to the screen reader that the person who is coming to the website is either blind or has epilepsy, for instance, that the format would be related to the disability, which is groundbreaking.
New York has seen a surge in lawsuits over website accessibility. Are companies just stalling on offering more accommodations?
Sometimes, try though you may – and in government we learn this all the time – but you just didn't think about this particular circumstance that might come up after you have introduced a new product or sometimes a new law has a flaw in it and you've got to go back and fix it. Society has always been sort of slow to make those changes.
What's been your experience with those slow changes?
Amazon, when I was consulting for another agency, we told them in 2007 that the Kindle didn't work. They did nothing about it. It was kind of like, "Look, we did what we did. Get a relative to turn it on for you." I mean, that was their attitude. And by the way, I was for Amazon coming to New York, that would've been great for the state. But on another level, I thought they were almost abusive in the way they treated us. We were just trying to tell them, "Look, you're advertising that this solves a problem, and you're sitting there, and you know that it doesn't."
State Sen. Diane Savino floated the idea of legislation to curb these lawsuits as well as regulations to ensure that companies follow clear requirements for digital accessibility. Can the state Legislature help in this effort?
The Legislature is late to the dance because I was talking about this when I was governor, and not getting that much cooperation. So I'm glad that they've finally realized that this is the case. But with or without the Legislature, this is federal law. And Section 508 of the Americans with Disability (Act) is a section that the case law has now confirmed includes digital activity and electronic activity as well as (the) construction and renovation of buildings.
Do you think that legislation requiring more accessible accommodations would be supported in today's Legislature?
I think that the Democrats were always more interested in doing it than the Republicans, who tended to be sympathetic to the plight of a lot of the owners of these companies. But I think that at this point, the data is so convincing that even the Republicans will see that they'll be doing these companies a favor. They'll make money off of this.
There is a kind of untapped market here, right?
Blind people are far more apt to order things online – if they can get online – than the average public. I've been around a long time, and most places I go in New York, people kind of know me as soon as I come in. But I still, when I walk into a store and they're kind of looking at me, I still get a feeling of anxiety that I have to ask, "Will somebody help me?" I'm not exactly sure what they're going to say. Whereas I can go online at home, I'm anonymous, they send (a package) to my building, my doorman brings it up to me, and I have no problem.
And what about from Gov. Andrew Cuomo?
Gov. Cuomo has been an advocate. This is not a subject that I've talked to him about for a number of years, so I can't say that I know specifically what he's done, but I just know that conversations that I've had with him over the years – we don't have to worry about Gov. Cuomo. He's an advocate.
How do you think Gov. Andrew Cuomo and Democrats are dealing with the new balance in the state Legislature?
Democrats controlled both houses in 2009 and 2010, and that didn't work out very well for them. And Republicans controlled both houses in the United States Congress between 2016 and 2018, and that didn't work out very well for them. So there's got to be an understanding that even though you have a majority, you've got to find a way to be reaching out to the entire population. Unfortunately, when one party emerges as the winner and has both houses, they can tend to be a little too extreme. I think what they've got to work on are some major pieces of legislation that never got passed because they didn't have the votes in those days, but also a decorum that still represents the whole state.
Why do you think we're seeing a rift within the Democratic Party between progressive insurgents and the party's old guard?
It's politics. Even when you have total control, it may be uniformity, but it's not necessarily unity. People still have individual interests. They had an Independent Democratic Conference when they thought that was the cool thing to do. They were suspicious of what the leaders were doing. But after a while, they were getting to the point where they were shown more favor (by Republicans) than the Democratic minority. So we went out and hired this great consultant who helped organize the 2018 campaign. His name is Donald Trump. Just the mention of his name, and people got wiped out. And now we have a different system. What I'm hoping is that in the new system, they don't repeat the mistakes of the past. Just because you're in power, doesn't mean you have to wield it with an iron hand.