New York City
Bob Holden is catching up on all this tech stuff
The new chair of the City Council's Committee on Technology and Queens native weighs in on the city's tech priorities and the "shocking" results of the Queens DA race.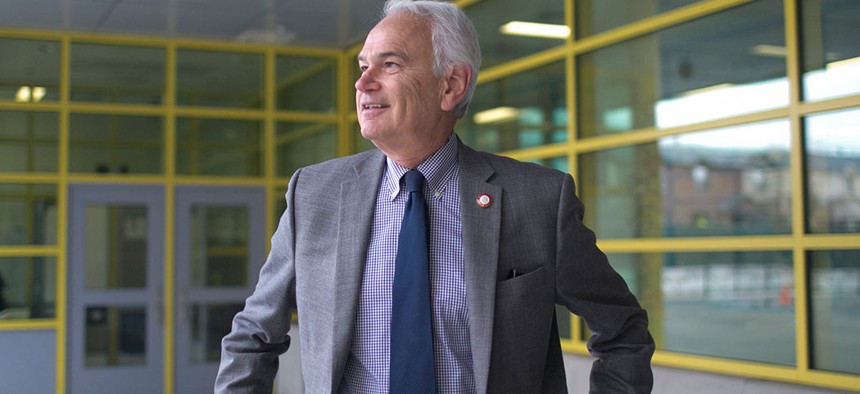 New York City Councilman Robert Holden may not be a "techie," but that doesn't mean he's not up to the task of tackling the digital issues that affect everyday New Yorkers. A self-proclaimed moderate, the first-term councilman has yet to chair a committee, but thanks to former tech chairman Peter Koo's departure to take over the Parks And Recreation Committee, Holden will now lead the Technology Committee.
While the appointment was only announced this month, Holden is already diving into the role, meeting with the city's new chief technology officer minutes before speaking with City & State on Wednesday about his goals for the committee – and his reaction to Tiffany Cabán's apparent upset in the race for Queens district attorney.
Responses have been edited for length and clarity.
We're here to talk about technology, but we can't ignore the news of the day out of your own borough – Tiffany Cabán's apparent victory in the race for Queens DA. You backed Melinda Katz, though you yourself have resisted identifying with the Queens Democratic Party. What's your reaction to Tuesday night's results?
I was shocked. If you looked at social media, Tiffany Cabán was getting a lot of people weighing in and a lot of people liking her stuff, I just don't think she has the experience at all. I really don't. Out of all the candidates, I thought she had the least amount of experience. It seems to be the trend, unfortunately, but I'm not too hopeful. Again, I don't know her. I hope she's a prosecutor and not just somebody that's going to say "nobody's going to go to jail." I mean, she doesn't want to build jails. I'd like to hear her solution, and I haven't heard that.
Does her win sound the death knell for the Queens Democratic Party?
No, not at all. I don't think so. I think Greg Meeks is a very capable person. I've met with him. I don't think it's the death knell. I just think, first of all, the turnout wasn't great. (Cabán) is somebody who is using social media and special interests and a lot of rhetoric. This didn't happen in the general, these elections, with (former U.S. Rep.) Joe Crowley. This is what happens in a low-turnout primary, and unfortunately it's a trend that we've seen in the last couple of elections. I hope that people kind of wake up, and more people vote, and actually more people will weigh and understand the candidates they're voting for. 
Well you've had some good news lately, being appointed chair of the council's Committee on Technology. Was that committee one you'd had your eye on?
I didn't have my eye on it. I never expected that I'd get a committee. I thought maybe in my second term, if I had a second term, that maybe I would get one because I'd have some seniority. But I knew that some people leave the council, people run for office, I knew it was a possibility. I get along well with (New York City Council Speaker Corey Johnson), Corey respects me, he knows I'm not looking to make a long-term career out of this position, I'm not looking for accolades, I just want to do my job and do it well in my district. 
What tech issues are on the top of your list to address as committee chairman?
Sort of the meat and potatoes things. The NYC311 app doesn't do what it should do. It's good but it's not great, and there's a lot of things that we need to focus on. 911 is good but not great. It should know where we are. I shouldn't have to explain to an operator that I'm standing on Juniper Boulevard North and 77th Street. 
Part of the job will be communicating with city agencies on overarching technology goals like deploying 5G, and building out some of the infrastructure required for that. Is that a priority for you?
We hear from the providers that especially the (New York City Department of Transportation) are tough to deal with. They're very protective of their infrastructure. There seems to be a lot of red tape that already we're seeing. So to overcome that, that will need the City Council to weigh in. That's my role, let's just get this done, let's clean this up and let's fix this so we can provide the people of the city of New York with better service.
What about getting city agencies to make better use of technology for their own purposes?
Being a civic leader for over 30 years, I was on the front lines being a community board member. We would deal with city agencies. I know a lot of the city agencies are not using technology the right way. I think we need to address some agencies that are not using technology, and I talk about professional development of people within the agencies. In private industry, you leave jobs (after) two, three, four years. City workers kind of stay. And we need to really give them professional development in technology to make them more productive and to make the agency a better agency to deal with issues more efficiently.
One city agency under fire right now is the Department of Information Technology and Telecommunications, and you commented on Commissioner Samir Saini's departure from the agency, saying you're looking forward to working with the person who takes over for him.
I didn't say what they said in the Post. (Note: The New York Post wrote that Holden "said good riddance to Saini.") I never said that. I never blamed him for anything.
But are some broad reforms called for at DoITT – even if you're not singling out one person as responsible for the crash of the city's wireless network?
I wouldn't single out one person. You never could do that. (Saini) was the leader, and I know he was getting a lot of the blame. Listen, hindsight is 20/20. 
Other big tech news in Queens – though not in your district: This past year was the announcement of Amazon's new headquarters in Long Island City and their swift bowing out months later. What was your take when HQ2 was first announced and how do you feel now that they won't be coming?
I didn't like that they bypassed the City Council and that we were left out of the conversation with the mayor and the governor. But I also wanted Amazon. I wanted the jobs. I'm a moderate, I'm in between. I don't like this, but I'm not going to just kick them to the curb. I thought Long Island City could have benefitted, but there's people that felt differently. My kids were more disappointed, my daughter lives in Long Island City so she thought they were coming in and it would be good. My son, who is a tech guy, he liked them. 
Your son works in tech?
He's a web designer, but he understands tech.
Is he trying to help get you up to speed with any tech issues?
Yeah, he says, "I gotta talk to you." I'm not a techie by any means, but I do know some technology. I'm interested in it, I think it could help us. But also, some of the talk, they have to slow down a little bit.
You mean people advising you on technology?
The City Council technology staff, I said, you gotta go slowly with me in the beginning, give me a lot to read, I'll read up on it. But I know what's practical. 
What have those early discussions with staff been like?
This is what I told the City Council Technology Committee personnel, I said, I want to first tackle the technology committee based on my experiences and (those of) the everyday citizen of New York – how technology gets in our way sometimes, and how we can actually maneuver it in a better way.