New York State
H. Carl McCall on 50 years in public service
The former state comptroller is retiring from the SUNY board.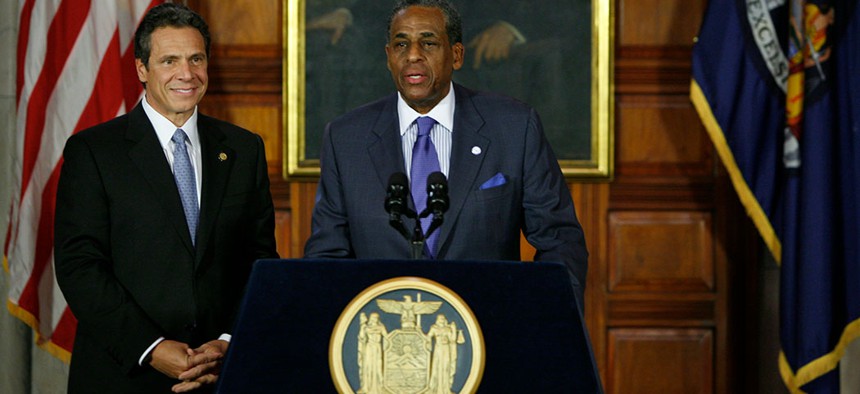 After more than 50 years serving the public, State University of New York Chairman H. Carl McCall is looking forward to retirement. He plans to write a memoir, taking time to reflect on where his career began and on his decades in public life. Since he was first elected in 1974 as a state senator, he has gone on to serve as U.N. ambassador, state comptroller and as president of the New York City Board of Education. As he put it, "I've had a very interesting career in government, in politics, in business and I've learned a lot. I have met a lot of interesting people. So, a lot of the memoir will be about the people I've met along the way and how they've helped me."
Since 2011, he has served as the chairman of the SUNY board of trustees. City & State spoke with him during his final week as chairman to look back on his long career in New York politics. This interview has been edited for length and clarity.
What was your biggest accomplishment during your time at SUNY?
It was keeping tuition affordable and continuing to provide really high quality education, so that students would go away from SUNY prepared for the tremendous opportunities they would have in our global economy.
What about in your political career, what was your proudest accomplishment?
I was elected to be the state comptroller, and I was the first African American ever to be elected to statewide office. I think that kind of convinced people that African Americans can do the kind of job that I did as state comptroller – managing the state's pension fund. The pension fund grew significantly while I was the state comptroller.
I think that paved the way for other African American elected officials. Look what we have now in Albany. After I was elected, David Paterson became the governor. We now have the Speaker of the Assembly, who is an African American. We now have an African American female who is the majority leader of the Senate. We have an African American woman who is the attorney general.
So those are real, significant accomplishments, and I hope in some way I was able to bring that about, just as the people who came before me made a difference.
Is there anything you might have done differently in your political career?
I was going to say, I would have spent more time raising money. You know, that's so important, that would have helped. I guess that's taught me that, unfortunately, that's very important in terms of getting ahead in politics. It's difficult to raise money and money is becoming more and more significant.
And just to touch on your 2002 campaign for governor, was there anything that really sticks with you? Or that you took forward in your career?
I took forward that it was a loss. At first, I won a primary against a very formidable candidate, Andrew Cuomo. But having done that, I ended up with not a lot of money to take on an incumbent governor.
But what I went away with was, "OK, so I failed." But I didn't give up on public service. I went on to do other things after that. And I guess that's a lesson that I learned and I try to pass on to people: Don't accept failure as something that's terminal. Take advantage of it, look back and see what you did, what you could have done better, and as a result of that, move on to the next thing.
It appears now that you have a fairly good relationship with Gov. Andrew Cuomo. How did that come about after that primary race?
There's an old saying in politics: The only thing that's permanent in politics are permanent interests. And you know, Gov. Cuomo and I have permanent interests. We both are interested in education. We're both interested in providing jobs and opportunities for people. We're both interested in protecting the environment. We have things in common.
So, because we have common interests, we are able to get along and we are able to forget about the contests we had in the past and focus on the contests we can be involved in, in a unified way today.
You were also on the commission that put forth a pay raise for state legislators and banned outside income. What factors lead to the decision to ban outside income?
A number of things. We felt that the Legislature should really be a full-time job, and that legislators really shouldn't have any outside conflicts. Outside income could represent a conflict to the job that they are doing as legislators. So that's the main thing, to overcome the possible conflicts that exist if you have outside income.
I think we proposed a significant raise to make up for the outside income that people might have. So we thought that was very fair.
What did you think about the court ruling that overturned your ban on outside income?
I thought it was, first of all, confusing. There was some hint in the ruling that legislators couldn't get the additional money that we made possible for them in 2020 and 2021. So I don't understand what the ruling really said about that.
But, this is what courts are for, so the court has ruled. Unless it's appealed, that's what will be the case.
How do you view the state of New York politics today?
I think it's progressive, and it's sound. We've got some good people in office, particularly a lot of new, young people. I just think New York is going in the right direction in terms of legislation that protects our environment and legislation that provides opportunities for immigrants.
For instance, one of the things that we, at SUNY, had been pressing for for a long time is to provide scholarship assistance and educational opportunities for the so-called Dreamers – young people who are here who are undocumented – the (state) DREAM Act passed. And I think that is a very good thing. I feel pretty good about the state of politics in New York.
I do wish that money wasn't still such a big issue to determine who can run and who can win, but other than that I feel good about where we are politically.