New York City
Jonathan Lippman says it's too late to change course on closing Rikers
In recent weeks, Gov. Andrew Cuomo blasted Mayor Bill de Blasio's plan to close Rikers Island and local residents criticized the proposed borough-based jails to replace it. But Jonathan Lippman, the former state chief judge, says it's too late to reverse course.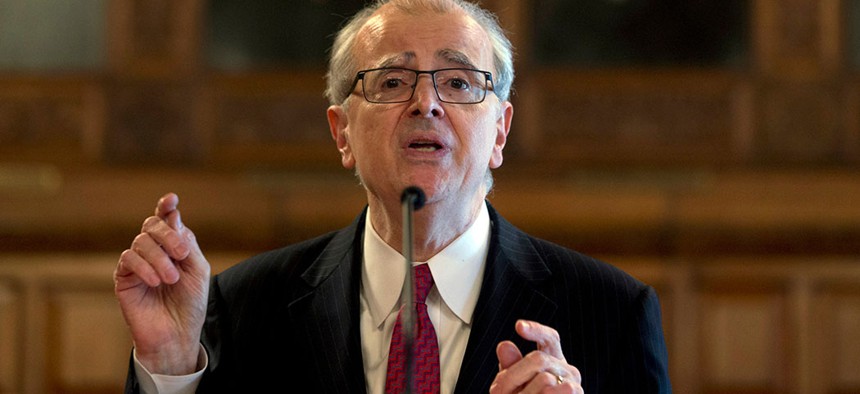 A City Planning Commission hearing earlier this month on New York City's plan to replace Rikers Island with four borough-based jails erupted into a fierce debate between the plan's proponents and critics who live in the communities surrounding the proposed sites. Those opposed to the new jails raised concerns about the facilities' proposed size, the chance that the jails could bring more crime into the neighborhoods and a desire for the city to put each jail through a separate Uniform Land Use Review Process. The Planning Commission is expected to vote on the matter in late August or early September. 
On the other side, former Chief Judge of New York State Jonathan Lippman, who led the New York City Council's Independent Commission on New York City Criminal Justice and Incarceration Reform, which called for closing Rikers, said that it's too late to reverse course. City & State spoke with Lippman last week to see how he thinks the effort to close Rikers is going, what the de Blasio administration could have done better, and what he thinks about the state of the Queens district attorney race. 
This interview has been edited for length and clarity. 
There's been lots of opposition from really from different perspectives. Is it possible that this plan gets derailed still? Or is this really happening the way that the city wants?
We're very hopeful and optimistic that it will happen. I think the approval is a good indicator, and that the momentum is still there. What's overwhelmingly clear is that there's a broad consensus that there are too many people in jail, and that Rikers should be closed. And there is certainly strong support from public officials, and from people testifying that the road to do that is through local jails. While there are different people who have different opinions both on the size of the buildings – what they should look like, where they should be, should you build local jails – all kinds of different views, certainly we knew this is not exactly the simplest public policy endeavor taken on in the city. And to tell you the truth, if you had told us at the beginning of this process two or three years ago, in 2016, that today we'd be where we are – broad public official support, broad support in the legislative bodies – in our view a consensus has been built. And I think we're on the cusp of getting this done.
Your commission put together the broad strokes of the plan and the idea. But now it's in the de Blasio administration's hands to really bring this to the end. Do you have qualms with how they're putting the plan into action? Or are you fully supportive of the specifics?
I am fully supportive of the general nature of their efforts and their plan. Do I think that everything has been handled perfectly? Particularly early on in terms of the engagement in the community, I think that there were problems with it. I think they lowered the scale of the buildings and I believe we'll have even more advances in that area, lowering it further. They made a new estimate on the inmate population. Now, they're predicting 4,000, which we're basically supportive of. The most important thing is that the mayor and the administration are totally committed to getting this done. And they put together a highly credible plan with a lot of effort. 
You mentioned capacity as well. Thanks to the new bail rules, it's safe to assume that many fewer people are going to be sent to jail. 
Yeah. Their estimate is 4,000. They're now using a 4,600 number for the capacity, which we certainly think is well in the ballpark. Remember, we originally talked about a 5,000 population and a 5,500 capacity. They were a little bit higher than that. And since then we've had the new legislation, which really mandates, in most circumstances, that people not be incarcerated. So we think that that number of 4,000 is certainly well within the general parameters of where this is going to be. Our whole message is smaller is better. And those numbers all play into that general theme.
Speaking about the capacity, New York now has historically low levels of crime. What happens if the crime rate goes up? Is there enough flexibility built into the population there?
Yes, I believe so. I think that this low in the (number of) people incarcerated is not in a vacuum. This is the pattern around the country. It's not only the legislation, it's new police practices. New prosecutorial practices. New initiatives like supervised release. I believe that this is well planned out. And that those numbers will hold.
So you mentioned a consensus, but there was a high-profile disagreement. Gov. Andrew Cuomo weighed in on the Rikers plan and said he didn't like the 10-year timeline. What's your interpretation of why he's weighing in on this? 
I certainly wouldn't say what the governor's intention or motivation is. But I would say we agree with the governor that Rikers should be closed as soon as possible. The governor has been supportive, although he has said that he thinks 10 years is too long. But I think we made great progress in that regard. As you know, the city's timetable has now been moved up to 2026 to close Rikers. We think it could be done even a little faster. We've put the timeline at 2024, 2025. But again, we're all in the same area. We all want it closed and all we're talking about is, some of us thinks it can be closed a little faster, a little slower. The consensus is there from the governor on down. Certainly the mayor is there. All of our public officials. So, I don't see any great divide there. 
Last question for you, judge. This is a more political one. You had endorsed Rory Lancman in the Queens district attorney race. How did you feel about him dropping out of the race? And who are you hoping will win now?
Rory made a realistic decision, recognizing that the votes weren't there for him, and he didn't want to just be there for no real purpose. And I think that's why he dropped out. It's a fascinating race and I'm not going to predict. I'll wait a couple of weeks like we all have to. What I thought was very interesting about the race was that it shows you that this issue of progressive criminal justice reform is very much alive and well, not only in Queens, but around the country. So you had a candidate, like (Tiffany) Cabán that's very progressive. But if you looked at the positions of virtually all of the candidates, including Melinda Katz, everyone was very much in favor of progressive criminal justice reform. And the role of the DA in the country is certainly changing. And I think you have two candidates that will both bring change to Queens County. And that's a good thing.
Powered By
NEXT STORY: Former Manhattan DA Robert Morgenthau remembered