New York State
Hakeem Jeffries' 'Closers' playlist
The hip-hop head shares his favorite final verses.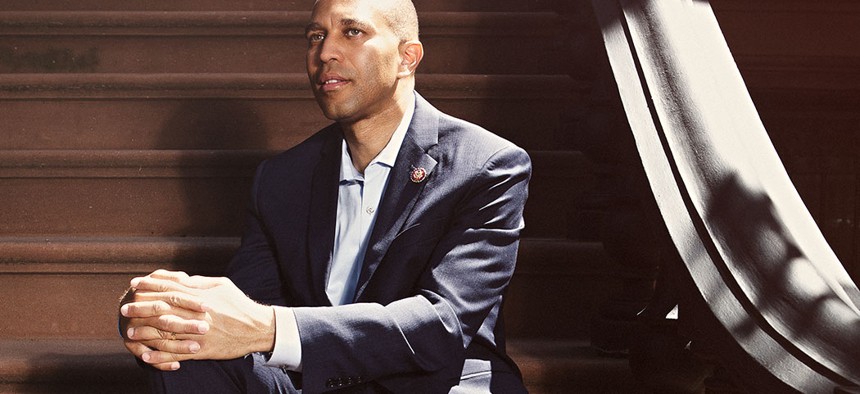 Rep. Hakeem Jeffries may be a card-carrying congressman, but his love of hip-hop is well documented. When Politico reported in December that Rep. Alexandria Ocasio-Cortez hoped to recruit a candidate to challenge Jeffries in the primary, he de-escalated with lyrics from The Notorious B.I.G.'s "Juicy:" "Spread love, it's the Brooklyn way."
But Jeffries' rap bona fides go beyond quoting lyrics. "He's a massive fan of playlists," said Michael Hardaway, Jeffries' longtime aide. He made one last year with Republican Rep. Doug Collins to celebrate their bipartisan bill on copyrights and royalties. And in the December run-up to passing the First Step Act, a criminal justice reform bill that Jeffries co-authored, opponents tried to force major changes. So to help his team as they worked late on a response, Jeffries put together a diss track playlist with hits like Jay-Z's "Takeover" and Nas' "Ether."
Making playlists isn't a job Jeffries' farms out to interns to look cool. "He creates all these himself!" Hardaway said. "He loves it."
So when City & State asked Jeffries to make us a hip-hop playlist to run alongside his cover profile, Jeffries put his own political spin on it, sending a playlist with his own version of liner notes.
"The ability to get monumental pieces of legislation over the finish line and signed into law is the mark of an effective public servant," Jeffries wrote. "It is these such individuals who I hold in the highest regard. In the political lane, I also respect candidates with the skill and work ethic to finish campaigns with a flourish and bring home the victory. With a nod to these individuals, I have put together a hip-hop playlist entitled 'THE CLOSERS.'"
So the born and bred Brooklynite chose 12 songs, all notable for their strong final verses and highlighted who rapped them. We've included the list below as well as a Spotify playlist to listen along – minus Jay-Z's "Run This Town," because we're not going to ask you to pay for Tidal.
Diamonds From Sierra Leone (Remix) – Kanye West feat. Jay-Z (Closer: Jay-Z)
Money, Power & Respect – The Lox feat. DMX and Lil' Kim (Closer: DMX)
Get Money – Junior M.A.F.I.A. (Closer: Lil' Kim)
Protect Ya Neck – Wu-Tang Clan (Closer: GZA)
California Love – 2Pac feat. Dr. Dre and Roger Troutman (Closer: 2Pac)
Ain't No N*gga – Jay-Z feat. Foxy Brown (Closer: Foxy Brown)
Scenario – A Tribe Called Quest feat. Leaders of the New School (Closer: Busta Rhymes)
Run This Town – Jay-Z feat. Rihanna and Kanye West (Closer: Kanye West) 
Swagga Like Us – T.I. with Jay-Z feat. Kanye West, Lil Wayne & M.I.A. (Closer: T.I.) 
Mo Money, Mo Problems – The Notorious B.I.G. feat. Puff Daddy and Mase (Closer: Biggie)
Ghetto Supastar – Pras feat. Ol' Dirty Bastard and Mýa (Closer: Ol' Dirty Bastard)
All I Do is Win – DJ Khaled feat. T-Pain, Ludacris, Rick Ross and Snoop Dogg (Closer: Snoop Dogg)
Powered By
NEXT STORY: The many nicknames of 'Tallman' de Blasio