New York State
Hakeem Jeffries is safe as can be
He's the slow-walking, slow-talking establishment. And he's not worried at all.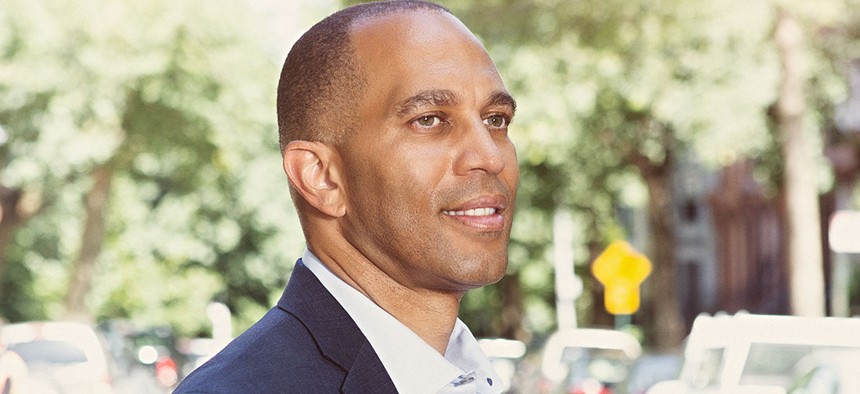 On a blisteringly hot, arm-hairs-catch-fire sort of day in Starrett City, Rep. Hakeem Jeffries is hosting his latest "Congress on Your Corner" roving office hours outside a post office – a format he's used since his days as an assemblyman. Evetter Pilgrim, a senior citizen from the neighborhood, is ninth in line to talk to the congressman. When her moment with Jeffries comes, she raises a complaint: "the person that's in the White House."
"It's out of control, isn't it?" Jeffries says.
Another woman waited in line to launch into an excited rant on federal corruption and presidential impeachment.
Jeffries' take? "The whole thing is overwhelming and out of control."
An hour later, at an air-conditioned New York City Housing Authority senior center in East New York, Jeffries addressed a crowd of dozens. Most sat at rapt attention. A couple continued to knit.
"We know these are challenging times in America with the current occupant at 1600 Pennsylvania Ave.," Jeffries said. "He's out of control all day, every day. All day, every day, out of control."
"Out of control!" a senior shouted in response.
Later that day, Jeffries explained to City & State why he describes President Donald Trump that way: "Most reasonable people can agree that, most of the time, he is totally out of control." Jeffries insisted the insult was an example of his own self-control. "I've also refrained from consistently characterizing him as a racist. Because at the end of the day, I don't know what's in his head, and I don't know what's in his heart," he said.
This may be literally true – that he doesn't often call Trump racist – but it ignores Jeffries' habit of calling the president "the grand wizard of 1600 Pennsylvania Ave." That's a reference to the Ku Klux Klan, not J.R.R. Tolkien.
Cornered, Jeffries breaks into a smile.
"It's a colorful phrase," he said. "But in my view, it's kind of a kinder, gentler phrase when it comes to some of the other things that could be said about him."
The exchange is vintage Jeffries. He's a man defined by his discipline and restraint. He's always on message, and trusts the political process. He's all steak, no sizzle, and – given his insult of choice – there's nothing more offensive to him than being out of control.
Those traits have allowed him to climb the political ladder from promising candidate to respected assemblyman to rising star congressman to possible heir to the speaker's gavel. Jeffries has done so without any major missteps – and barely any minor missteps. That discipline has allowed him to be fully present in two places at once, ensuring he's a power player in both Washington and Brooklyn. And even if his boring, predictable ways infuriate anti-establishment progressives, he's made sure that a successful primary challenge would be all but impossible.
Democrats felt rudderless after Donald Trump won the presidency in 2016, so who better to take control of the party's messaging than the calm, cool and collected Jeffries? Weeks after Trump's win, his House colleagues elected him co-chairman of the Democratic Policy and Communications Committee, making him responsible for putting out and sticking to the party's economic agenda of a higher minimum wage and lower drug costs. Jeffries beat the "Better Deal" drum for two years, and House Democrats rode a "blue wave" in 2018 to the majority. So his colleagues trusted him with more control, electing him as House Democratic Caucus chairman, the fifth-highest-ranking post among 235 Democrats.
In the master plan, there's even a date set to take over – January 2023, when House Speaker Nancy Pelosi closes out her informal term limit. 
To say that the sky's the limit for Jeffries' political career is a well-worn cliche, dating back to even before 2011, when The Observer dubbed the assemblyman "The Barack of Brooklyn." And before 2012, when The Washington Post asked its national audience if the congressional candidate was "Brooklyn's Barack Obama." (If you don't know that Jeffries and Obama were both born on Aug. 4, then you haven't been reading enough political profiles.) But in January, The New York Times declared in a headline that "Hakeem Jeffries Doesn't Want to be Called the Next Obama" – maybe because he had a different office within his sights: speaker of the House. In the master plan, there's even a date set to take over – January 2023, when now-79-year-old House Speaker Nancy Pelosi reaches her informal term limit.
Sources say that the speakership is a real possibility, and that Jeffries has earned Pelosi's trust. Jeffries could be the right transitional figure to ease the party's generational tensions, moving the Democrats into a new era of Gen Z leadership before the party's inevitable millennial takeover. After all, Jeffries is 49, nearly a decade younger than the 58-year-old average age of House members. He's black, in a Congress that is becoming increasingly racially diverse. His long record of working with Republicans could cut both ways, but Jeffries' self-described "pragmatic progressive" politics could also strike a balance between the moderates and hard left of the Democratic Party without riling up either side too much.
Jeffries is too disciplined to talk openly about his ambition, instead focusing on how Democrats must be sure to keep their House majority and win back the White House in 2020. But those close to him agree he's a long-term planner who had his eye on Congress before he was elected to the Assembly, and his eye on the U.S. Senate before he entered Congress, which means that Jeffries' plans are likely dependent on the state's current senior senator, Charles Schumer. Democrats are unlikely to want both their Senate and House conferences to be led by two men who live less than a mile away from each other in Brooklyn. But Schumer is 19 years older than Jeffries, and won't be around forever. Both Schumer's and Jeffries' camps play up their friendship and mutual respect, so the possibility of a contested 2022 primary exists only in tabloid editors' dreams. But were Schumer to leave office, there's no doubt Jeffries would be a top-tier candidate to be New York's next senator. As always, Jeffries has a plan.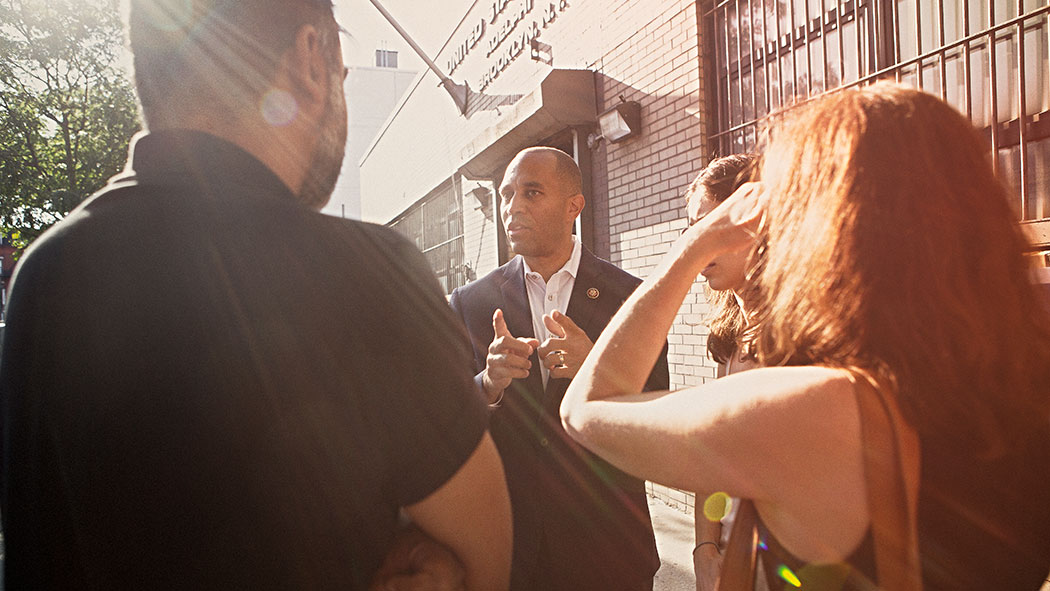 Man plans and God laughs, as the saying goes, but Jeffries has spent all of his life as a member of the Cornerstone Baptist Church in Bedford-Stuyvesant, and seems to have a good sense of where things are going.
He grew up in Crown Heights, a few blocks outside the 8th Congressional District he now represents, and not far from where he now lives in Prospect Heights, with his wife and two teenage boys. His parents both belonged to unions and worked for the government – dad was a state social worker and mom was a city caseworker. They didn't talk politics over the dinner table, but the congressman credits his father's constant listening to 1010 WINS for keeping him up on current events. His parents seemed to have high hopes through choosing his name – Hakeem is derived from the Arabic word for wise.
"It's not clear to me that I've lived up to the name given to me by my parents," he said, "but I'm honored that they at least have set an aspirational objective."
Jeffries' colleagues seem to think he's lived up to it. Unlike Schumer, whose political focus is always on Washington, even as he travels across the state, Jeffries will wade into local battles, getting involved without getting his hands dirty. He's not so much a political boss, picking and choosing winners, as much as he is a political consultant, giving advice to folks at all levels of politics.
"When you're playing checkers, Hakeem is playing chess. When you're playing chess, he's fencing," said Lupé Todd-Medina, a political consultant who has worked with Jeffries in formal and informal roles since his first Assembly campaign in 2000. "He's just smart. He's always been that way."
Jeffries' colleagues agree. "When I have an issue, good or bad, he's one of the first people that I approach," said Rep. Grace Meng of Queens, adding that he's "like a big brother." Rep. Gregory Meeks, the new Queens party boss, called him "my partner." New York City Councilman Mark Treyger, a close political ally, said Jeffries' natural skill set as a politician has earned him significant political capital citywide.
Jeffries himself emphasizes that he works as a team with other members of Congress engaged in local politics. Meeks, Carolyn Maloney, Thomas Suozzi and Adriano Espaillat joined him in backing Melinda Katz for Queens district attorney this year. Reps. Yvette Clarke, Nydia Velázquez and Jerrold Nadler joined him to endorse state Sen. Zellnor Myrie over the incumbent Jesse Hamilton in 2018. And that same group backed Ken Thompson over incumbent Joe Hynes in the 2013 Brooklyn district attorney race. Jeffries usually backs winners, and is always careful. He waited to announce his Thompson endorsement, even though the two were old friends. And Jeffries didn't go public to support Katz until a few days before the election.
He also played a major role in negotiating who would be the next New York City Council speaker in 2017, in some ways representing the borough in the place of Brooklyn Democratic Party Chairman Frank Seddio, the already weak county leader who'd been sidelined by internal politics. Jeffries played his cards close to his chest at the time, not picking a favorite, but he's now happy to take credit for getting his political allies plum positions, including Treyger, the Education Committee chairman; City Council Majority Leader Laurie Cumbo; and Housing and Buildings Committee Chairman Robert Cornegy Jr. In the end, New York City Council members themselves cast votes to elect Corey Johnson speaker, but Treyger said Jeffries' influence was significant: "I was, and remain, Team Hakeem."
With his endorsement and his counsel more coveted than that of New York City Mayor Bill de Blasio, Jeffries was the only member of Congress considered as a viable mayoral challenger in 2017. De Blasio was up for reelection, and opponents of the mayor thought he was vulnerable, thanks in part to the open state and federal investigations into his questionable fundraising. Jeffries always saw himself as a legislator, but considered a run for executive. In the end, Trump's election made the decision not to run easy, well before the U.S. attorney's office all but guaranteed de Blasio's reelection by declining to press charges in March 2017. Supporters, however, haven't given up hope on Mayor Jeffries. "I think he would always be a viable mayoral candidate if he wanted to run," said Bradley Tusk, the prominent political consultant who lead a public search for a Democratic challenger to de Blasio ahead of the 2017 election. "He could just as easily do it in 2025 or 2029."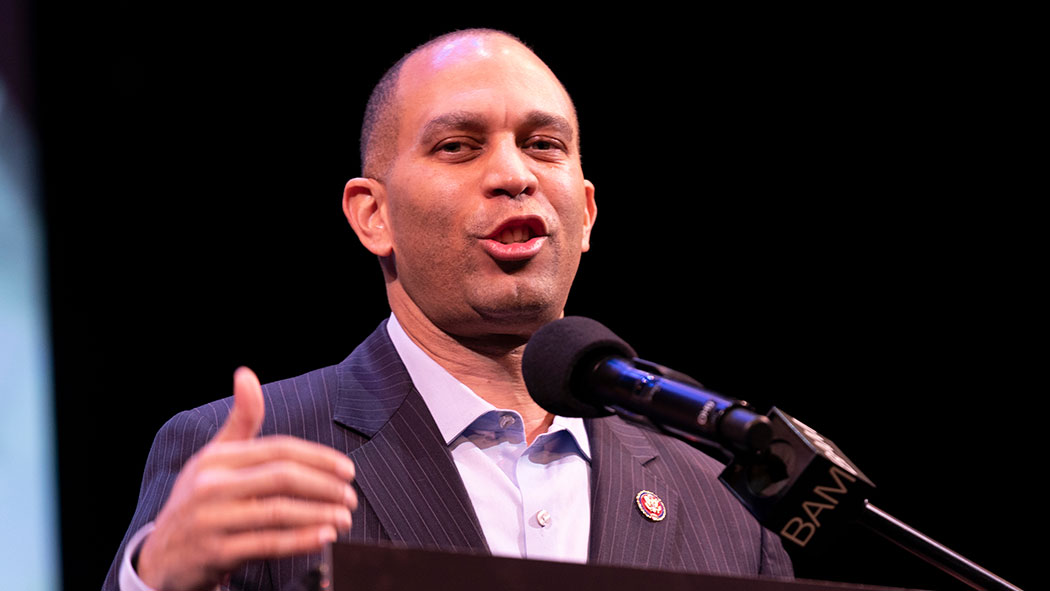 Talking with Jeffries, you get the impression that he wants you to write down every word. He speaks slowly, thoughtfully, and enunciates every word. He'll use a full term when a shorter version would do – "the city of New York," or "1600 Pennsylvania Ave." – and could lull even the most caffeinated House intern to sleep with his platitudes. The overall impression is that of an attorney who overprepared his closing argument, or like talking to a handsome robot.
The overall impression is that of an attorney who over-prepared his closing argument, or like talking to a handsome robot.
That is to say, any dreams of a second career in music (with Joe Crowley on guitar?) were shattered when he awkwardly rapped lyrics from The Notorious B.I.G.'s "Juicy" into the congressional record on the 20th anniversary of the artist's death in 2017. Still, by all accounts, Jeffries is a serious hip-hop head, who is known to rap along to songs when they come on the radio in the car. But he shows his trademark reticence, even when talking about the casual topic. Asked to list his rap Mount Rushmore, aka his top four artists, he named Biggie Smalls, 2Pac, Jay-Z and Nas. To those in the know, the list is boring in its predictability. It's like saying Abraham Lincoln is your favorite president. It's Biggie, who grew up in Jeffries' district; Jay-Z, who grew up one block outside his district; and Nas, who grew up in Queens, a borough which Jeffries' represents a sliver of. And it's 2Pac, another widely admired rapper who, like Biggie, has been deified by his untimely death. For a man working in politics, Jeffries sure seems to avoid controversy.
This all-consuming moderation is consistent in Jeffries' positions on some of the hottest political questions of the day in the Democratic Party. "Green New Deal?" Let's wait. "Medicare for All?" Not for him. Impeachment? Not yet.
Above all, Jeffries is careful. Respect the process. Stick to the script. Don't do anything wild. Which is infuriating to some constituents, especially those who idolize politicians who riff on Instagram Live while making macaroni and cheese. Jeffries has the corporate personality to match his corporate ties, which the party's capitalism-skeptic wing also doesn't like very much. Before entering politics full-time, he was a commercial litigator for Viacom and CBS. Corporate PACs continue to fill his campaign coffers – but Jeffries is careful to make sure at least half his fundraising comes from individual donors. "That's been a conscious decision, and one that we've been able to sustain," he said.
Jeffries only became a favorite target of the anti-establishment left after beating California Rep. Barbara Lee, a progressive favorite, in the internal vote for House Democratic Caucus chair in November. Minutes after the vote, with memories of Ocasio-Cortez's primary win over the last Democratic Caucus chairman, Crowley, still fresh, democratic socialists began calling for a leftist primary against Jeffries – including, reportedly, Ocasio-Cortez, who publicly denied a Politico bombshell that she and allies were talking about unseating Jeffries before she was even sworn in.
The fervor against Jeffries only grew in July, when he appeared to be the force behind a tweet chastising Ocasio-Cortez's chief of staff, Saikat Chakrabarti, for accusing fellow Democrats of enabling a racist system. (True to form, Jeffries helped de-escalate the tension, and was lauded in the press as a key peacemaker.)
With 10 months to go until the 2020 primary and AOC-inspired challengers lining up to run against almost every congressional incumbent in New York City, nobody is running against Jeffries. Probably because the general agreement among both fans and critics is that he simply isn't beatable.
"I think it's really misguided to focus on gratuitously attacking him. But also to put a lot of energy into primarying him," said Julia Salazar, a democratic socialist state senator who followed in Ocasio-Cortez's footsteps last year and whose district slightly overlaps with Jeffries'. "My impression is that he's popular in his district. And that's he's present."
So present that he's taken multiple meetings with some of his loudest critics, like members of Indivisible Nation BK, a liberal political club that has been hectoring Jeffries to support a Green New Deal and impeachment.
"He is inexplicably holding back," Liat Olenick, the group's co-founder, told City & State. "He's from Brooklyn! Brooklyn would be behind him if he went out and he was more aggressive on these things. We're in crisis! We need people to be more aggressive."
But Jeffries insists he has a read on his district – the whole district. He's methodical about showing face in every corner of his district, from Fort Greene to Brighton Beach, hosting 10 "Congress on Your Corner" events already this year. The district includes more socially conservative neighborhoods, like Brighton Beach and Howard Beach, and doesn't overlap much with the anti-establishment hotbeds in northern Brooklyn. Hillary Clinton dominated Donald Trump in the 2016 general election in the district, beating him 85% to 14%. But Clinton also solidly beat Bernie Sanders in the 2016 Democratic primary, 63% to 37%, suggesting a lack of socialist fervor in NY-8. Simply put, Jeffries isn't Crowley. And a private poll taken in 2018 and shared with City & State by a source close to Jeffries showed 68% of voters in the district said they'd reelect the congressman. Only 1% were sure they want him replaced.
"If the hard left want to primary me, then come on in. The water is warm." – Rep. Hakeem Jeffries
All this helps explain Jeffries' own confidence when asked about leftist constituents who don't like his brand of politics and skewer him on social media.
"I have no idea who they are, where they come from, or where they even live with respect to the 8th Congressional District," he said. "If the hard left want to primary me, then come on in. The water is warm. Don't talk about it. Be about it."
Despite his growing power in Washington, Jeffries is playing the neighborhood game, keeping one plate of New York City politics spinning, another of national politics and one plate for his district. None ever fall. Jeffries is always in control.
Powered By
NEXT STORY: The many nicknames of 'Tallman' de Blasio